The Hateful Eight is Quentin Tarantino's Eighth Film (well, it is if you consider Kill Bill as one movie).  Being a huge Tarantino fan (his Pulp Fiction is one of my all time favourite movies), I was eagerly awaiting the release of this movie, and I finally got to see it a few days ago.  As expected, I loved the movie, and did this drawing of Samuel L Jackson as Major Marquis Warren from it –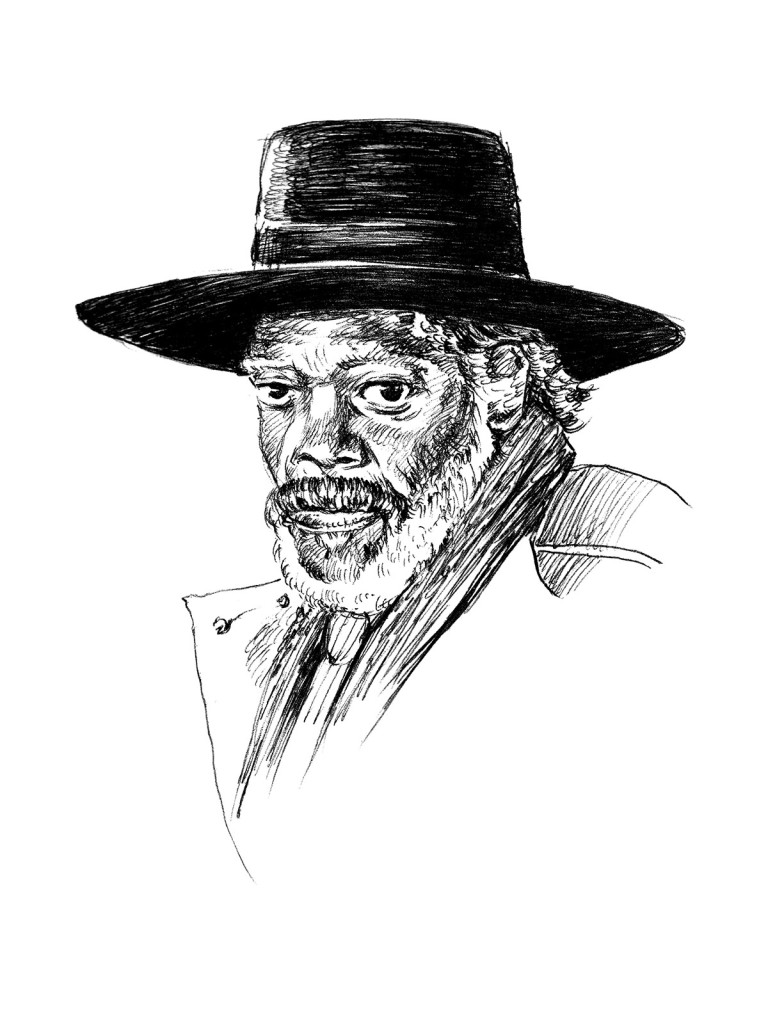 The movie is set a few years after the American Civil War.  It opens showing us a stagecoach with two passengers – bounty hunter John Ruth "The Hangman" (Kurt Russell) and his prisoner, Daisy Domergue (Jennifer Jason Leigh), heading towards the town of Red Rock, trying to escape a blizzard.  They are soon about to have company – stranded in the snow are Major Marquis Warren (Samuel L Jackson) and Chris Mannix (Walton Goggins), and the two are picked up by the stagecoach.  In order to escape the blizzard, the party must stop midway at a place called Minnie's Haberdashery, where they must stay for the next few days.  Already at Minnie's are a few other characters – Red Rock's Hangman, Oswaldo Mobray (Tim Roth), Joe Gage (Michael Madsen), Bob the Mexican (Demian Bichir) and General Sanford Smithers (Bruce Dern).
Pretty soon, suspicions arise, and John says that one or more of the people at Minnie's are not who they say they are, and they may have their own agenda involving the bounty on his prisoner.
What follows is an engaging mystery-thriller-Western hybrid that keeps one completely absorbed for three hours.  The characters in all of Quentin Tarantino's movies seem to be crafted with a lot of love, and it is no different here, and the actors really bring them to life with their excellent performances (Leigh and Jackson are standouts).  The dialogues and screenplay are great, as is typical of a Tarantino movie.  The first half of the movie might be considered to be a little slower moving, but it builds the characters so it's necessary.  The movie picks up pace in the second half.
The movie features beautiful cinematography (by Robert Richardson, who has shot all of Tarantino's movies after Kill Bill, except for Death Proof).  It was shot in a process called Ultra Panavision 70, where the image is shot on 70mm film but using anamorphic lenses to create a very wide image (2.76:1 aspect ratio as opposed to the typical 2.35:1 widescreen image if movies are shot on 35mm film or digital).  This is apparently only the 11th film to be shot in that process, and there exists a "Roadshow" version of the movie which was projected on film as well, in selected theatres in the US.  The sweeping and snowy landscape scenes look great, but one might question what difference would filming in 70mm make, to indoor scenes.  It affords the opportunity to create some interesting compositions, as there are several shots where the entire frame is used to show different characters in the foreground as well as background.  There were a couple of instances where I noticed the use of a split-focus diopter to get different planes in focus in the same shot.
Unlike several of Tarantino's movies, which used previously existing music, this one features original music written for it, by Ennio Morricone (the composer for Sergio Leone's westerns such as The Good, The Bad and The Ugly). I thought the music was very good and liked the opening theme in particular.
One of the inspirations for The Hateful Eight was the 1982 John Carpenter horror movie The Thing. That movie also stars Kurt Russell, it is set in an isolated place in extreme cold, it has characters who are not what they seem to be and a sense of paranoia among the other characters. That movie was also scored by Ennio Morricone (interestingly, John Carpenter got Morricone to score the movie and made him do a very John Carpenter-ish music score), and in fact, The Hateful Eight uses a couple of tracks from The Thing on its soundtrack, and some of the other music is unreleased music originally composed for the 1982 film.
I loved the movie overall.  I felt Django Unchained was a little more enjoyable and more upbeat compared to this movie (the two are set in the same Universe). Overall, I would rate it a solid 9/10.
Warning: If you are watching this movie in a theatre in India, beware that it is cut.  Swear words are muted, but not completely consistently (for example, the occasional "fuck" is audible, while most instances of "bitch" are muted).  It's distracting.  They have also cut the bloodier scenes, so you would be puzzled at the fate of at least two of the characters whose death is not shown.  You would still be able to enjoy the movie (the cuts total to around 2 minutes), but it's not the way the movie was intended to be seen.  Unfortunately, if you want to enjoy the theatrical experience, you'll have to tolerate these alterations.  Of course, there are ways to see the missing scenes if one wants.
It's sad that there need to be cuts in a movie that is already certified as "A", suitable for adults only – something I have been against for several years.  David Fincher's The Girl with the Dragon Tattoo and Fede Alvarez's Evil Dead didn't even get a theatrical release in India, while Fincher's Gone Girl had some weird pans and zooms to cover nudity.  Our censor board is only promoting piracy by doing this!
The version of the movie that I saw (PVR Cinemas at Hyderabad Central Mall) seemed to be projected in 2.35:1 ratio.  While I don't think any part of the image was cropped, it seemed to be squished horizontally to fit the 2.76:1 frame into the 2.35:1 shape.
Extras
The below video talks about the different widescreen processes (and aspect ratios) that have been employed by filmmakers through the years –
And this video talks about the "Roadshow" version of The Hateful Eight, and also about how Panavision supported Tarantino in shooting this movie on glorious 70mm film –
The Opening Credits feature two fonts (apart from the title of the movie itself, which I think is hand made) – as far as I can make out, the names of the cast are typeset in Rockwell, and the rest of the credits are in Tarantino's favourite ITC Benguiat.
The movie features Red Apple tobacco (which is a fictional brand used in many of Tarantino movies).
The Samuel L Jackson drawing which I did (in ballpoint pen on paper), is available to purchase here at my Postergully store.  Postergully ships worldwide, and their prices are reasonable.  The prints are of good quality too.  Visit my store here, and if it is your first purchase at Postergully, you can use the code PGARTIST to get a 15% discount.