It's been a while since I wrote a post on this site, and it's also been a while since I published a drawing.  So I thought I would put up my latest work – one drawing and one photo here.  I will write another post as a recap of things that have happened over the last few months.
I watched the Season 5 premiere of Fringe and liked it very much.  So, as you'd expect, I drew something based on it –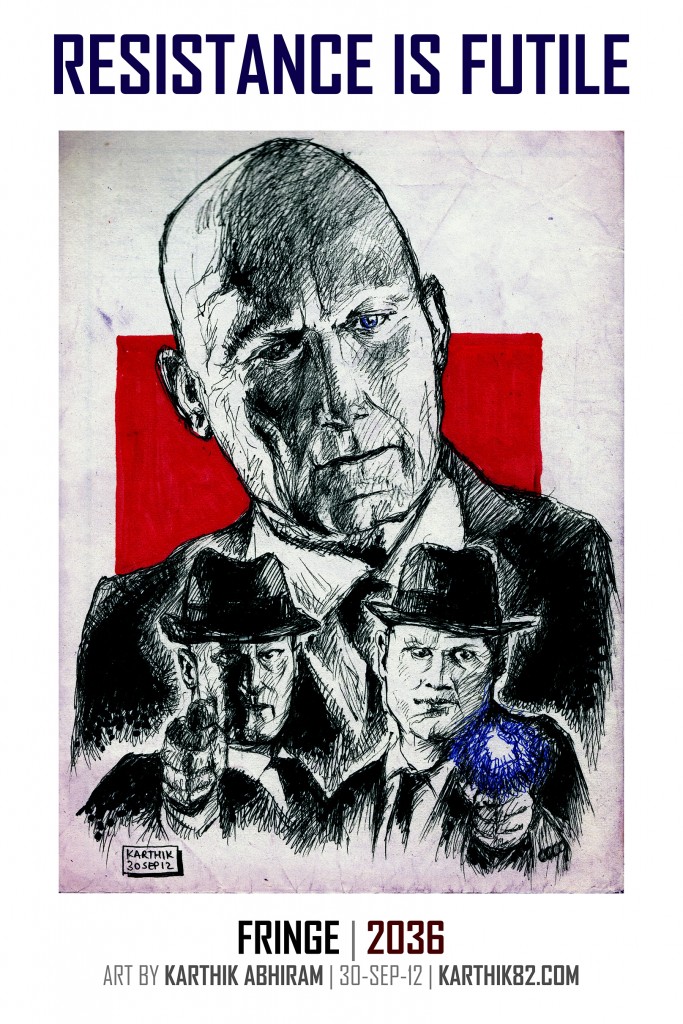 Season 5 Episode 1 "Transilience Thought Unifier Model-11" was set in 2036 (like the Season 4 episode "Letters of Transit"), and depicted a dystopian future where the Observers have taken over the planet.  Over the next 12 episodes of this season, we will see the Fringe team save the world (and possibly the universe). I loved this episode for it's writing and handling of characters (my cousin's review is here, but be aware that it has spoilers).
I loved the blue-tinted (sometimes almost monochrome-looking) cinematography in this episode (by David Geddes). On that note, IMDb mentions that Season 4 (and presumably, this present season) of the show is shot digitally, using the Arri Alexa camera and Panavision Primo lenses.  This is as opposed to the previous seasons which were shot on 35mm film.  This camera was also used to shoot the movie Chronicle, Nicolas Winding Refn's Drive, and the Sherlock TV show.
The Observers led by what seems to be the new villain on the show, Captain Widmark made for sinister characters.  So I drew them – this was done in ballpoint pen (black and blue) and markers (black and red).  I added a paper texture for style and the font used is Agency FB (mimicking the new 2036 Fringe opening sequence).  You can click on the image to see an even bigger version.
The red background was added to maintain consistency with my other two Fringe-based drawings (both from 2010).
This is my drawing of Anna Torv as Agent Olivia Dunham –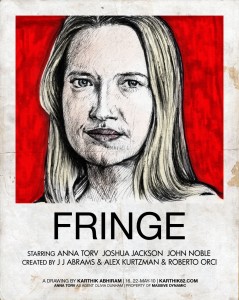 and this one is a drawing of John Noble as "Walternate" –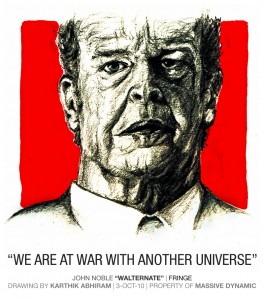 I am not sure how much the 2036 storyline in Season 5 will make reference to the fictional Massive Dynamic corporation, so I didn't include that bit of text in my Observers drawing.
I feel a little sad that Season 5 will be the last of this great TV show.  But it's probably for the better, since this would mean that the series would go out on a high note.
The title of this post is a reference to the Green Day song, yes, since it's being written on the last day of September, but it's also a reference to the Observer called September (played by Michael Cerveris) who helps the Fringe team.
One more recent work of mine is this photo –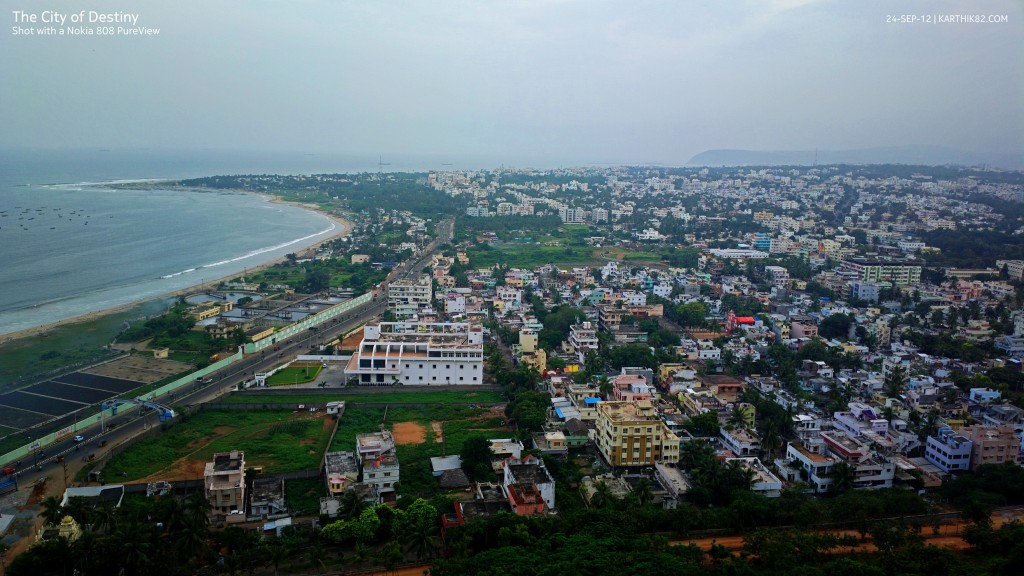 This is a shot of Visakhapatnam, the City of Destiny.  I took this photo with my Nokia 808 PureView phone, on my recent trip to Vizag for Campus Recruitment.  My colleagues and I visited a place called Kailashgiri, where you can go up a hill on a rope way.  From high above, you have a really nice view of the city.  As I'd mentioned earlier, the PureView is really nice for taking pictures like this, because the high resolution allows you to show off a lot of detail.  You can see the full-resolution (7728 x 4354 pixel) processed shot here. You'll have to download the file from that page (almost 10 MB in size), and you can zoom in and see small details (like for example, near the bottom left corner, you can read the text "VUDA MARINE DRIVE" on the arch on the road).
I have uploaded an album on Facebook with more pictures from the trip – Vizag Trip – 24-26-Sep-12 (40 images).  All of these were taken with the PureView phone.  I didn't have my Canon EOS 550D with me on this trip, since I travelled to Vizag from Chennai, and couldn't carry too much stuff.  The PureView camera served me pretty well I must say!