NOTE: This is going to be a long post, but written from the point of view of someone who is passionate about photography and therefore really appreciates the technology that Nokia has put into this device.
Nokia's new flagship phone, the 808 PureView, was announced on 27-Feb-12 (I wrote about it in this post).  After reading about it, I immediately knew that if I was ever to upgrade my existing phone (a Nokia N8), the 808 would be the one I would get.
My phone choices have been dictated to a huge extent by the kind of camera in the device.  In 2006 I got a Sony Ericsson w300i, followed in 2007 by a w700i, post that, a Nokia N82 (which had the whopping 5 megapixel camera), and in 2010, the Nokia N8 (which, with its 12 megapixel camera, had the best camera on a mobile device).
The N8 now has the second-best mobile device camera on the planet.  This is because, the Nokia 808 PureView has a 41 megapixel sensor.  Over the last few months, I've been reading everything I can about the camera and the technology behind it, and I decided that I was going to buy it as soon as I could.  Fortunately, India is one of the countries to get this phone early, so I managed to get my hands on the device on 21-Jun-12.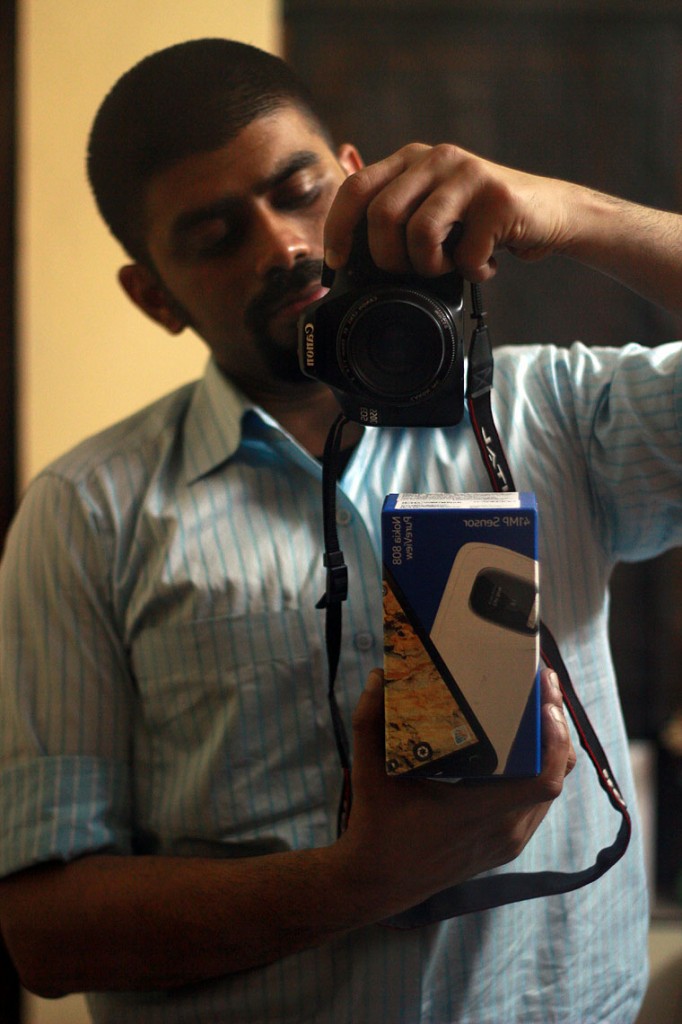 The retail price of the phone is Rs 33,899, but I ordered it on Flipkart and got it for Rs 32,499.  Plus, they even threw in a cover for the phone worth Rs 1,000.
You can see more pictures of me opening up the package I got from Flipkart on this Facebook album: Unboxing the Nokia 808 PureView (19 photos).  This is like a little kid opening up a Christmas present.
I have been talking about this phone to my friends for the past couple of months now, so quite a few people knew that I was crazy about this device, and people told me that I probably was one of the first people to order this from Hyderabad.  And I know of at least one person who actually bought this phone because of me.
Now you might ask the following questions (and people have asked me this) –
Why would anyone need a 41 megapixel camera on a phone?
Why would I want this, considering I already have a Canon EOS 550D DSLR camera?
My answers to that –
You don't NEED a 41 megapixel camera, but that doesn't mean it's not nice to have.  Recently, I saw Ren Ng's TED talk about the Lytro Light Field camera, in which he says that the Lytro opens up new creative possibilities.  In the same way, the Nokia 808 allows one to take different types of pictures that wouldn't be otherwise possible.  You can use it as a normal camera and produce 5 or 8 megapixel images with it.  But you can also use it to produce large-resolution images with lots of detail, and when done right, those images would be unique and can't be produced with any other camera in its class.
Who says you can't own and use more than one camera?  The DSLR along with the lenses I have can produce beautiful images, and yes, the images are superior to what the Nokia 808 PureView produces.  But a big advantage of the PureView is that I have it with me practically all the time – including situations where I wouldn't be able to take along my DSLR.
Here are my impressions on this device so far.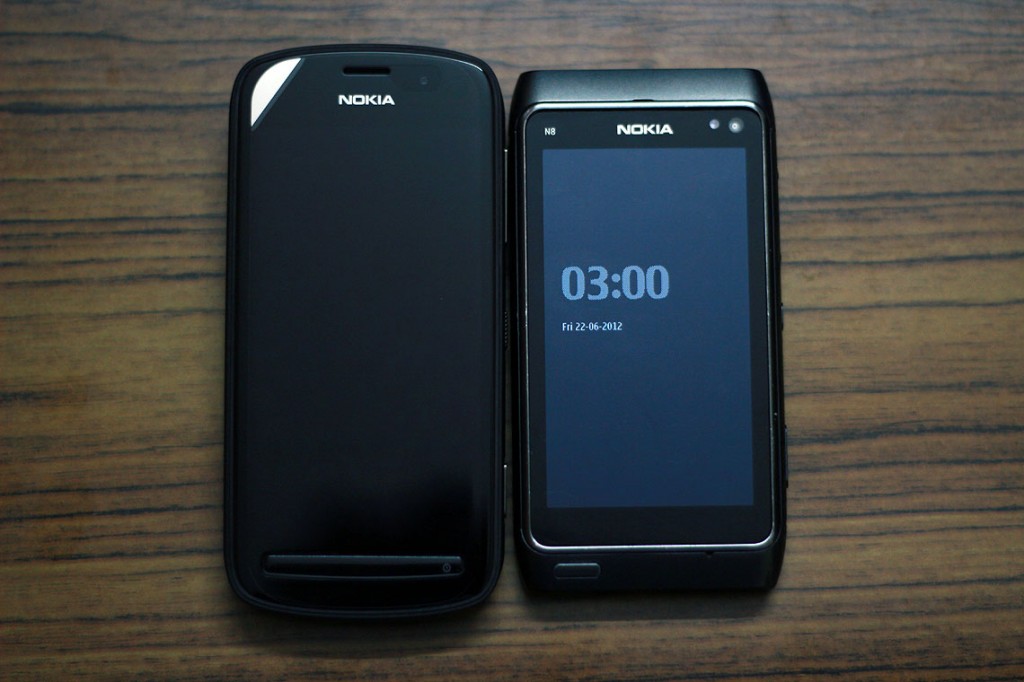 Right now, I am not using the 808 PureView as a phone, more as a camera & recording device, and a device to carry around photos, music and videos.  I am using my Nokia N8 as the phone still.
As you can make out from the above picture, the 808 PureView is larger in size than the N8 and feels heavier too.  This phone has a Micro SIM slot, so I have to get my SIM card cut down to size if I have to use it with this.  I haven't yet done that.
The AMOLED screen on the 808 PureView is bigger than the one on the N8, but it has the same number of pixels (360 x 640 resolution), as a result of which the N8's display actually feels sharper to me.
Due to the higher memory and better processor, the 808 PureView feels smoother in operation than my N8.
The phone come with a higher version of the Belle OS than the N8.  People told me that if I was investing in a phone, an Apple / Android / Windows phone is better in terms of the applications.  But that was not really my concern, since I was interested in this device only for the camera.  I seem to have bought a camera that also in its spare time, makes calls!
Now that the other stuff about the phone is out of the way, let's talk about the things that I am actually using this phone for.  Firstly, the camera.
PureView Technology
To really understand what's special about the camera on this smartphone, here's a small primer on photography and what Nokia is calling their PureView technology.
A camera is a box that is completely dark inside.  At one end of this box is a shutter – which is something like a curtain.  In order to take a photo, the curtain opens for a brief instant of time, admitting light inside the camera.  This light is focused by a lens, and it hits a light-sensitive surface (film if one is using a traditional film camera, or a digital sensor, if one is using a digital camera).  And this is how a photo is produced.
Nokia put a huge sensor into the 808 PureView.  This sensor is the biggest ever in a mobile phone, and is actually bigger than the sensors found on many compact digital cameras.  A comparison is given below –
35mm Full Frame Camera (Canon EOS 5D Mark II) – 36 mm x 24 mm
Nikon APS-C Crop Camera (my brother's Nikon D90) – 23.6 mm x 15.6 mm
Canon APS-C Crop Camera (my Canon EOS 550D) – 22.2 mm x 14.8 mm
Nokia 808 PureView – 10.7 mm x 8 mm (1/1.2″ sensor)
Nokia N8 – 7.2 mm x 5.3 mm (1/1.8″ sensor)
Compact Camera 1/2.3″ sensor (Nikon Coolpix P510) – 6 mm x 4.5 mm
iPhone 4S – 4.5 mm x 3.4 mm
You can see more details on this Wikipedia page – Image Sensor Format.
So Nokia's engineers have put in a big sensor that's capable of capturing 41 million pixels of data.  This information is used to produce images of different dimensions.  One can shoot in "full resolution" (which equates to a 34 megapixel image if you're shooting in 16:9 aspect ratio, or 38 megapixel if in 4:3), or in "PureView" mode.  PureView mode produces images of 8, 5 or 2 megapixels – but in order to generate these images, the phone actually crunches all the data that the sensor captures, which means that the smaller dimension images are actually very detailed and noise-free, and in this mode, you have 2 or 3x lossless zoom.  This is what they call "oversampling".  Video quality is also great, because this oversampling is used in video also.
Nokia is going to put in PureView technology in their upcoming phones too.
The lens on this camera is an f2.4 lens, as compared to f2.8 on the N8.  This means that the lens can open wider (smaller f number = larger opening), and therefore let in more light into the camera.
So what can you do with the camera?
You can use this camera as you would an 8 megapixel compact camera.  It'll produce very nice images, and works well in low light thanks to the lens and the PureView oversampling.  But you can also put it in the full resolution 34 or 38 megapixel mode, and shoot images with lots and lots of details.
This gets you thinking differently.  It's like having a wide angle prime lens attached to a huge-resolution camera.  In this full resolution mode, I like setting it to take 16:9 images as I find the wide aspect ratio interesting.
Enough talk, let's see some sample images – below is one of the early images I took with this camera.  This is Cyber Towers at Hitech City, Hyderabad.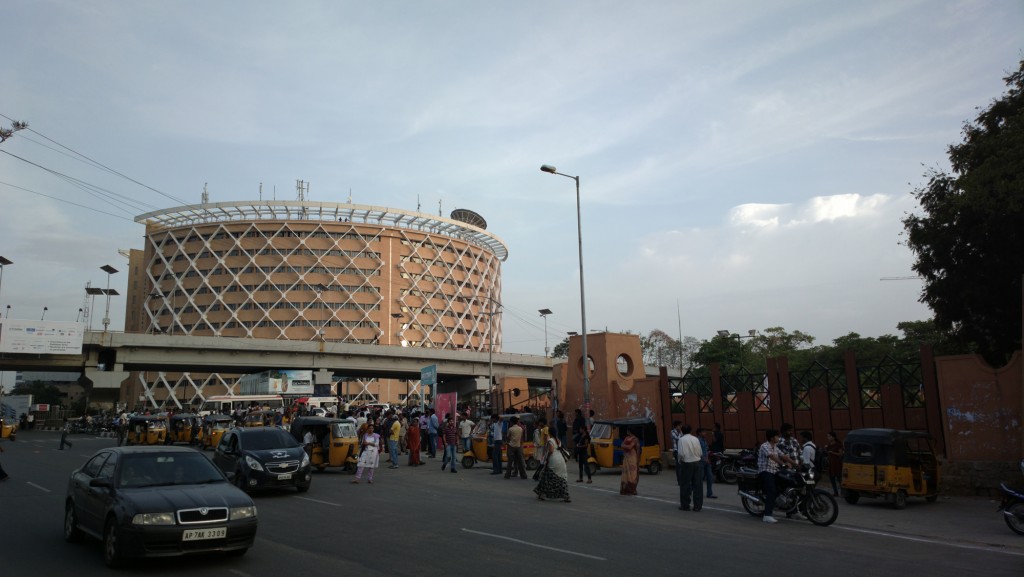 Click the above image to see a larger version.  Of course, that is about 2000 pixels wide and not the actual 7728 pixel wide version that came straight from the camera.
Below are some sections (100% size crops) extracted from the full image – where you can make out text on signs, license plate numbers, you can see faces of the people in the crowd, and two people standing on the roof of the building.  You cannot get images like this with any other mobile phone on the planet!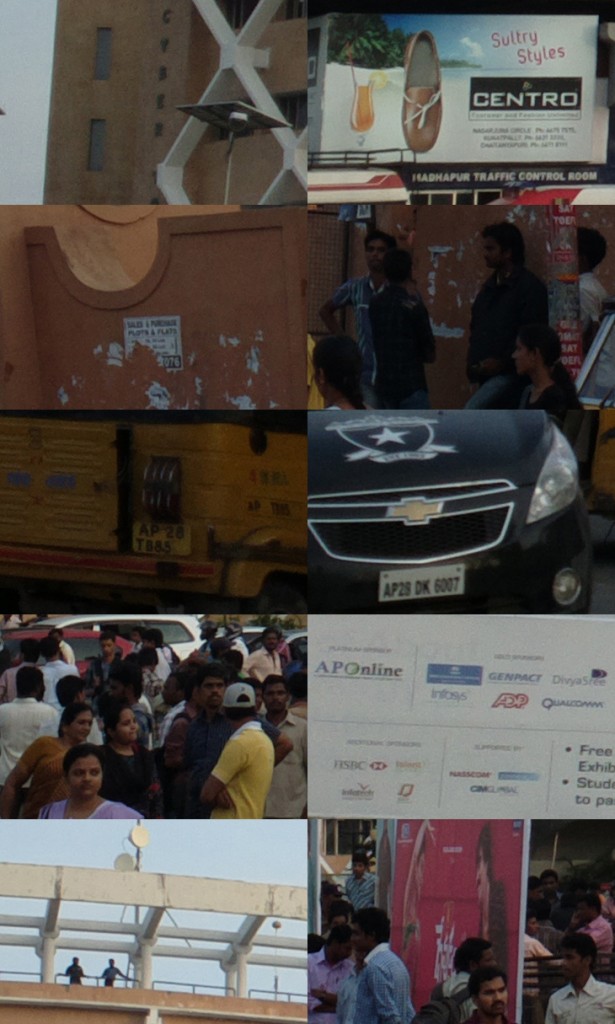 With a little editing, below is the final image.  I boosted the contrast and colours in Photoshop Elements.  The lens produces a very pronounced pincushion distortion when you shoot it at the wide aspect ratio (I think the distortion would be reduced if shot in 4:3 ratio, I have not tried this much so can't tell exactly), so I got rid of that too.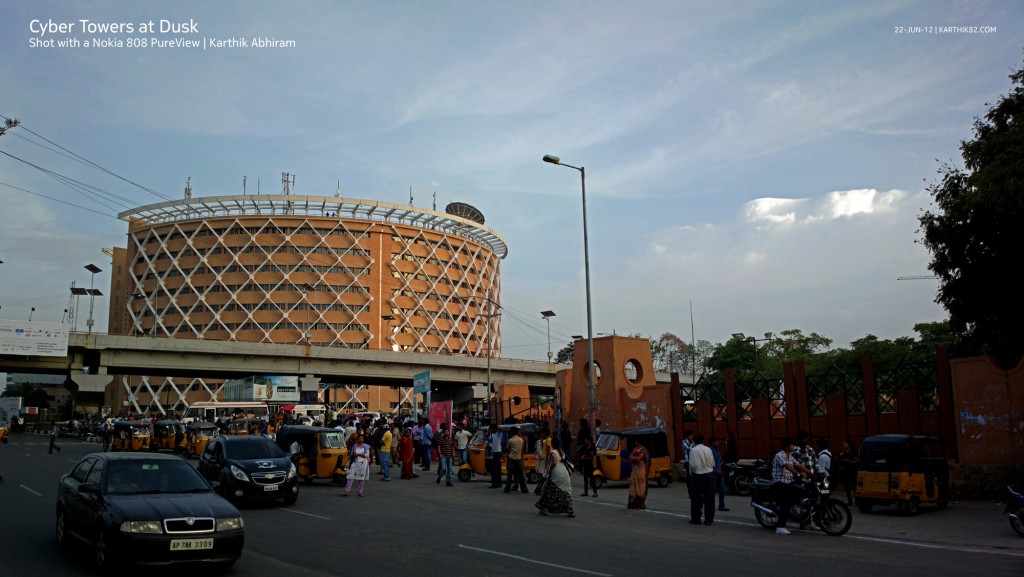 I have uploaded the full size image at deviantART here – Cyber Towers at Dusk by ~karthik82 on deviantART.  You can download the 7728 x 4354 pixel image from there (it's big in terms of file size – approximately 7 MB) and see all the little details for yourself.
One more bit of trivia about the image above – the text I put in is in the typeface Nokia Pure – which is Nokia's new font that they're using for all their branding (their earlier font was called Nokia Sans).  This is the font used on the packaging of their phones and also on their websites.  You can read about it here and even download the font file from this page.
One more picture which I shot with this camera, this is a tall one as opposed to a wide image –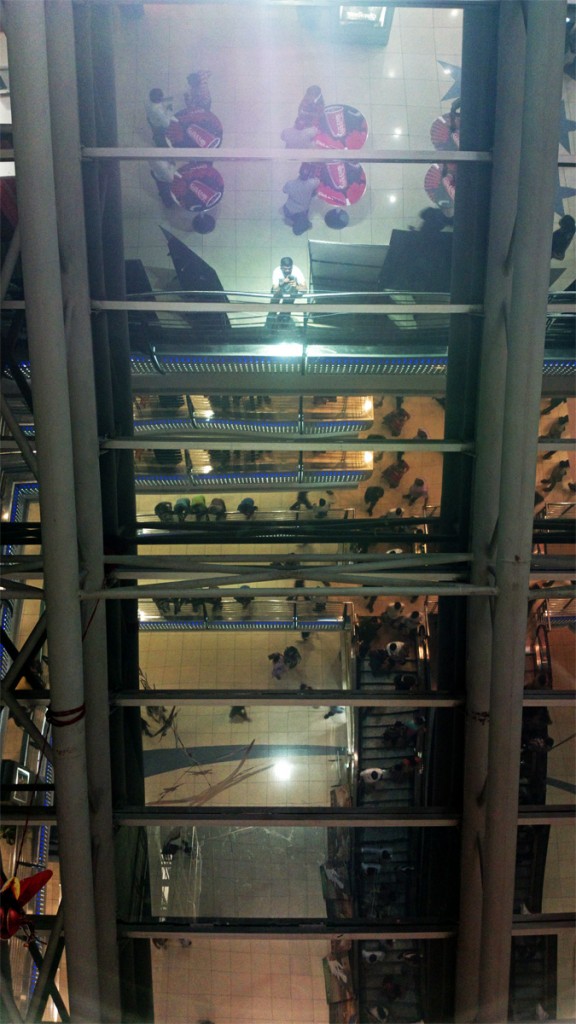 As you can see, I am illuminated and enlightened by the light!  This was taken at Prasad's Multiplex when I went to see the night show of Anurag Kashyap's Gangs of Wasseypur.
This is another image I took with the camera, that I am proud of –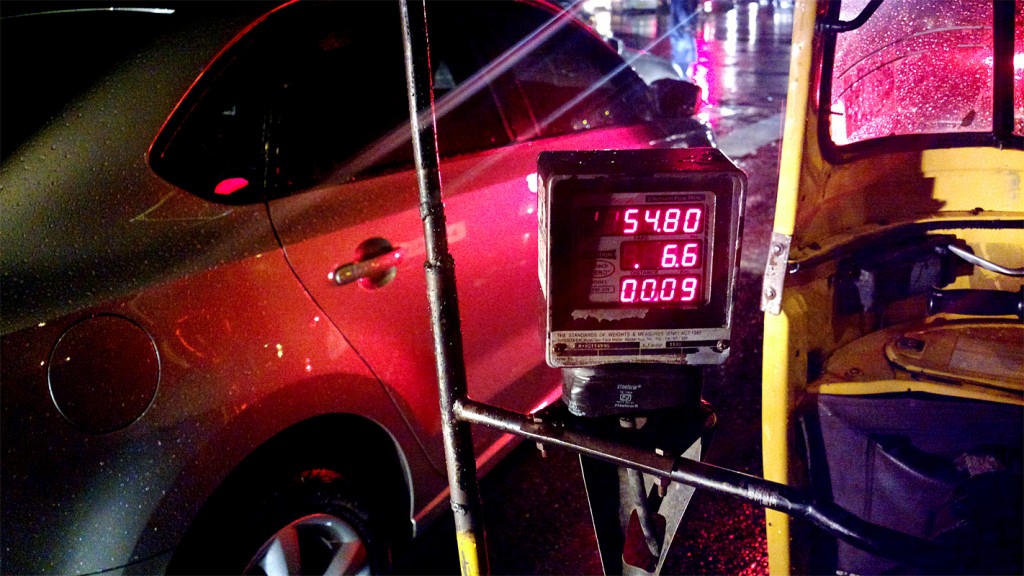 This was taken on a rainy night, and shows off the low light capabilities of the camera.  This is also an edited image, but even the image straight from the camera looked great.  This one, I shot in the 8 megapixel PureView mode.
On 23-Jun-12, pretty soon after I got this camera, I went on a Photo Walk.  I had carried along my Canon EOS 550D, but decided that I'd take all my photos that day with the PureView camera only!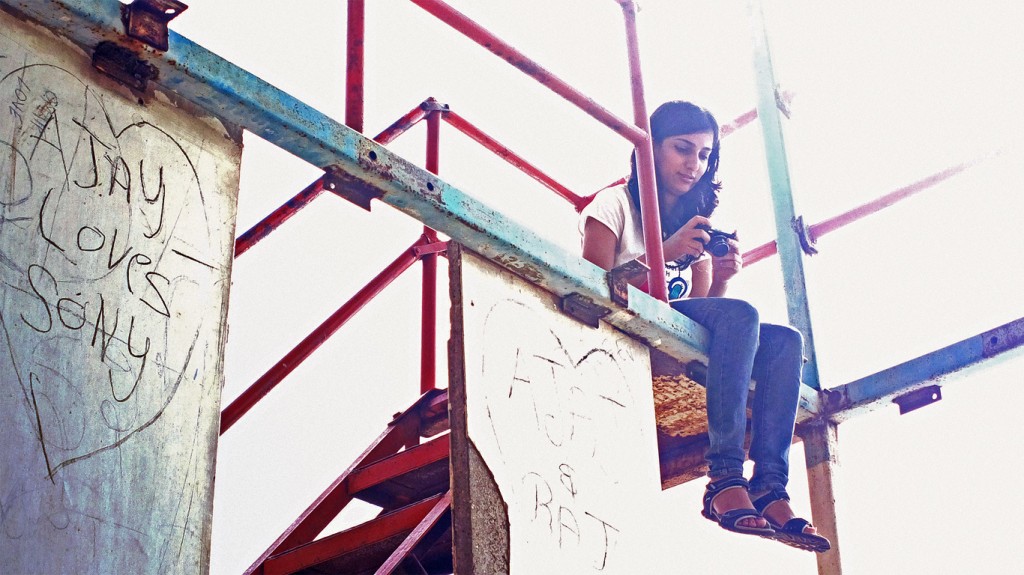 Here is the full album of photos on Facebook: Photo Walk by Karthik and Vikram Jammula (21 photos).  Apart from resizing and a little auto-contrast boosting, no other editing is done to the images in that album.
Recently, I attended Pecha Kucha Night Hyderabad Volume 9.  As it has been for the past 4 volumes, I was the 'unofficial' photographer at that event.  This time though, I took photos using both by Canon EOS 550D as well as the Nokia 808 PureView.  (To understand what this event is all about, you can read my detailed post here.)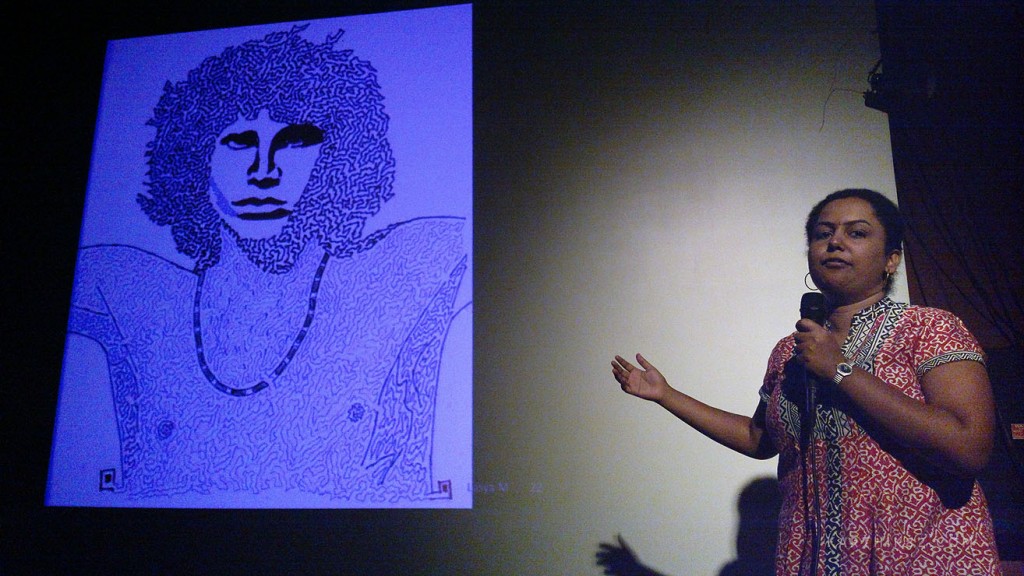 Here is the full album of photos on Facebook: Pecha Kucha Night Hyderabad Vol 9 (78 photos).  The last 20 photos in this album (beginning from this one) were taken with the 808 PureView.
In retrospect, these images aren't probably the best that the 808 can produce.  I took all of those in the 34 megapixel mode, at ISO 1600 (since it was a very low light environment).  I should have taken them in the 8 megapixel mode, where PureView oversampling would have kicked in and made the images cleaner (I'd still say these images are pretty decent, since many cameras don't even go up to ISO 1600).  Well, it's a learning for next time.
Okay, one more image before we wrap up talking about the camera.  I don't think you can take a picture like this on any other mobile phone camera on the planet –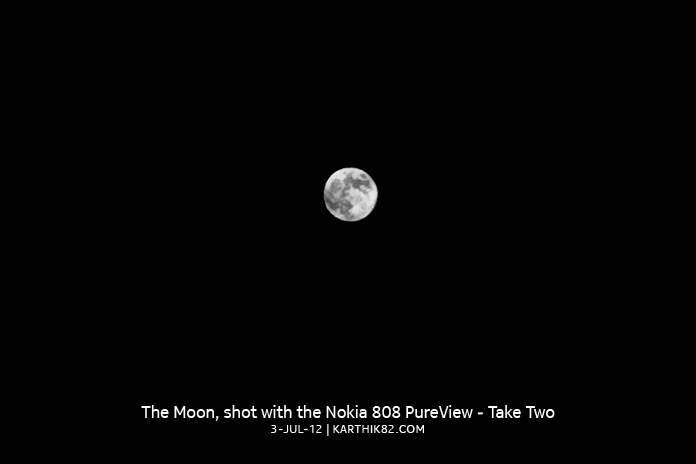 This is blasphemy… this is madness!  Madness?  This… is… PUREVIEW!
Let me explain a little about how I took this shot.  Earlier, I had taken a photo of the Supermoon.  That experience taught me that when taking a shot like this, you actually have to cut the amount of light entering the camera, since if you keep it in the auto mode, all you'll get is a white circle.  I also knew that I'd have to zoom as much as possible.
So, I put the camera in the PureView 2 megapixel mode (so I could zoom), set it at ISO 100 (so that the image would have less noise) and zoomed in all the way.  I reduced the exposure as much as the camera would allow (I think I'd put it at -4.0), to cut the light so I don't lose shadow detail.
I set the focusing mode on the camera to either hyperfocal or infinity (now I don't remember which one), and then took a bunch of shots.  I selected the one that was the best out of the lot, then cropped the image and darkened it further in Photoshop Elements.  Added text in the elegant Nokia Pure font, and there you have it.
If you want to see the image straight from the camera, it's below –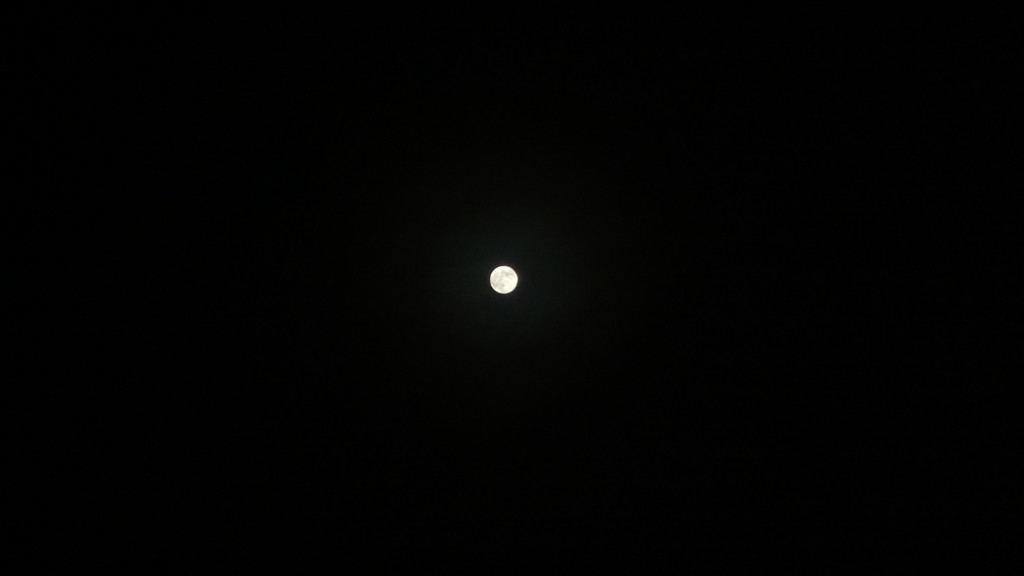 Some more tips on using the camera on the 808 PureView
The user interface on the 808 PureView's camera, I think, is really nice.  It's very intuitive.  There are three modes in which you can use the camera.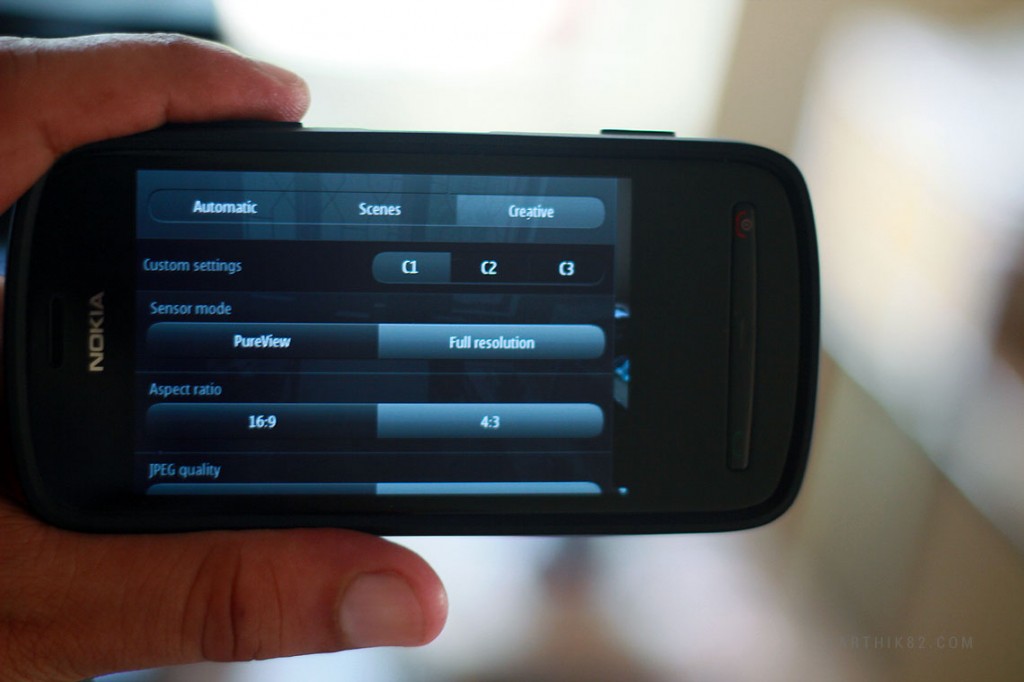 Automatic – Camera decides all the shooting settings, provides you with no options at all, excepting the shutter button and an option to turn on / off the flash.  Very simple to use.
Scenes – You just decide the scene mode – landscape, portrait, low light, sports, etc, and the camera will decide the settings suitable to that scenario.
Creative – Here's where you can select all the shooting options.  Automatic and Scenes both shoot only in the lower resolution PureView mode.  In Creative, you can select whether you want to use PureView or shoot in full resolution, you can select the aspect ratio (16:9 or 4:3), adjust contrast, saturation, sharpness.
One thing I'd advise you to do is, go into the Creative menu, scroll down all the way and click on Preferences.  There, you can turn on the Viewfinder Grid and enable Video Stabilisation.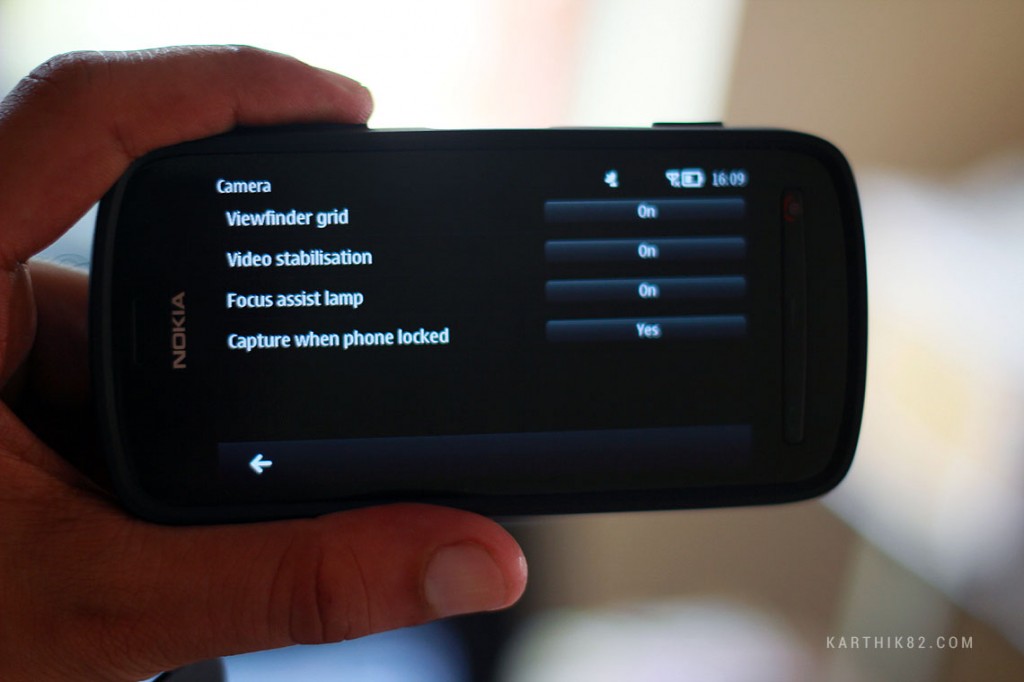 The Viewfinder Grid is very useful as it will enable you to apply the Rule of Thirds while shooting stills and recording video.  Also, in the video mode, it provides you with guides to compose your image for a 2.39:1 aspect ratio (crop marks), so if you are going to crop your video later on to a Cinemascope-type widescreen format, you can be sure that you are not placing anything of interest in an area that'll be cropped off later.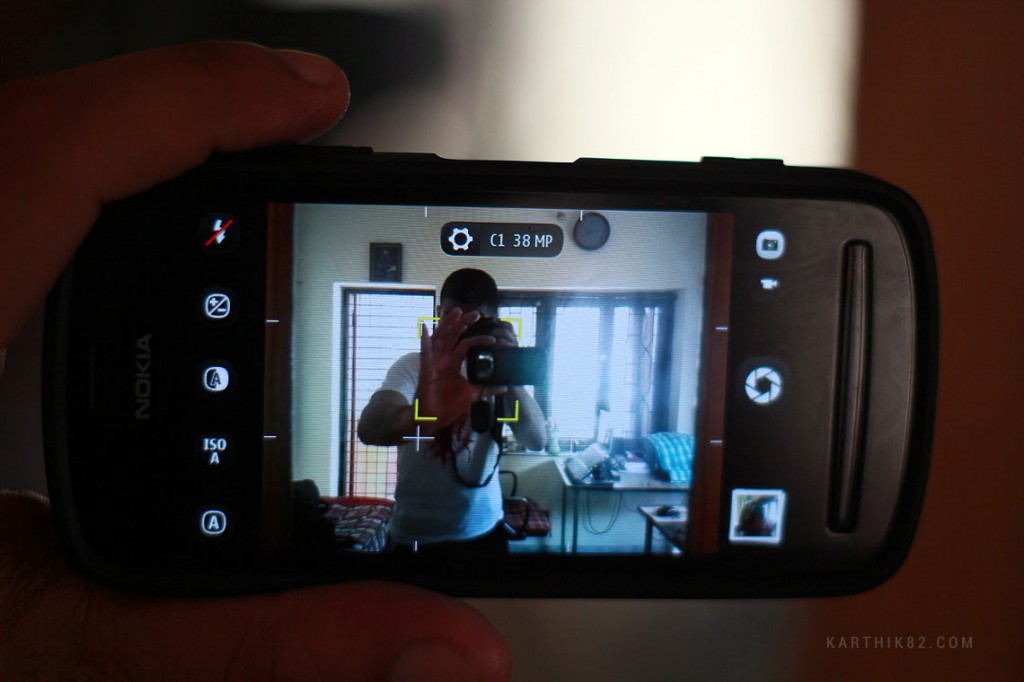 While taking a picture in Creative Mode, the icons on the left allow you to choose the following options (in order) –
Flash On/Off
Exposure – To brighten / darken the image.  Default is set at 0.0, you can go to -4.0 at one extreme and to +4.0 at the other extreme.  This is what I was talking about in the Moon photo example.
White Balance – Sunny, Cloudy, etc options.
ISO – This camera goes from ISO 50 all the way to ISO 1600.  And it has relatively less noise even at ISO 1600 for a camera in its class.
ND Filter – The camera (like the N8) has a neutral density filter which can cut light (for example, if you're shooting directly into the sun, you'd obviously need to have it on, else you'll get a fully white image).  You can set it on, turn it off or leave it in automatic mode for the camera to decide.
There's another parameter you can set which you might not readily be aware of, since it's not accessed by any of the above-visible options – Focusing mode.  You access this by long-pressing on the screen (touch and hold for a second or two till the menu pops up).
There are four options here and here's what they mean –
Automatic – The normal mode of operation – you touch on an object to focus on it.
Close-up – Similar to the previous one except this allows you to focus closer.
Infinity – Set the camera to focus at the farthest distance.  This way, when you press the shutter button the camera won't spend time trying to focus on anything.
Hyperfocal – Focuses the camera at the hyperfocal distance – essentially meaning you get the maximum depth of field possible (one explanation is here).  This means that excepting for objects that are very close to the camera, everything will be sharply in focus.  The "Sports" scene mode uses Hyperfocal focusing.
Again, referring to the Moon shot, I used either Infinity or Hyperfocal focusing (I don't remember which), since when I kept the camera in Automatic focusing mode, it had trouble focusing sharply on the moon.
Video and Audio
The 808 PureView can shoot full HD video in 1080p.  You can zoom when recording video too, and the quality is amazing, much better than what you'd find in any other camera phone.  The video camera also has Automatic, Scenes and Creative options (just like in stills).  If you put the camera in 360p resolution, you can really zoom in a lot (enough for filming the moon)!
When you're filming video, the audio quality in your clips is really, really good.  Nokia has put in something called Rich Recording in this device, and it really produces very nice audio.
You can take advantage of this even when you're just using the Sound Recorder.  Put it in "High Quality" mode and you'll get really nice audio.
Take this piece, for example –
[soundcloud url="http://api.soundcloud.com/tracks/52199117″ iframe="true" /]
This is a short theme music that I made, for the Galacticast audio podcast on my cousin Girish's blog Galactica.  Listen to it with headphones – the quality is great.
A couple of things about that file –
My cousin's name, his blog's name as well as the name of the podcast all begin with the letter "G", therefore, this theme music uses the G#7 chord, and I simply played 3 of the strings!
Broken Plectrum is a name I came up with.  A few days before, the plectrum I was using broke.  That's what led me to come up with this name, and I even made an image for it (as you'd expect, I shot that with the Nokia 808 PureView camera as well).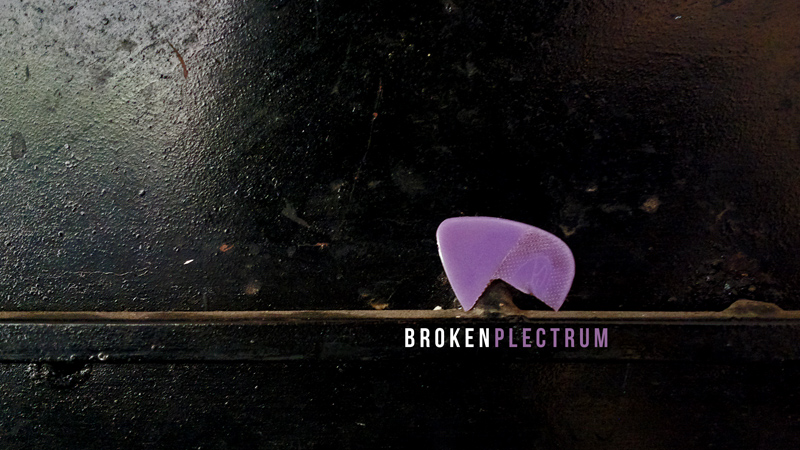 Nice, isn't it?
That about wraps it up for this post!  As and when I come up with more interesting stuff to post and talk about, I'll write about it.  I have an album on Facebook for 808 PureView Photos, I'll keep adding to that.  And of course, any videos I shoot with this will be uploaded and written about later.
More Video Links