The next volume of Pecha Kucha Night Hyderabad – Volume 8 – is happening at Lamakaan, Banjara Hills on 31 March 2012.  The event starts from 7 PM onwards.
When I tell people about this, they always ask me what this event is all about, and so I thought I would write a post about it.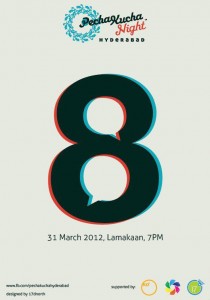 "Pecha Kucha" is the Japanese term for "chit-chat".  A Pecha Kucha Night (PKN) is a gathering where a group of speakers talk about their work, hobby or passion, in a presentation format known as 20 x 20.  This means that each speaker's presentation must consist of 20 images or slides, each of them being shown for 20 seconds.  Therefore, each presentation at a Pecha Kucha Night runs for approximately 7 minutes.  (more info: Pecha Kucha Website, Pecha Kucha Article on Wikipedia)
The time limit avoids the "death by PowerPoint" effect – and since each presenter is speaking on something they are really passionate about, the talks are always interesting.
Pecha Kucha Nights happen all around the world.  Hyderabad has played host to 7 successful volumes of PKN so far, all of them organised at Lamakaan, the open cultural space at Banjara Hills. (Google Maps page)
I was one of the speakers at Pecha Kucha Night Hyderabad Vol 6, and I attended Vol 7.  Here are a few glimpses from those events.  Since it's my blog after all, I fully intend to use this opportunity to highlight my seven minutes of fame all over again!
Pecha Kucha Night Hyderabad Vol 6 – 5-Nov-11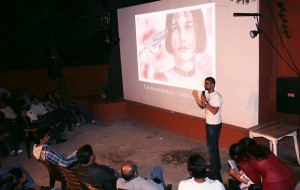 PKN Hyderabad Vol 6 featured 9 speakers, talking about a variety of very interesting subjects.  This was my first time at a PKN, and I had earlier expressed my interest to participate.  As it turned out, mine was the first presentation that evening.  I spoke about "My Movie Fan Artwork".  The organisers had two Canon EOS 5D Mark II cameras set up to film all the talks.  Here is the official video of my presentation on YouTube –
I've made a PDF of my presentation – you can download it here: Karthik Abhirama Krishna – "My Movie Fan Artwork" [3.14 MB]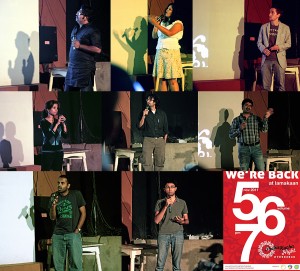 I had my camera with me, and I took a bunch of photos at the event.  Above is a picture featuring the other speakers at PKN Hyd Vol 6 (photos by me).  These are the talks (all YouTube links) –
I had a wonderful time at the event – and I was totally hooked.  Therefore, I eagerly awaited the announcement of the next volume.
Pecha Kucha Night Hyderabad Vol 7 – 4-Feb-12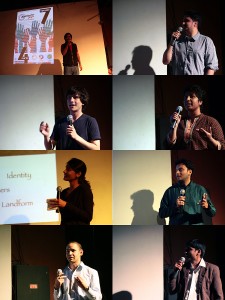 Volume 7 was held last month, again at Lamakaan.  I was present this time as an audience member, and an 'unofficial official photographer' (I took photos at the event and sent them to the organisers, who uploaded some of them on their album on Facebook, with due credit to me).  Above is a look at the speakers who presented at this volume.
There were seven speakers (so the first image in the collage above is of Harish Krishnan, one of the organisers, introducing PKN Hyd Vol 7) and another interesting set of talks.  Here are the YouTube links to the talks –
Here are a few more glimpses from the two events I attended so far –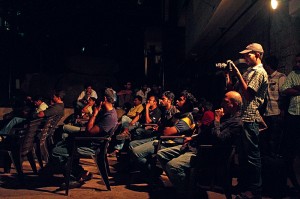 One section of the audience at Vol 6.  If you're taking photos at this event, it's in low light, so you'll either need a flash or a good and fast lens.  That's the reason why I took many of my pics with my 50mm f1.8 II lens.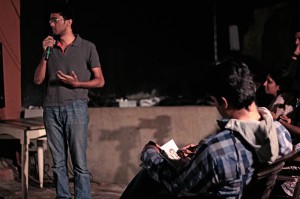 This is an interesting moment that I managed to capture at Vol 6.  Anwar Ahmed is speaking, while Viswaprasad Raju draws a sketch of him!  See the full size photo to see more detail.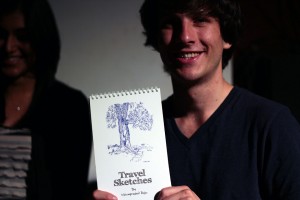 The presenters at Vol 7 got a copy of Viswaprasad Raju's Travel Sketches calendar.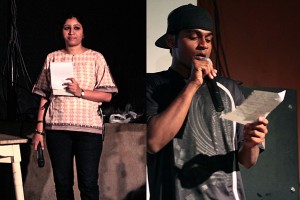 Apart from the presenters at PKN Hyd, the MCs are also important contributors to the event.  Srinidhi Dasaka was the MC for Vol 6, and Dixith PNP was the MC for Vol 7.
If you want to see still more photos, take a look at these two albums on Facebook (my photos) –
Are you interested in participating?
I would recommend you "Like" the official Pecha Kucha Hyderabad Facebook Page.  That's the easiest way to get updates on upcoming events.  You can also follow @pknhyd on Twitter.  This is their YouTube channel where videos of talks and promos of events are uploaded (apart from the videos I have linked above, one of the most popular uploads there is Joseph Radhik presenting at PKNHyd 3).
If you are interested in participating (either as a presenter, or as an MC), you can send the organisers an email to hydpkn@gmail.com, indicating what you would like to present on.  They would then send you further details and a PPT template using which you can create your presentation.
If you'd just like to attend the event as an audience member, all you have to do is come over to Lamakaan – there is no entry fee.  It's advised that one arrives early, since the seating space is limited and these events tend to attract large attendance.
A few concluding notes
The Hyderabad Editions of Pecha Kucha Nights are organised by the people who run Hands Media and 17d North and a few other helping hands.  These passionate people must be appreciated, since it's not an easy task pulling off events like this when you have day jobs.
I didn't know till I saw the 17d North website that this firm did the branding for the Rubaiyat and Nautanki Gali restaurants!  If you've been to these places, you know how creative the ambience is.  Also, I find the name of the firm interesting – it's a reference to the latitude at which Hyderabad is located.
Finally, I have to mention and say thanks to Pratyusha J, since it was she who told me about Pecha Kucha to begin with, several months ago!