As I'd mentioned in an earlier post, I thought I would do a quick recap of what I've been up to, in the last few months.  This is presented roughly in reverse chronological order, and I've used photos to illustrate what I am talking about.  (NOTE: I wrote this post in the mid of October, so it doesn't cover absolutely everything right up to the present time.)
150+ Days at the Gym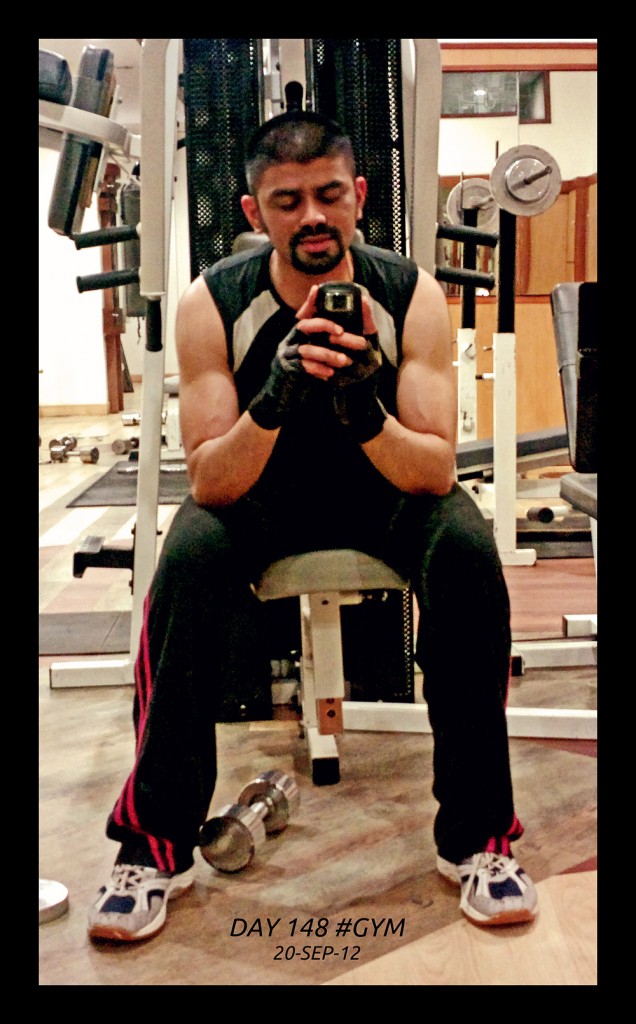 Looks good, no?  I'm quite proud of that photo!  I started going to the gym at office in mid-December 2011.  For whatever reason, I kept count of the number of days I was actually working out, and that count has crossed 150 by now.  I go to the gym on Monday, Tuesday, Wednesday and Friday (since on Thursdays I attend Guitar class), so typically the count gets incremented by 4 every week, less than that if there are office holidays or I am travelling.
You could say this is a new hobby of mine and just like posting my drawings or photos, I'm uploading pictures taken at the gym to mark milestones.  I posted the below one to mark Day 100, and that got a lot of Likes and comments on Facebook.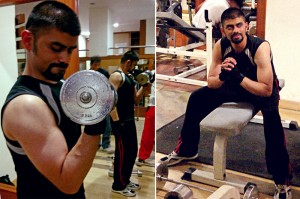 I was going to post one more when I hit Day 150, but towards that date, I knew there were going to be a few breaks since I was travelling for campus recruitment.  Therefore, I posted the below photo when I reached Day 146.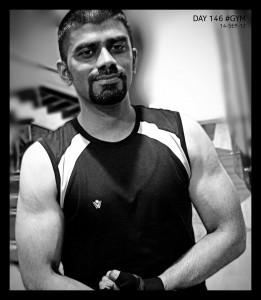 I'd have left it at that but the Day 148 picture just kind of happened… and it looked good so that's my current Facebook and Twitter profile picture.
On a related note, here is a very useful link with a workout that you can do even if you don't have access to a Gym: Beginner Body Weight Workout from Nerd Fitness.
Covering events at office
Over the last few months I seem to have become an 'unofficial official' photographer for several events at work.  It's been a great experience for me and a lot of fun.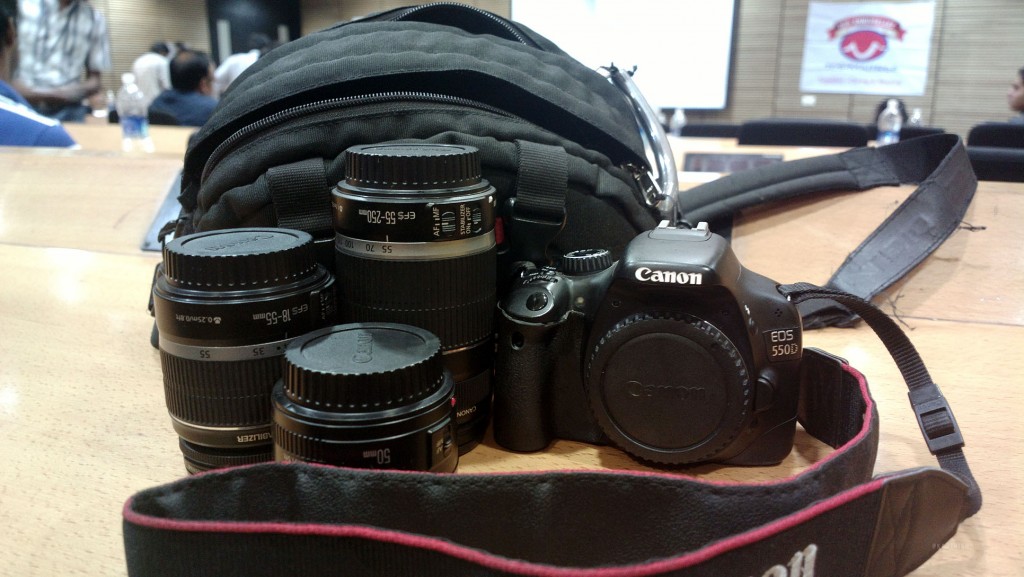 Covering these events teaches you a lot – how to get better at not missing important moments, how to plan in advance about what kind of shots you want to get, the importance of getting the photos right in the camera, and the importance of selecting the shots that you want to show to others.
For no particular reason, while I was working on the photos from one particular event, I decided to tweet about the process of selection (read the tweets from bottom to top) –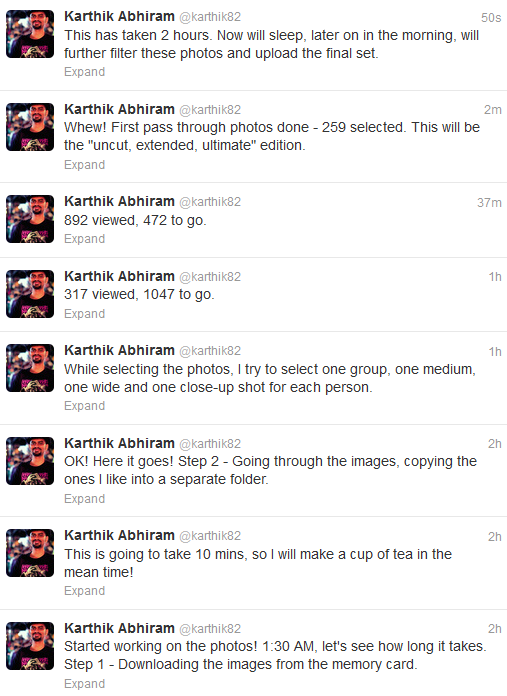 As you can make out from the tweets, I shot more than 1300 images during the four hour event, and made a selection of around 250 images to show to others.  However, out of that set, I further filtered images and only uploaded the 180 best ones to Facebook.
At one of the events, apart from being the photographer, I also played a small bit of music on guitar.
I later recorded a video of what I played that day.  Here it is –
This was recorded at home with my Nokia 808 PureView phone, and as you can make out, the audio quality is really great!  I edited the video on kdenlive and Windows Live Movie Maker.  The old videotape-type font is called "Camcorder" and you can get it here.
Pecha Kucha Night Hyderabad
I attended Pecha Kucha Night Hyderabad Volumes 8, 9 and 10 in the recent past.  I took photos at each one of them.  I believe I may have put links to a couple of the albums in earlier posts, but for easy reference, here are the links (all are albums on Facebook) –
Two of the photos I took at PKN Hyd Vol 9 got printed in The Hans India newspaper.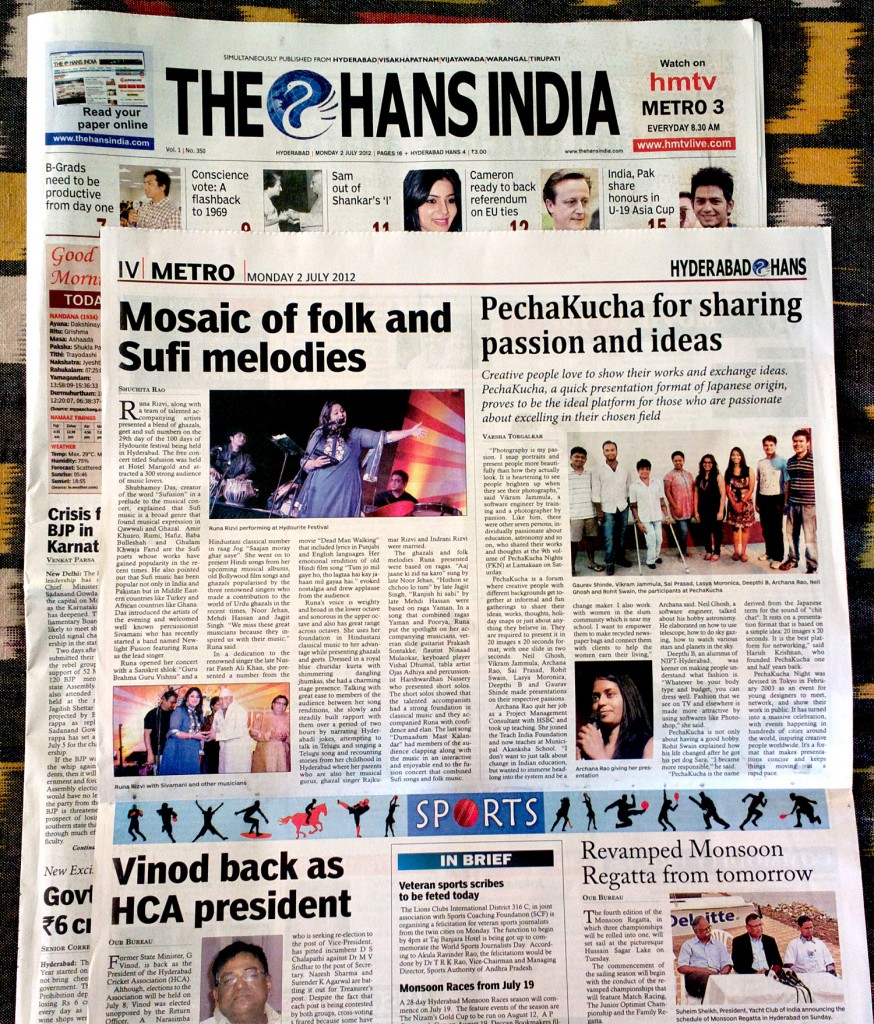 (Both photos in that article are mine – you can see them on the Facebook album.)
Speaking of this, earlier (in May 2012), my Pecha Kucha presentation from November 2011 got mentioned on the Pecha Kucha Daily blog.  My presentation is also there on the global site.
Blue Moon and Hard Disk
I took a photo of the Blue Moon from 1-Sep-12 – this is probably my best Moon shot yet.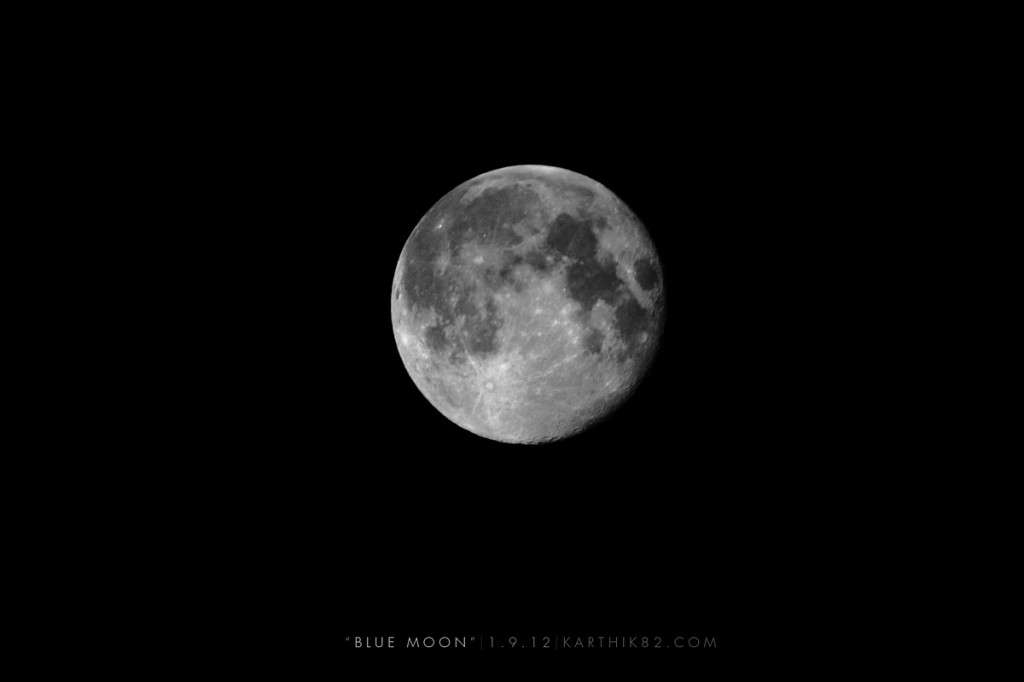 At around that time, I also welcomed a new 1 TB hard disk to the family –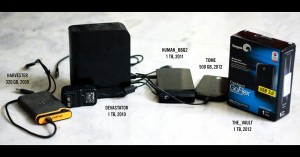 Mumbai Trip
In the beginning of August, I went on a short trip during a long weekend to Mumbai.  I stayed at my cousin's place, visited TCS Gateway Park office, met my friend Rajith there, watched Gangs of Wasseypur II, and participated in the TCS Fit4Life – 5 km Run with the CEO.
Here are the two Facebook albums that show photos from this all-important trip –
Two notable pictures – the below one shows me, Girish and Vrushodh – the crew behind the Gods of Galactica podcast (earlier known as Galacticast)…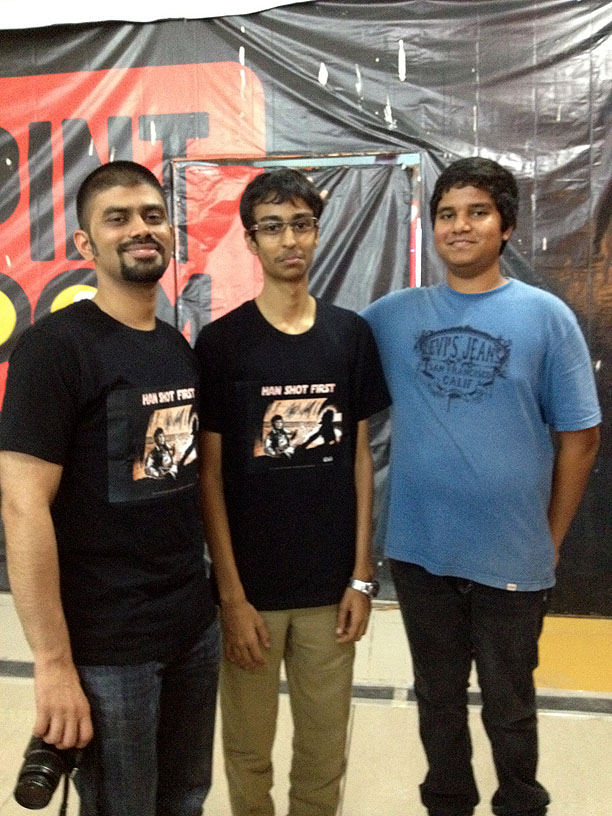 …and here is a photo from the 5 km Run.  This was the second 5 km Run I've ever participated in.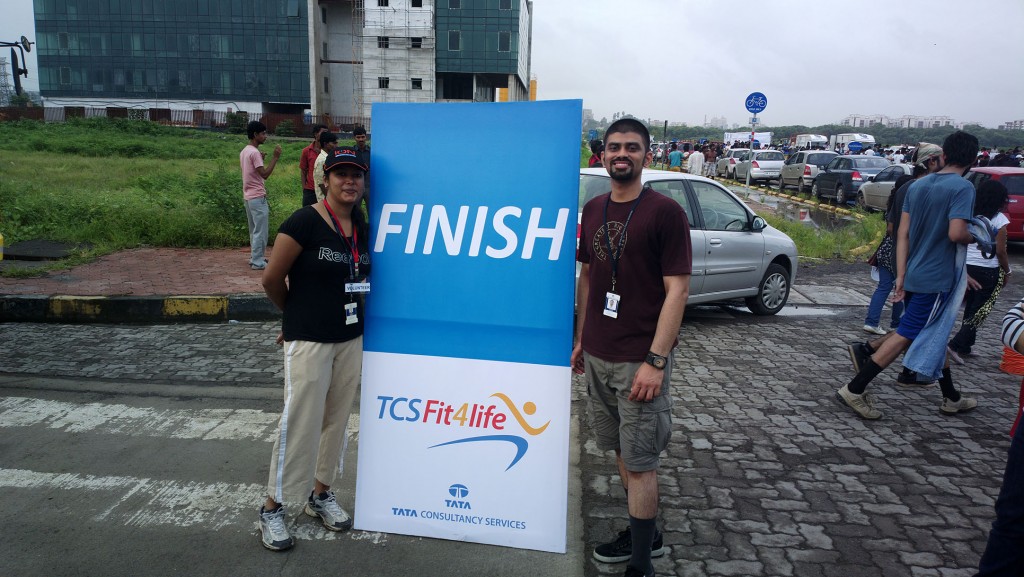 Secret Lake Photo
From earlier in August, here is a photo of Durgam Cheruvu, the "Secret Lake".  This was shot from Inorbit Mall one afternoon when I went there for lunch, on my PureView phone.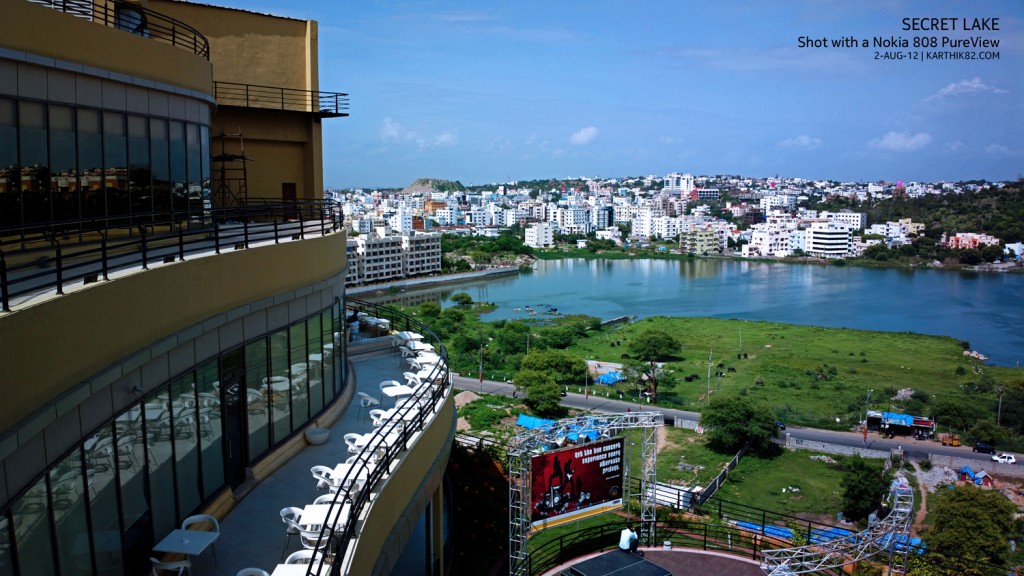 My post mentioned by Nokia
After I wrote that long post about the Nokia 808 PureView, I tweeted it to the official Nokia account (@nokia).  It was really nice of them to retweet it – and they mentioned they liked the post.  I felt very happy about that.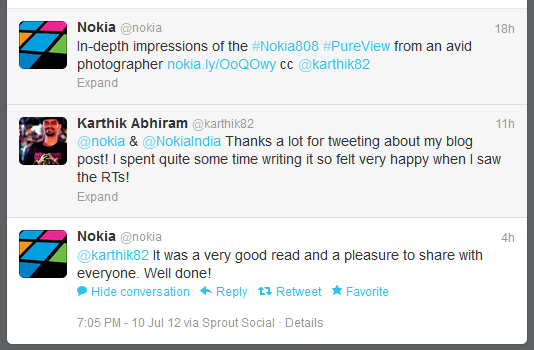 Han Shot First Drawing
I did the below drawing as a gift for my cousin on his birthday.  I also got it printed on a t-shirt (that's what Girish and I are wearing, in the Galactica crew photo above).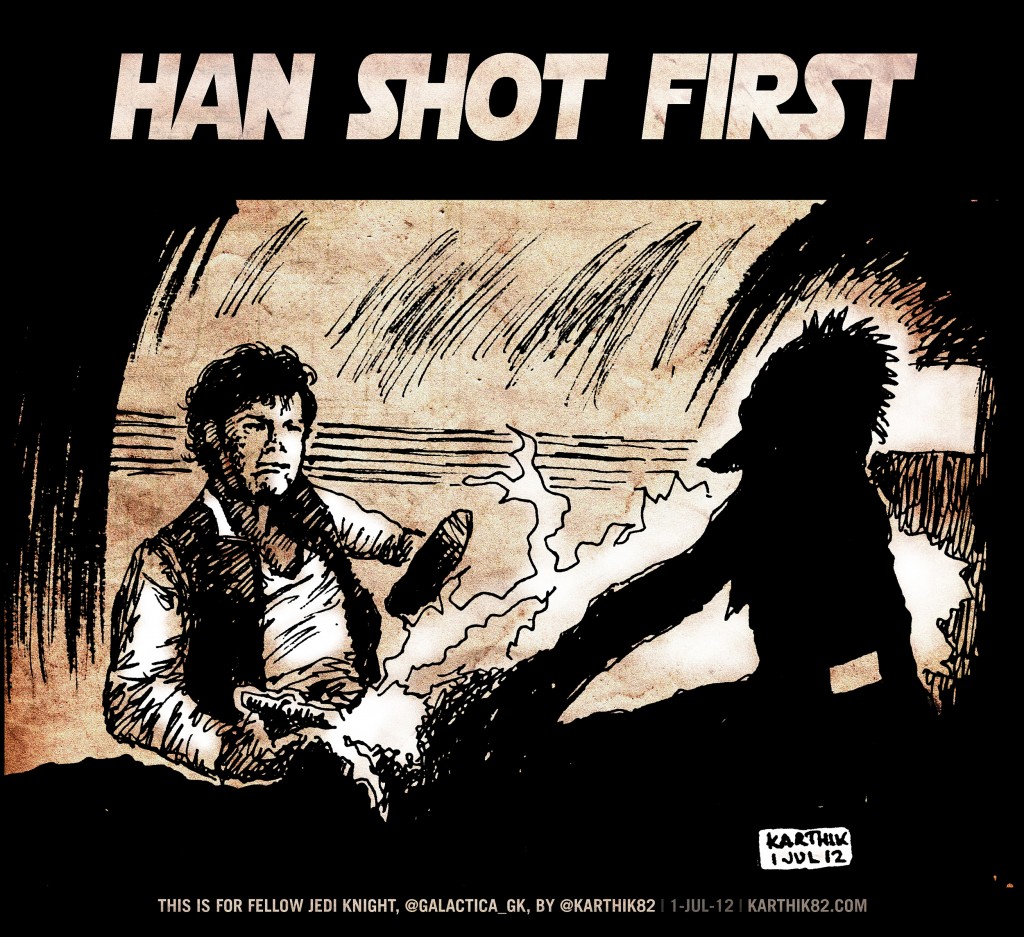 Star Wars fans will know the background of this.  For the uninitiated, here's the explanation in short.  In the original Star Wars movie released in 1977, there is a scene in which the character Han Solo played by Harrison Ford, is confronted by the gangster Greedo in the Mos Eisley cantina.  Greedo points a weapon at Han and says that Han owes money to the ruthless Jabba the Hutt.  Han then shoots Greedo and exits the cantina.
In the 1997 "Special Edition" re-release of Star Wars, this scene was slightly altered, to show Greedo shooting first and missing Han (at very close range), and Han shoots Greedo after that.  This alteration (though made by the movie's creator, George Lucas) was not looked at favourably by fans.
My cousin has a long post on this here.  This is why I made this t-shirt for him!
On the topic of the alterations made for the Special Edition of Star Wars, it is to be noted that a fan called Harmy has created high-definition "despecialized" versions of all the movies in the Star Wars original trilogy.  This is an assembled edit from various sources, since LucasFilm had not released the unaltered versions on Bluray.
More details at the below links –
Blue Sky at Hyderabad
Early in the month of June, there were a couple of days when the sky was a wonderful blue colour.  A great opportunity for photography –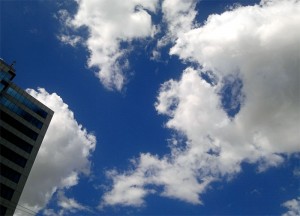 Here is the Facebook album with some more photos – Blue Sky.
Electric Guitar
For my birthday on May 15, I was lucky to get a great gift from my family – an electric guitar!  I uploaded some photos of it on this Facebook album, and posted a short video of me playing it.
Rooftop Shooting Challenge
I had earlier written about a photo shooting challenge I'd done, of taking only B&W photos in my room at home.  I tried a different challenge sometime later, of shooting with just one lens on the rooftop of my house.
Here is the link to the album on Facebook: Rooftop Shooting Challenge.
I believe I have covered most of the important events from the recent past in this post!  More to come later.