Karthik82.com is the website of Karthik Abhirama Krishna from India.
I am an artist and photographer, and a big time movie and (to a relatively smaller extent) comic book geek.  At one point of time, I made and released a bunch of levels for the game Doom as well.
In the real world, I am an Assistant Manager – Human Resources with Tata Consultancy Services.
Find me at other places: Facebook | Twitter | deviantART | YouTube
What you are seeing right now is the 2012 "reboot" of the website.  This site has existed for a very long time – the 'historic' / archived version is here: http://historic.karthik82.com.  The content there is preserved as-is, since I wrote the code for that myself.  The present website runs on WordPress.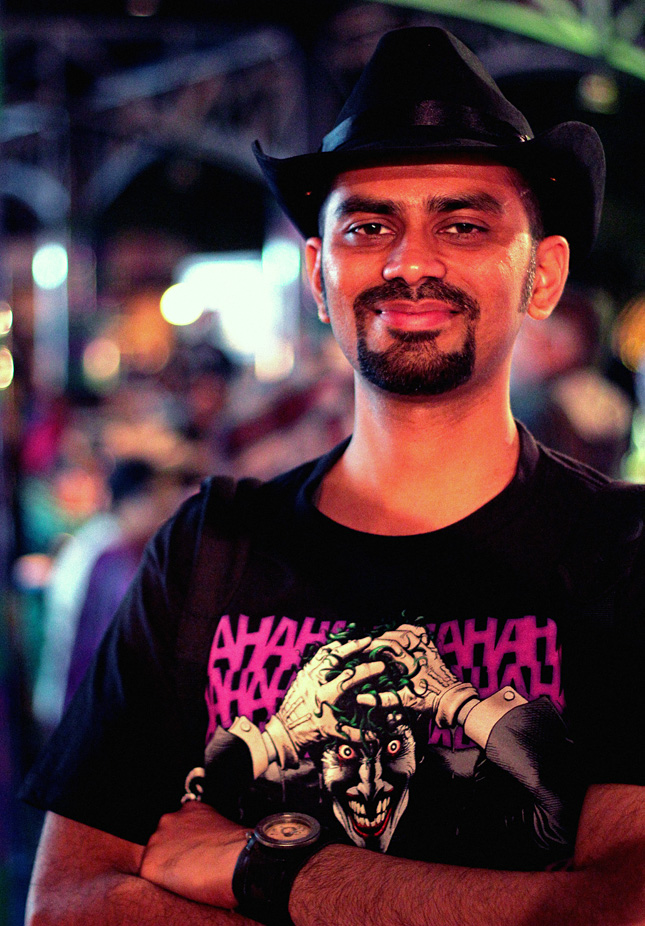 Most of my artwork is related to movies.  My art is almost entirely traditional – I use pencil or pen on paper, scan or photograph the artwork and then edit in Photoshop Elements.
In November 2011, I gave a presentation at Pecha Kucha Night Hyderabad Volume 6, about my Movie Fan Artwork.  You can watch the video below, it would give you a good idea about my art and the inspirations behind it.
Photography is a relatively newer hobby of mine.  I used to take photos with the cameras on my mobile phones (in some situations, I still do – I have a Nokia N8 which has a very nice camera) till I bought my first DSLR in April 2011.
This is the photography gear I use:
Canon EOS 550D
Canon 18-55mm (kit) lens
Canon 55-250mm lens
Canon 50mm f1.8 II lens
Canon Speedlite 580 EX II flash
I have a Sony VAIO E Series laptop on which I produce all the stuff that I post online (including this blog).  The laptop came with Adobe Photoshop Elements 8, which I use for most of my image stuff, and Windows Movie Maker for video editing.  I shoot video mostly with my N8 phone camera (it records video in 720p HD).
EDIT Jul-12: I upgraded my Nokia N8 phone to the new awesome Nokia 808 PureView device.  I am very much enjoying taking photos with it and henceforth would use this for shooting video.
Contact me: +91 99591 55953, karthik82 AT gmail DOT com