[Note: This post was drafted on 15-Apr-12, rather than update it with another 15 days worth of stuff, I decided to publish this, and then write another post to cover the additional information.]
I'd mentioned in the last post that my brother spoke at Pecha Kucha Night Hyderabad Vol 8.  Well, the official video for Varun's presentation is up on YouTube now, and that's what I'm opening this post with!
Here you go –
Great presentation, isn't it?  In case you missed it earlier, this post should tell you about what Pecha Kucha Night is.
Recent Trailers of Note
The trailer for the upcoming remake Total Recall is an interesting one, and it looks pretty flashy.  It seems to be following the Schwarzenegger movie quite closely (some of the setups and lines are translated intact here), although this one isn't set on Mars.  Colin Farrell plays the character of Douglas Quaid, and Kate Beckinsale is Lori and Jessica Biel plays Melina (the character that Rachel Ticotin played in the 1990 movie).  The trailer reminded me of Minority Report a little bit.
I didn't know this, but my friend Kashyap Chandra had this to say about the tracking shot at around 1:06 in the trailer –
That shot is One Hundred percent practical. Zero CG camera movement. They actually rigged up the RED One cameras to move around the room at speeds of upto 35 mph!
That's pretty fascinating!  I assumed that was CG.
Talking about trailers though, this is probably the highlight of the recent past – the trailer for Rian Johnson's science fiction movie Looper –
Incredible, isn't it?  Just check out that makeup on Joseph Gordon-Levitt, making him look like a younger version of Bruce Willis.  The concept is interesting too, and I really like the music in the trailer.  Obviously I was interested to know what was the exact track used, and a little Googling turned up the answer.  It's a track called "K.I.L.L." by Nick Murray and Mark Moore.  You can listen to it on this YouTube video titled Music from the Looper Trailer.
One Year and 15,825 Photos
April 2, 2012 marked one year since I got my Canon EOS 550D camera.  And on that date, the number of photos taken with the camera numbered 15,825.  Interesting milestone, eh?  It has been quite a journey reaching this number, and I've enjoyed every bit of it.
@Galactica_gk's Hyderabad Visit
Between 5-8 April, my cousin Girish visited Hyderabad.  It was a hugely entertaining long weekend.
Here is how I received him at the airport –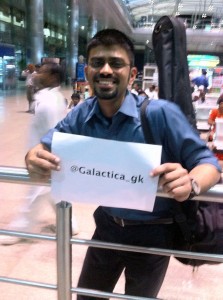 I was flashing this paper with his Twitter handle, I thought someone would notice and smile, but no – it didn't seem like anyone had a sense of humour about this.  There was a guy from a hotel who was also receiving someone and he asked me why I was holding up this?  Had I never seen my cousin before?  I told him it was just for style.
We had a midnight movie screening every night that he was here, and I got to revisit some of my favourite movies – Fight Club, Grindhouse and From Dusk Till Dawn.  Apart from this we saw 3 in the theatre.
Along with family we visited Golconda Fort, Salarjung Museum and had lunch in pitch darkness at Taste of Darkness in Inorbit Mall (this restaurant is the only one of its kind in India).
These two Facebook albums cover the entirety of his visit to Hyderabad – Karthik's Coverage of @Galactica_gk's Visit (121 images), Varun's Set (39 photos).
We also got t-shirts made out of our Ten Commandments of Downloading.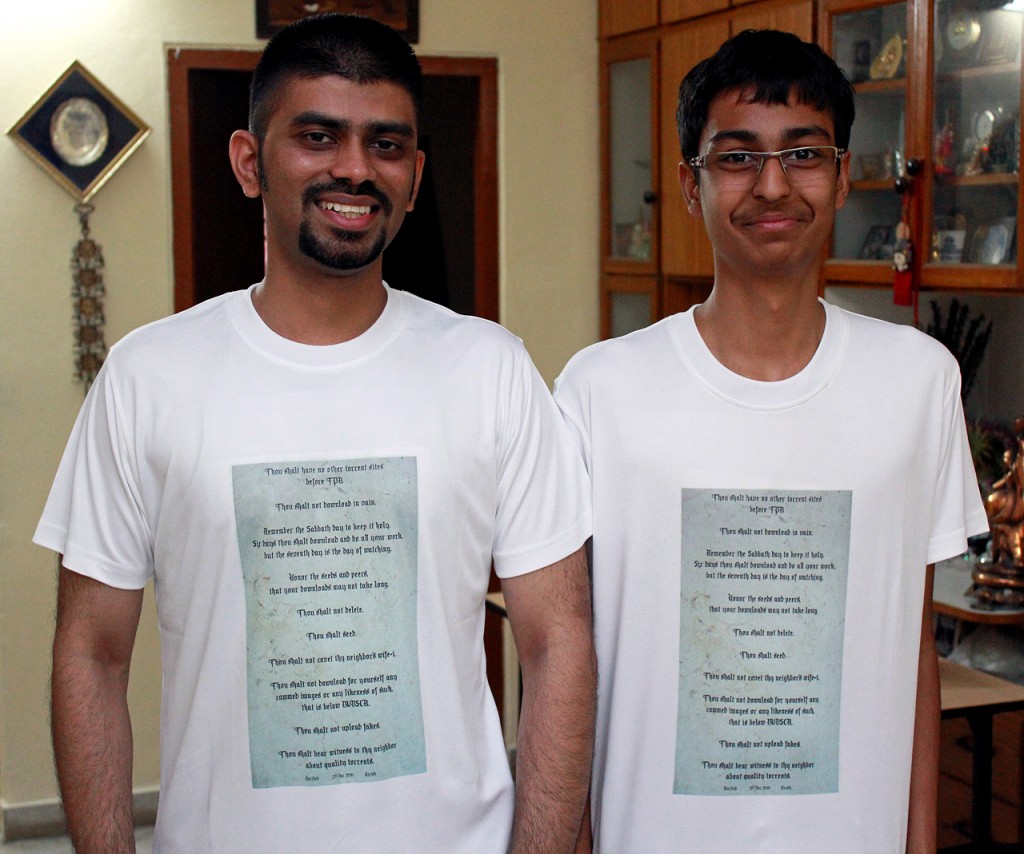 Another interesting thing which happened, is that one day, we were discussing about Jyothika and I wanted to search for the article on Wikipedia, but instead of doing that I typed the name into The Pirate Bay.  And I was wondering why the autocomplete wasn't working!
You can read Girish's reviews of the Midnight Features here – Fight Club, Grindhouse (Planet Terror and Death Proof), From Dusk Till Dawn.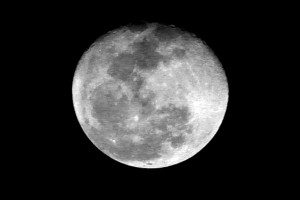 On the way back home from the airport, I took the above picture of the moon.  Was shot handheld and is a definite improvement over the moon photo I took a year ago.
Insightful Commentary about Commentary Tracks
At FilmSchoolRejects, they write articles about commentary tracks on DVDs (this feature is called Commentary Commentary).  I recently came across a bunch of these and found them very interesting to go through.  Thought I would share two in particular, which I found very insightful.
"For me Dark City is a film of hope and optimism. It has a firm belief in the individual winning out over the mass mind, and I think that's a very important feeling to have in this world." – Alex Proyas
39 Things We Learned from the Dark City Commentary is one of them, very interesting stuff.  Of course, you would need to have seen the movie first, to appreciate this stuff.
The second feature I wanted to talk about is 35 Things We Learned from the Memento Commentary – which is a great read.
Other Links of Interest
Two more quotes from Facebook – this one from Arrow in the Head on April 5:
Happy Birthday Roger Corman! Thanks for all them years of monsters, boobies and blood!
And this one from my friend Abhishek:
I've seen things you people wouldn't believe. Attack ships on fire off the shoulder of Orion. I watched c-beams glitter in the dark near the Tannhäuser Gate. All those moments will be lost in time, like tears in rain. (Tears in Rain Soliloquy) – Karthik Abhiram this one is for you 🙂
Collection of Tweets
As usual, here is the collection of tweets from 2-Apr-12 to 15-Apr-12.
Tweets 15-Apr-12:
One year ago, this awesome thing happened: http://timehop.com/m/W3Xc
I tweeted this 1 year ago TH @karthik82 "Boom! And a Bear Co… http://timehop.com/m/Yjh8
RT @rob_sheridan You guys. Go see "Cabin In The Woods." Don't read anything about it. Just go before someone spoils it. Super super fun and inventive.
RT @omgthatspunny Why did the capacitor kiss the diode? He just couldn't resistor. #punny
RT @mihirfadnavis Drinking Mogu Mogu with its little bits of fruit feels like accidentally swallowing your own mucus. #SardiKiGuthliyan
RT @AapChutiyeHain People connecting randomly on LinkedIn by mentioning you're a 'friend' without even a message, jai veeru ki dosti ki kasam #AapChutiyeHain
Tweets 14-Apr-12:
@Galactica_gk It's good, as I remember – lots of gore, action, weird stuff, more cartoonish than the previous ones! Writer is Joss Whedon.
@Galactica_gk I actually haven't seen this "Assembly Cut" version… I should also plan a day for watching all 4 back-to-back 🙂
Flat = Funny and Depth = Dramatic http://bit.ly/ILllVh
From the end credits of "Planet Terror" – "Mr. Rodriguez's Chef – ROBERT RODRIGUEZ" 🙂
In kdenlive, I really like the "Technicolor" effect under the Colour Correction tools. Gives a nice boost to saturation in a video.
If you see the "scratch-free" version of @RobertRdz's "Planet Terror" you'll realise the genius behind its cinematography / lighting!
RT @Galactica_gk James Cameron's Aliens is better than Alien. Could be because of the extra 'S' or more Aliens. @karthik82
RT @laughbook *Stalking crush on Facebook* * Accidentally likes status from 2009* *Deletes Facebook* *Sets computer on fire*
RT @mihirfadnavis I wouldn't be surprised if someone finds RGV hiding in the bathroom of a girls hostel brandishing a camera and licking his lips.
Tweets 13-Apr-12:
RT @psam @dharmeshG Official synopsis for Quentin Tarantino's 'Django Unchained' | http://bit.ly/IuG9Sn
RT @rob_sheridan It's cute how flight attendants tell you sternly to "completely power off your cell phone" and then carry on as if ANYONE actually did that.
RT @Deepu2rebel Quentin Tarantino was in India past months, He spent almost 20-30days here. Delhi, Mhmbai and many other places. Should've met him #lifetime
RT @Nader230 Dropped my N8 while crossing the road. Minor scratches, screen as good as new, still working perfectly! @nokia @Nokia_Connects
@Nader230 @nokia @Nokia_Connects That's not surprising 🙂 I've dropped my N8 a few times and I think the phone doesn't care one bit 🙂
RT @cliffordsouza SRK – "Don ko pakadna mushkil hi nahin, namumkin hain." New York Airport officials – "@AapChutiyeHain!"
The Importance Of Being 35mm http://bit.ly/J2LJqv
Worm In The Eye! New PROMETHEUS Pictures http://bit.ly/HN8H8F
RT @vincentlaforet Canon joins the world of 4K with C500 and EOS 1D C – but at what price? my thoughts: http://tinyurl.com/88x5gz3
RT @Galactica_gk RT @denofgeek A new poster for Tarantino's Django Unchained http://bit.ly/HO2KnU
Tweets 12-Apr-12:
Tweets 11-Apr-12:
#NowWatching Anukokunda Oka Roju
RT @planet5D #HDSLRscoop Nikon D800 – From A Canon Users Perspective. #HDSLRnews http://bit.ly/IkzIlX
RT @psam RT @nokia: #Word, #Powerpoint and #Excel Mobile are now available for you lucky #NokiaBelle users! http://nokia.ly/Hx6Jex
RT @funnyhumour When James Bond is out of his home country of England, is he known as +44 07?
Tweets 10-Apr-12
Going to Vijayawada for a day (giving a presentation tomorrow). Will be back in Hyd on Thursday morning.
RT @abhishekmadan "Ei machaan you are going to Delhi vaa? Meet my anna, he lives in Crater Gailash."
RT @kruttikaS #nowplaying – where is my mind? – the pixies
RT @funnyoneliners I never know whether to screw up my taxes myself, or hire a professional to do it.
Hahaha!! RT @funnyoneliners Facebook buys Instagram for $1 billion. Idiots, they could have downloaded it for free. RT @pleatedjeans
2 in 1 Movie and TV Poster Art http://rant.to/HDpDhc by @JoeyPaur at @GeekTyrant
Devolution of a Beard http://bit.ly/Ht65JS
RT @planet5D #VincentLaforet New Zeiss wide angle SLR Lenses – and how they stack up against their Canon EF counterpart #HDSLRnews http://bit.ly/Ik8ud7
RT @jakefogelnest Is it true that Friendster just bought Polaroid for eleventy-billion dollars?
#NowWatching Kickboxer (1989) – Good oldschool 80s action stuff with Jean Claude Van Damme.
So far, "Kickboxer" feels like an Americanised version of a 1970s Hong Kong martial-arts movie!
The training montage in "Kickboxer" reminds me of "The Fearless Hyena" and "Kill Bill Vol 2".
Man, what gruelling training Van Damme goes through, to learn Muay Thai… one should take this stuff as inspiration when exercising!
Btw… the music in "Kickboxer" is by Paul Hertzog, and if I am not mistaken, he did the music for the Van Damme movie "Bloodsport" also.
And I have not seen "Kickboxer" before (if I have, I don't remember the movie), but I remember liking "Kickboxer 2".
I should watch Kickboxer 2 again, and one bit of interesting info about that movie, is that it's written by David Goyer (The Dark Knight).
Wow, they've included a dance number in "Kickboxer"! Van Damme dances!
RT @madhulikamathur Forget valuation for now, @om explains Facebook's reasons for buying Instagram. http://gigaom.com/2012/04/09/here-is-why-did-facebook-bought-instagram/
RT @JennyJohnsonHi5 Instagram is now in a relationship and it's complicated.
Tweets 9-Apr-12:
RT @epandu Ever since Flipkart launched Flyte, I have not pirated a single song. I think I can afford spending 150bucks a month on legal MP3s
Day 64 #Gym
RT @laughbook When I was a kid, I used to sing, 'A, B, C, D, E, F, G, H, I, J, K, ELEMENO, P'
RT @mihirfadnavis For ultra hard boiled movie buffs – Russian films on YouTube – http://bit.ly/HoavRS
One year ago, this awesome thing happened: http://timehop.com/m/5mZU
One year ago, this awesome thing happened: http://timehop.com/m/M1H4
RT @iSujayS A note to myself: @AapChutiyeHain
RT @kunaladnani @mohitjham @aapchutiyehain #UnlikelyBooks "eating right" by Anna Hazare
RT @mastersRback agar agentvinod dekhne k baad aap ko jet lag nahi huva to bollywood ki kasam @AapChutiyeHain
Tweets 8-Apr-12:
Yesterday when searching for info about someone, instead of typing in the name in Wikipedia, I typed it in The Pirate Bay.
RT @Oatmeal Happy Easter http://pic.twitter.com/rLHh9cOR
RT @AapChutiyeHain #UnlikelyBooks Solving Crimes by #DelhiPolice
At Hyderabad Airport, having a coffee at the arrivals area. The Cafe Coffee Day outlet there has a drink called WTF!
RT @vertikaA RT @autocorrects: Retweet if you love finding money in your clothes. It's like a gift to you from you.
And so, @Galactica_gk's Hyderabad visit comes to and end. 3 midnight movie shows and a bunch of places visited. Good times.
RT @rajith_23 Having Cheez Burst Pizza during Recruitment drive . http://fb.me/1DRfjHBBT
RT @omgthatspunny What do you call a royal printmaker? A screen prince. #punny
RT @funnyhumour I have decided I'm not going to focus on my past anymore. So, if I owe you money, tough shit.
RT @Galactica_gk Taste of Darkness is an awesome unique experience. Eating food in absolute darkness.
RT @funnyhumour "Jesus loves you." A nice gesture in church. A horrific thing to hear in a Mexican prison.
Interesting article about movie posters today – http://theanswers42.com/2012/04/05/posterrific/
RT @Galactica_gk Post-Midnight Feature #3 From Dusk Till Dawn is slapstick comedy and horror. The perfect combo. + writer is Quentin Tarantino. @karthik82
RT @omgthatspunny If the movie hero of the Matrix was a woman, would she have been called Ingrid? #punny
RT @funnyoneliners "Doctor! Doctor! How long do I have left to live?" "Ten." "Ten what? Months? Years?" "Nine, Eight, Seven.."
#NowWatching "From Dusk Till Dawn" – Midnight… er… 2 AM Feature with @Galactica_gk
Tweets 7-Apr-12:
3 – Liked it. Felt like 2 movies separated by an interval, a bit overlong and second half had exaggerated drama. I loved the music. 7/10
I didn't understand why the movie is called "3" though…
RT @edgarwright My 10,000 tweet better be something really amazing… oh fuck-
RT @SimpooSir To see Anil Kapoor in Mission Impossible 4, plz wear Red glassez. Just did. Mr. India Protocol. #Yuss
RT @arocks Titanic wasn't a tragedy for everyone apparently. Just look at James Cameron 🙂
Just realised that @Galactica_gk and I watched "Grindhouse" on April 6, 2012 – exactly five years after the movie's US Release date!
Midnight Double Feature 2- Grindhouse was very good. Planet Terror is intentionally like a Hindi movie. @karthik82
RT @scottEweinberg With respect to (virtually) everyone, WHY REVIEW SCREENPLAYS? Fucking hell! Food critics don't review the recipe. Assholes!
RT @rajith_23 "Doing nothing is better than being busy doing nothing." – Lao Tzu
It's a great feeling to wake up in the morning and find that your downloads are completed.
#NowWatching "Grindhouse" Theatrical Cut with @Galactica_gk – "Planet Terror" & "Death Proof" back-to-back as they were meant to be seen.
Tweets 6-Apr-12:
RT @rajith_23 Watched Housefull 2. Liked it. Keep brain at home . Don't have any expectation. Full fun. Little long but fun..
RT @timescapes There is something really special about this particular panel from Mœbius. http://pic.twitter.com/PFUIyFfR
RT @arocks To know how theft-proof your home is, you just have to forget your key inside
RT @vemana You are either a tea person or a coffee person. Just like either you are a cat person or a dog person.
RT @arocks Enjoying the new Canon 50mm f/1.8 lens. Its razor sharp images have revived my ol' trusty SLR. Thank you Flipkart!
RT @WolfpackAlan Dear Vegetarians, if you love animals so much then stop eating all of their food!
Listening to "Operation Latte Thunder" from the Fight Club soundtrack.
RT @vemana #having That coffee (no)one has somewhere between midnight and early morning
RT @Galactica_gk Fight Club is awesome. Already broken the first rule.
#NowWatching "Fight Club" – midnight show along with @Galactica_gk
Tweets 5-Apr-12:
RT @ankash1009 Department Trailer http://www.bollywoodhungama.com/more/videos/view/id/1427681 love mr. Bachchan in it..
Awesome! RT @atulkasbekar: @FarOutAkhtar in full stride. The 'Flying Sikh' lives. #BhaagMilkhaBhaag http://lockerz.com/s/198609645
RT @psam Happy birthday, Microsoft. Thank you for all your creations and contributions to this world.
RT @bcfilmmaker 39 Things We Learned From the 'Phantasm' Commentary Track http://su.pr/26MZmb #filmmakers #filmmaking
RT @zombeaner Fun flick."@RobertRdz: Enjoy ROADRACERS (my personal favorite) finally out on DVD now, and coming to Blu Ray April 17! http://kdvr.com/2012/03/22/review-roadracers-blu-ray/"
RT @planet5D #HDSLRscoop Hilarious video compares Nikon D800 and Canon 5D Mark III #HDSLRnews http://bit.ly/HeZ2Jc
I'm going on a trip to Barsoom – #NowWatching "Total Recall" 1990 – one of the movies I've seen many times since childhood 🙂
Tweets 4-Apr-12:
Easy Elements http://bit.ly/HUOjlI
RT @chuck_gopal Hahahahaha RT @sumants: Hyuk RT @ashwan Swype just auto-corrected Instagram to underwhelm.
Is Twitter the new Google Reader? I find myself sharing more stuff here these days. @rajturl any comments?
RT @psam: @karthik82 "live" updates on twitter compared to reading later a factor? @rajturl
@psam @rajturl I guess so! Also the ease of RTing contributes, I think…
RT @rajturl @karthik82 absolutely. Now that I (or even ppl I know) hardly use G+, twitter serves the sharing purpose. @psam Agree with you.
You know you're a photographer if… http://alanhessphotography.com/2009/01/you-know-youre-a-photographer-if/ Nice list, posted on Alan Hess's Blog.
Day 63 #Gym
RT @josephradhik Facebook is the new hunting ground for email forwards.
RT @rob_sheridan Cleverly made videos of Facebook in the 90s, Twitter in the 80s, and more: http://bit.ly/HdEbWT – via @wired
RT @FarOutAkhtar Your tweet made my day. Thank you so much. "@SoniaMilkha: @FarOutAkhtar Omg u actually look like dad. All the very best."
RT @funnyoneliners My brother's in prison for something he didn't do. He didn't run fast enough.
RT @vemana The smell of napalm in the morning… no no.. the smell of mud in the evening. #hyderabad
Awesome! RT @ankash1009 Releasing the dubbed version in India. The kickass action movie of the year. THE RAID http://fb.me/XPJ7Cukf
Rewatched Rick Jacobson's "Bitch Slap" 2009 yesterday. It had the potential to be awesome but was disappointing. http://www.imdb.com/title/tt1212974/
Zoe Bell is the stunt coordinator and fight choreographer for "Bitch Slap". The movie appeared to have plot elements cut from it.
I read that the original cut of the movie was more than 2 hrs long, but the released version is 105 min / 109 min (unrated cut).
Just bought 5 tickets for 3 (Tamil) (U) for Sat, 7 Apr, 2012 on @bookmyshow
Tweets 3-Apr-12:
Tweets 2-Apr-12:
Wow what a rush, I was just recognized in public! I didn't think that wanted poster was still in circulation. RT @_theguy_
Fun stuff & @vemana take note 🙂 RT @Oatmeal So excited to go watch season 2 of Game of Thrones tonight. OH WAIT http://bit.ly/yCuJRb
Karthik Abhiram looted this cool item at @24hoursLoot 3 minutes ago http://www.24hoursloot.com/myorders/becdba08b07fbbad2c0787d9d14e3164
RT @zombeaner Now you can watch this nutso trailer! "@TwitchFilm: First Trailer For Akshay Kumar's ROWDY RATHORE Blows The Roof Off! http://goo.gl/fb/V7Md5"
RT @josephradhik I predict 2012-13 to be a crazy war between Canon and Sony for the HDSLR and indie large sensor market.
RT @vemana: @karthik82 Its awesome the way you digitally chronicle your life. It seems like you arent missing anything and not overdoing it either!
@vemana Thank you! I guess it's more for myself that I am doing it, but if it's interesting to others too, that's great 🙂
LOL indeed!! RT @rajturl #cyanideandhappiness 'TEST…..' http://bit.ly/HEN222 [LOLness, this!]
RT @stupidusmaximus Happy birthday, Ajay Devgn. Here, have a vowel.
RT @YaavanoObba Gangarams closing. | Oh, that's sad man. I'll miss their bhujia and khatta meetha. | Dude. That's Haldirams. | Oh then what's Gangarams?
RT @dharmeshG Ashton Kutcher will play Steve Jobs in an upcoming biopic. #facepalmtree
RT @justkalpana this is quote is soo for me. "@kritzeln: Respect your first thought. Don't worry abt length, grammer, tense. Vomit! #IndiaSocial12"
RT @AapChutiyeHain Whenever you feel you're a failure in life, think of Tusshhaar Kapoor #feelbetter?
RT @mihirfadnavis Also, I would not watch a Total Recall movie that doesn't have the three boobed lady.
RT @gurpreet_bhatia: @karthik82 cngrts. U wl never frgt d date of two reasons. #worldcupwin #poonampandey
#LinesNOTinTotalRecall2012 "See you at da party, Richter!"
#LinesNOTinTotalRecall2012 "Give dis people AAIR!"
#LinesNOTinTotalRecall2012 "Get your ass to Mars"
My Canon EOS 550D camera is one year old today! 1 year and 15,825 photos – it's been a wonderful ride!
One year ago, this awesome thing happened: http://timehop.com/m/m6bP
RT @Criterion This hand-painted KINDERGARTEN COP poster came all the way from Ghana! http://ow.ly/a0F0t
@FakeCriterions Did you see this – http://www.facebook.com/CriterionCollection/posts/321766414555530 and Akira Kurosawa visiting the set: http://ow.ly/a0Dwd
Sickipedia Tweets
More tweets from Sickipediabot on Twitter – from the repository of sick jokes –
"You won't like me when I'm angry. Because I always back up my rage with facts and documented sources." – The Credible Hulk
Doctor: "I can't figure out what's wrong you, I think its the heavy drinking" Patient: "Well then, I'll come back when your sober"
So "The Rock" won Wrestlemania. Its a good job for him that "The Scissors" beat "The Paper" in an earlier bout.
What do African children get during Easter? Sicker, weaker and thirstier.
You never realise what you've got till it's gone. Toilet paper being a good example.
Tits are proof that men can focus on two things at once…
I used to only do blondes, but then I thought "Fuck you criminal profiler" and did a few brunettes.
Must have been a nightmare before facebook, having to ring all your friends to tell them what you're having for dinner
What did the Somalian say to the skeleton? Move over you fat bastard
How come I can't get a mobile reception in my house, yet a terrorist can upload his vids from a cave in Afganistan?
I only wear glasses when I'm playing tennis. It's a non-contact sport.
Two hours ago I told my kid to shut his mouth and eat his supper. He's still sitting at the table trying to figure out how to do it.
I thought my wife had Tourette's, turns out I really am a fucking cunt.
My mate posted on Facebook: 'Spending the night in with my girl' I couldn't help but chuckle, My Girl is a shit film.
I tried to find love on the Death Star, but I was looking in Alderaan places.
Jesus Tweets
I am following this account on Twitter called "Jesus", and the tweets from that user are interesting!  Here are some of them –
ARE YOU READY FOR A MIRACLE!
For the record, seat belts don't save lives. I do.
I didn't see nothin
Back up your data.
Was going make my second trip down to the surface to get tech support for my iPhone, but now that Steve is here…