Ever since I saw the trailers for the Bejoy Nambiar movie David (a couple of months back), I have been eagerly waiting to watch the movie.  I really liked the director's debut feature Shaitan, and from the looks of it, this movie seemed to be bigger and more ambitious.  I finally got to see the movie yesterday (at Cinemax, Banjara Hills) and thought it was very good, and that inspired me to do four drawings (all of them in this post).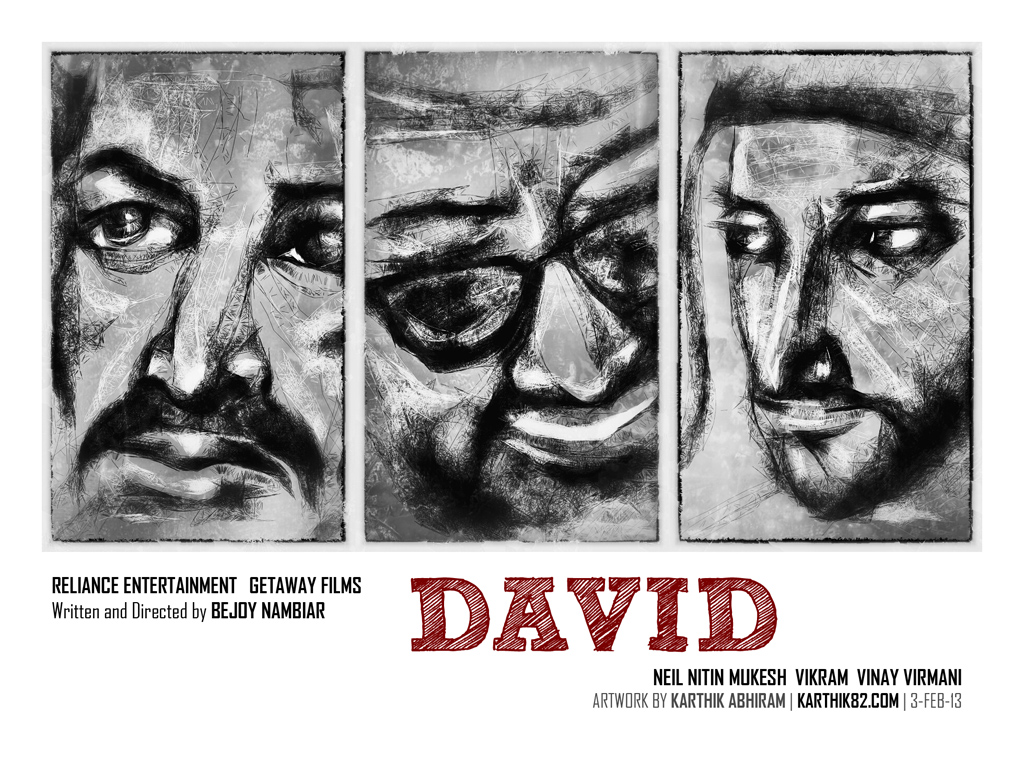 First about the movie – David consists of three stories, each with the protagonist named David.  These are presented in an intercut fashion (as was done in Cloud Atlas), that come together by the end.  The first story is set in 1975 London, with Neil Nitin Mukesh as David, a gangster and an adopted son of Iqbal Ghani (Akash Khurana).  The second David is played by Vinay Virmani in a story set in 1999 Mumbai.  This David is a musician and lives with his Christian father Noel (Nasser) and his sisters.  Everything changes when a Hindu fundamentalist, Malti Tai (Rohini Hattandgadi) orchestrates an attack on Father Noel.  The lightest segment of the three is the one set in 2010 Goa, about drunken fisherman David (Vikram) who falls in love with a deaf-mute girl Roma (Isha Sharvani), who his friend is going to marry.
The acting by the leads and supporting characters in all three segments is very good, and the movie is well written.  It's a little long though and the stories themselves I thought, were good but not anything extraordinary.  However, where David absolutely excels is in its storytelling – the way it is all put together.  In Shaitan, Bejoy Nambiar used stylish camerawork and music wonderfully – here he just takes everything one step further.
David is one gorgeous looking movie.  Three different cinematographers worked on the movie – "Gangster" is shot by Sanu Varghese, "Mumbai" is shot by P S Vinod, and "Goa" is shot by R Rathnavelu.  The work by all three (and their respective crews) is absolutely stellar – featuring beautifully composed visuals and wonderful lighting.  The colour palette is different for each sequence, so you always know which story any particular scene belongs to.  The 1975 scenes are in B&W, the 1999 scenes have a muted colour scheme, the 2010 scenes have a bright and colourful look.
The Production Design (Rajeevan) and Costume Design (Ameira Punvani) also are very well done.  Like Shaitan, David is also edited by Sreekar Prasad.  This is also very well done, since switching between multiple storylines thematically is not an easy thing.
Like Shaitan (remember "Bali – The Sound of Shaitan", the remix of "Khoya Khoya Chand"?), David also uses music brilliantly.  I love the dramatic "Ghum Huye – The Theme of David", which opens the film, the light "Maria Pitache", Anirudh Ravichander's "Yun Hi Re", and the English track "Out of Control".  Of course, as you'd have seen in the trailers, this movie also features a remix of an old song – "Mast Kalandar".  There is a rock version with an aggressive electric guitar sound.
Overall, I really liked David.  Sure, there are some flaws, but I'd rather take an original piece of filmmaking like this any day, over a "lazy" blockbuster movie.  Many filmmakers would probably kill to have a second film as good as this.
Rating: 8/10
Additional Notes:
Tamil Version
David was simultaneously shot in Tamil, with actor Jiiva playing the guitarist David in the 1999 story.
The Tamil version features only two stories (the "Gangster" one is not featured, since apparently it didn't suit the target audience).
As of today, the Tamil version has not been released in Hyderabad.  I had earlier tweeted wondering which version to watch first – I am glad I saw the Hindi version first, because I'd have missed the beautiful B&W segment and the "Mast Kalandar" song otherwise!  I still want to see the Tamil one.
Cinematography
If you observe the end credits of the movie, there are logos for both Kodak as well as Red.
As I read, the Goa sequences were shot digitally – and if IMDb is right, Rathnavelu used the Red Epic on that.  The other two sequences, I am assuming, were shot on 35mm film followed by a digital intermediate.
P S Vinod is the cinematographer for Panjaa – which I liked a lot.  I mentioned the cinematography in this post from a year ago.  I happened to see Panjaa on an IMAX screen – and it looked great!
Sanu Varghese is the cinematographer for Karthik Calling Karthik and also Kamal Haasan's Vishwaroopam, which I am seeing today (the Telugu version is playing on the IMAX screen too, which is what I have booked tickets for).
Now about the drawings I did. I did four of them in all – one for each David character from the movie, and one of the director, Bejoy Nambiar as well.
These were all done digitally on my Samsung Galaxy Tab 2.  Previously, I used the Sketchbook Express app for doing some drawings (see this post and this post).  But a few days back I got another application called Sketch Guru, which has some nice "sketch"-type brushes.  I did all the drawings using that application, and with my fingers (since I don't have a stylus that works with my Tab).
The drawings were then opened up in Snapseed to add some effects (grunge and the organic frames).
I put them together in Photoshop Elements and then added the text.  The movie's title is in the font Sketch Block.  The other text is in the font Agency FB.  Agency is also the font actually used in the titles for David.
A few months back, I mentioned that font in this post of mine, with a drawing based on the fifth season premiere of Fringe.  The same font was used in the opening sequence of the show, and I used it in my drawing also.
Here you can see the individual drawings of the three Davids –
And this is the drawing of the movie's writer-director Bejoy Nambiar –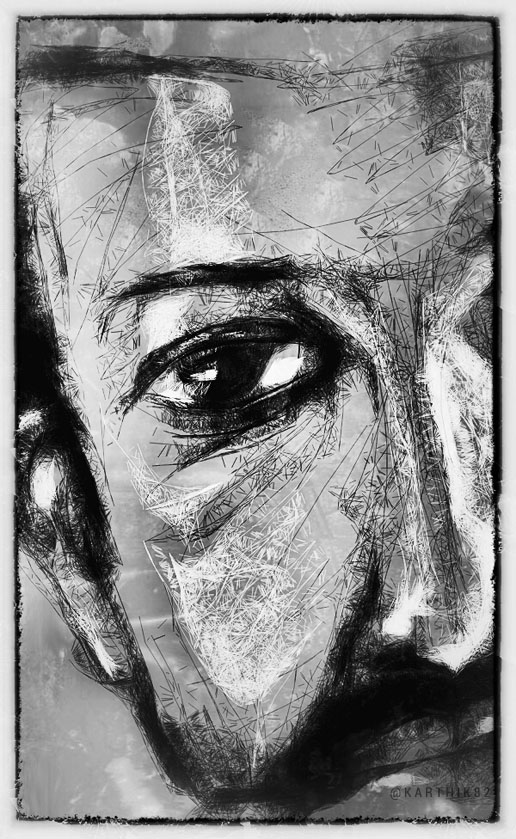 I am eagerly looking forward to what the director does next!
Trailers and Music for the movie:
You can listen to the songs from the Hindi version of the movie here:
The theme from David:
Hindi Version Trailer:
Tamil Version Trailer: