For this year's New Year Greeting, I thought I would make an artwork and a post, with my selections of the Best Movies of 2016, and the movies I was looking forward to watching in 2017.  The artwork is below – showing 24 movies in total.  This artwork was posted on my Instagram account @karthikabhiram.
In April 2016, I started a second Instagram account for movie related sketches – @dailymoviesketch, and an associated Facebook page, Daily Movie Sketch.  I actually did more than 120 drawings on consecutive days without a miss, there – as of today, there are 210 sketches on that page.  This artwork was posted on that account as well.  As this artwork can be viewed even if you invert it, the inverted version was posted there.  Please do follow me on my Instagram accounts, since, I'm very regular in posting on both of them.  I post one picture a day, on each of those accounts and blogging-wise, everything happens there.  Movie reviews are posted on my sketch account.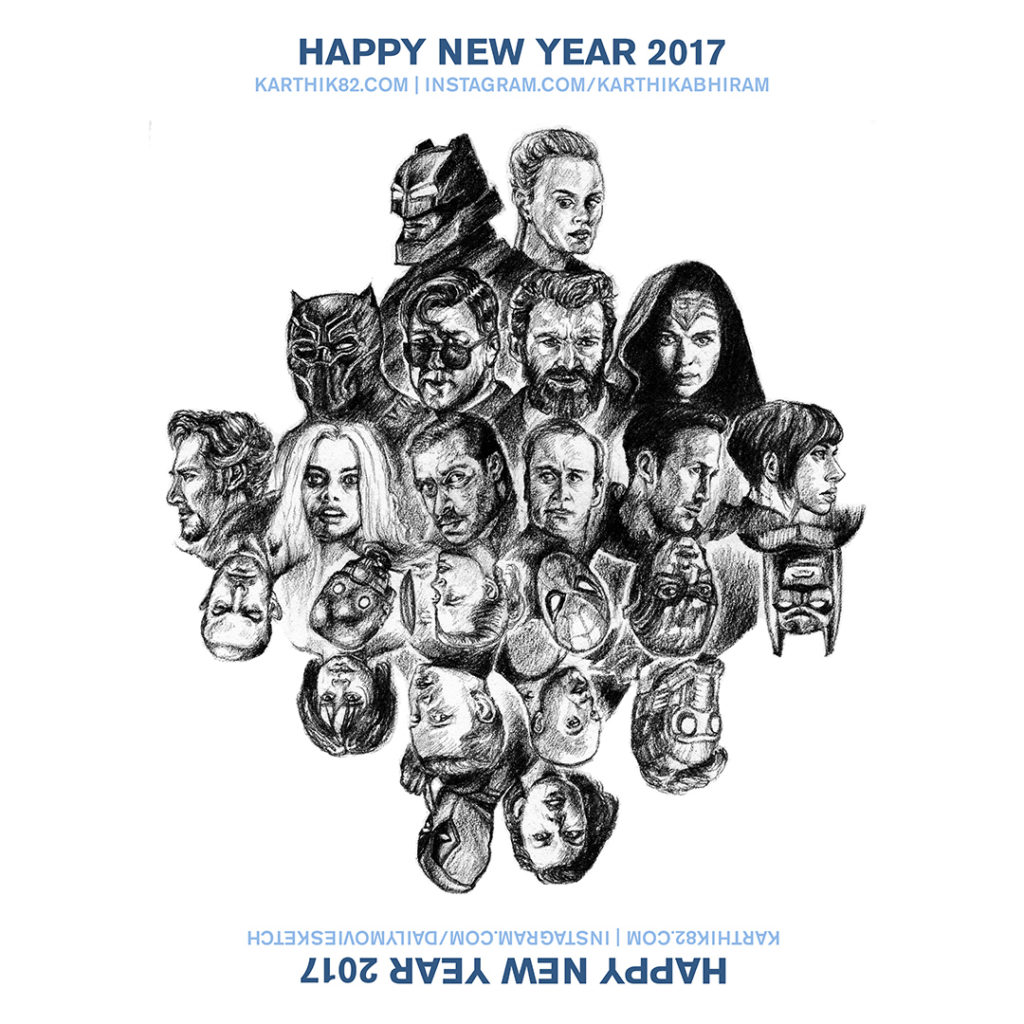 You could say, this was the last drawing of 2016 and the first drawing of 2017, as I started it on 31st December and completed it on 1st January.  It was done with one 0.5mm mechanical pencil on A4 paper.  It took me many hours to do as it essentially involved doing 24 sketches.
One side of the drawing has the best movies of 2016, and the other has the awaited movies of 2017.
Here is the inverted version of the drawing –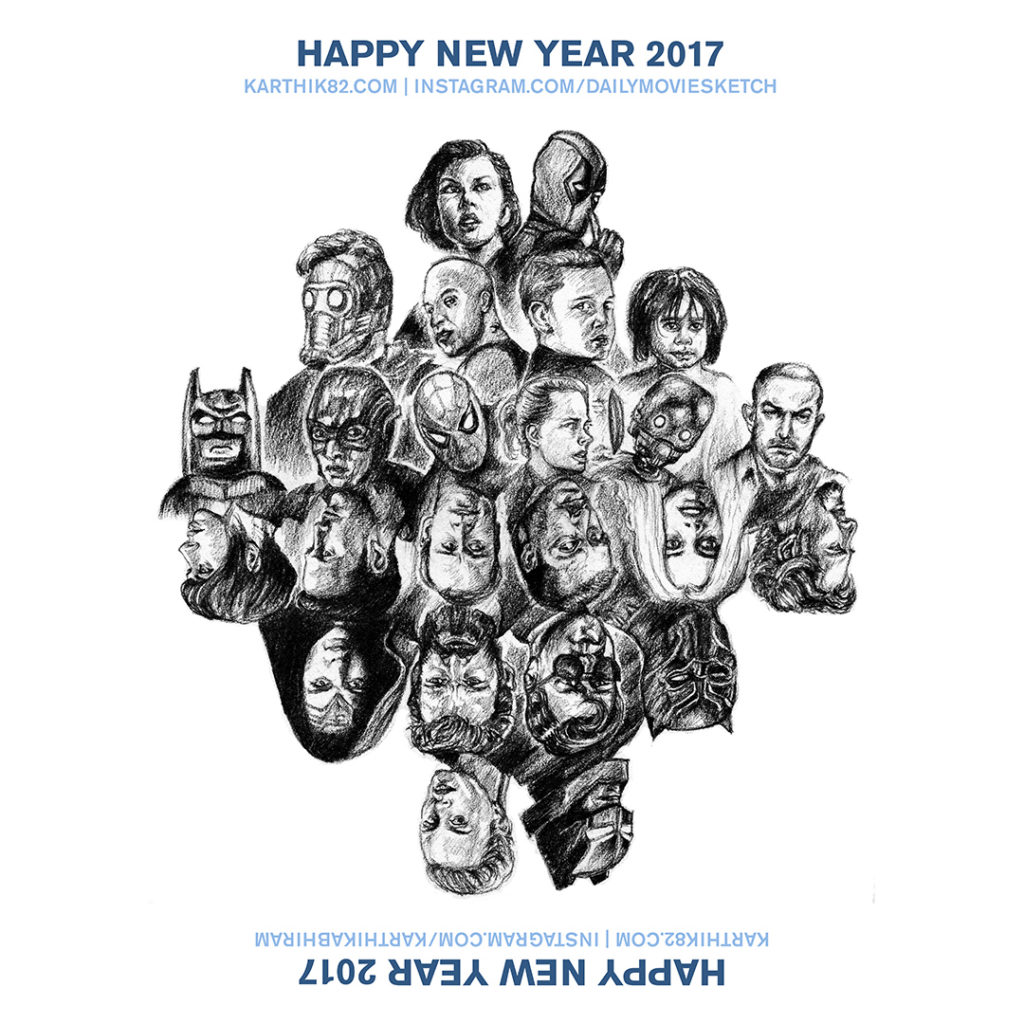 What are the movies represented here?  My best of 2016 list is divided into three categories, the best of the best, the very good, and the notable movies.  This year, the list includes TV shows as well.
Overall Best
Batman v Superman: Dawn of Justice
Captain America: Civil War
The Nice Guys
Sultan
Suicide Squad
Doctor Strange
Arrival
Rogue One
Dangal
Stranger Things S1
Deadpool
The Jungle Book 3D
Black Mirror S3
Very Good
Nannaku Prematho
Neerja
24
The Conjuring 2
Pellichoopulu
Dhruva
Ash vs Evil Dead S2
Udta Punjab
Notable
Kshanam
10 Cloverfield Lane
Don't Breathe
Janatha Garage
U-Turn
Movies Awaited in 2017
Resident Evil: The Final Chapter
XXX: Return of Xander Cage
The Fate of the Furious
Logan
Guardians of the Galaxy Vol 2
Alien: Covenant
Wonder Woman
Spider-Man: Homecoming
Blade Runner 2049
Justice League
Bahubali 2
The Lego Batman Movie
Split
John Wick Chapter 2
The Belko Experiment
Ghost in the Shell
War for the Planet of the Apes
Dunkirk
Baby Driver
Insidious Chapter 4
Saw: Legacy
God Particle
Thor: Ragnarok
Star Wars: Episode VIII
What were your favourite movies of 2016 and what movies are you looking forward to in 2017?
I also recently created an account on Paintcollar, where you can purchase prints of artwork.  I have made this artwork available as a T-Shirt design.  You can purchase both orientations.  The text in the artwork for the T-Shirt design varies.  Here are the two designs.
This is the first version –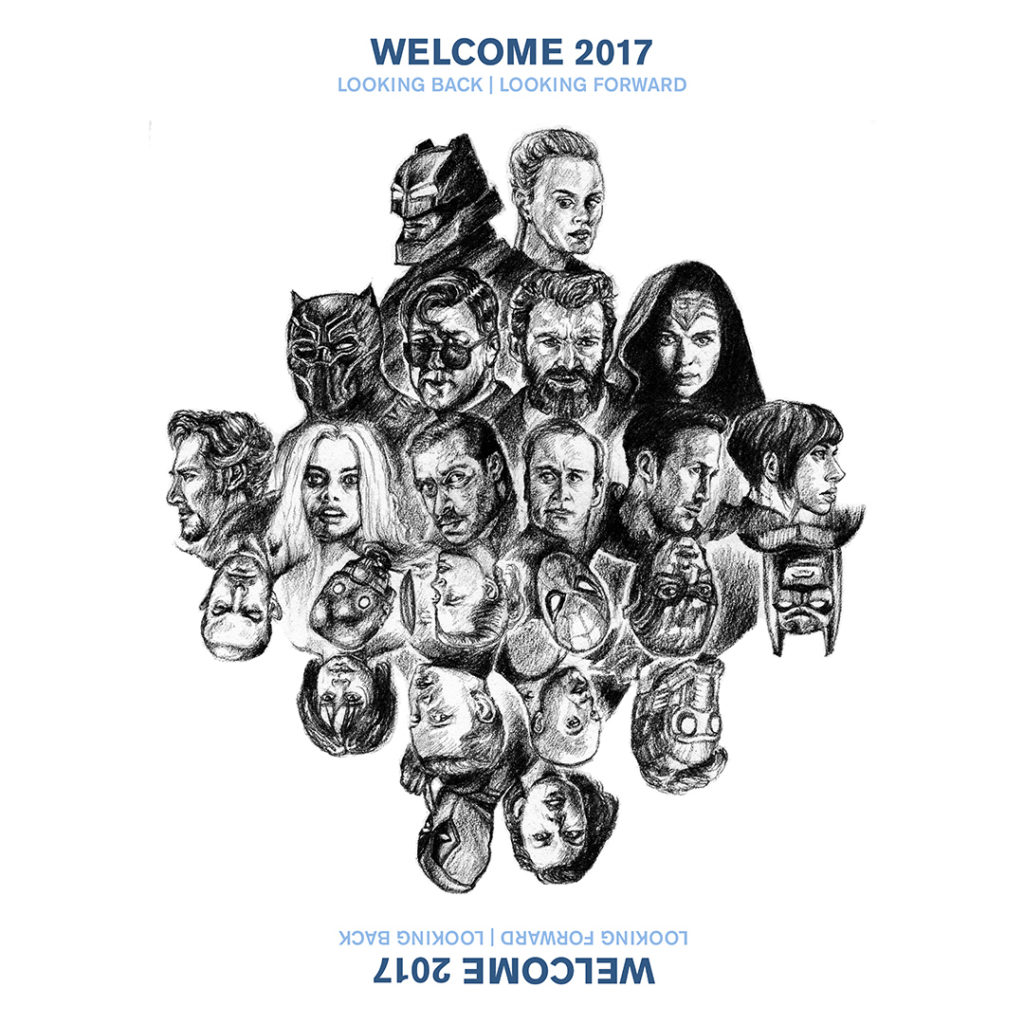 And this is the "upside-down" version –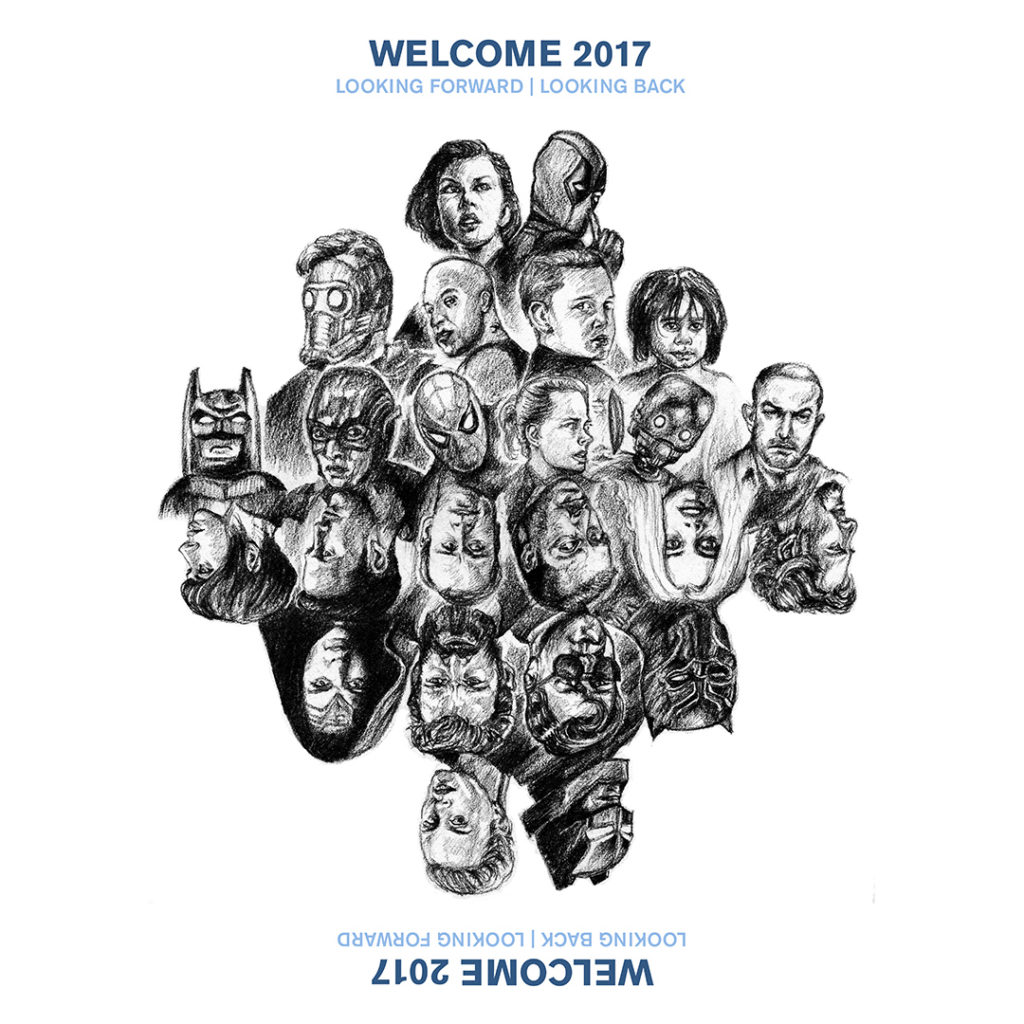 The links where you can view these two artworks are below –
Check it out and purchase my work if you like it.  Also do be sure to follow me on Instagram – @karthikabhiram and @dailymoviesketch.