I don't normally watch romantic comedies, but I saw Shakun Batra's Ek Main Aur Ekk Tu on opening day (10-Feb-12) with two friends of mine at PVR Cinemas at Chandigarh.  I'd started writing this review on the day I was travelling back from Chandigarh to Hyderabad, but didn't get around to completing it.
The movie is still in theatres, so I am not too late in posting this, I guess!  A few days later, and the movie will be out on DVD!
The movie stars Imran Khan as Rahul Kapoor, a 25 year old architect who lives in Las Vegas.  His parents (played by Boman Irani and Ratna Pathak Shah) have planned every aspect of his life (career, relationships) – and he has never gone against their wishes.  The movie's plot is put into motion with Rahul losing his job.  He starts attending therapy sessions, and at one of these visits, he meets Riana Braganza (Kareena Kapoor).
Riana works as a hair stylist, but she is also out of a job, and has just got out of a relationship.  She mistakes Rahul for a stalker sent by her ex-boyfriend.  When she realises that she was wrong, she tries to make it up to Rahul and they meet in the evening on Christmas Eve.
Riana is free in all the ways that Rahul is not – and she tries to get Rahul to unwind.  As a result, they get totally wasted – and to their horror, realise the next morning that they've gotten married to each other at one of those wedding chapels where couples do foolish things like this without thinking.
They decide to get the marriage annulled – but it will take a few days for the paperwork to go through, and in that time, as you'd expect, the two become close to each other.  I thought the movie handled the relationship between the two really well.  Such movies probably have a tendency to turn into a sappy, sugary love story (then again, since I don't watch many such movies, I can't say this as a fact).  This one didn't, it was funny and sweet, and nicely acted.  Being only 110 min long it doesn't overstay its welcome and is easy to watch.
The movie's songs are by Amit Trivedi and Amitabh Bhattacharya, and they're good, as is the music score by Amit Trivedi.  The movie looked very nice (director of photography is  David MacDonald), it looked colourful without being garish and loud.
I had a lot of fun with it – while it's not absolutely essential that it be watched on a big screen, you'll be able to enjoy the cinematography and production design better that way.  If you've not got the chance to see it in the theatre, you can catch it on DVD once it's out.
Rating: 8/10
Camera Spotting:
Riana presents Rahul with a classic-looking camera in the movie.  It looked like a Leica but since I don't know about older cameras I couldn't identify it exactly.  The camera's brand was not visible on screen.
Towards the end, Rahul appears to be using a DSLR.  Again that appears on screen very briefly and it's a wide shot so I couldn't make out what type of camera it was.  I'll look again once the movie is on DVD.
The camera is probably a Canon EOS 5D Mark II.  The reason I say this is, I checked out two videos on YouTube after my friend told me about them – apparently, during the filming of the movie, Imran Khan took candid photos of his co-star Kareena Kapoor and had an exhibition of them – Video 1, Video 2.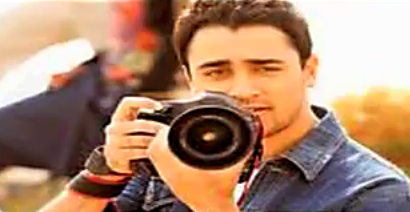 As evidenced by the red border on the strap, the lack of a popup flash on the camera, and the overall size of the camera, this is a 5D Mark II with an external battery grip.  It's probably the same camera that his character was using at the end of the movie.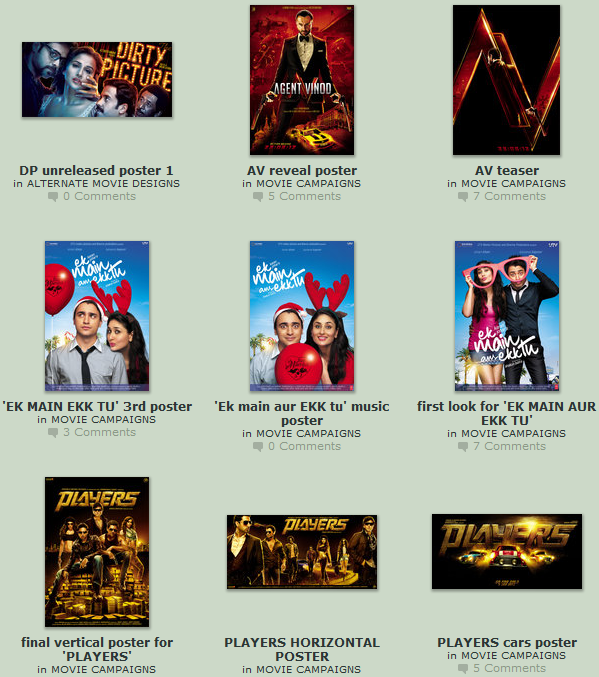 The bright poster designs for the movie are done by the firm Marching Ants, and they were designed by Raj Khatri who also did the posters for The Dirty Picture, Players and the upcoming Agent Vinod and Kahaani.  You can view his work on deviantART here and connect with him on Facebook here.