Kahaani is a 2012 thriller from director Sujoy Ghosh.  It was released in theatres on 9 March, and I watched it the next day.
If you are going to watch this movie, it's better to go in knowing as little as possible about the story.  Therefore, in my review I'm not going to reveal much more about the plot than what you can already gather from the movie's trailer.
The movie opens with Vidya Bagchi (Vidya Balan), a pregnant woman, arriving in Kolkata during the Durga Puja festival.  She has come here from London.  Her taxi driver points out that most people head home, or go to a hotel, on arrival in a city.  No one so far has ever asked him to drive them directly to a police station – which is what Vidya does.
Vidya is searching for her husband, Arnab Bagchi.  Arnab had come to Kolkata from London on official business a few weeks before.  But when all contact is lost with him suddenly, the worried Vidya comes to Kolkata herself to find him.  A young police officer Satyoki a.k.a. Rana (Parambrata Chatterjee) helps her in her search for her husband – but it appears that the two are looking for a ghost – Arnab seems to have vanished off the face of the Earth.  Just what is going on?
The movie sets up an intriguing mystery and doesn't let go till the very end, constantly introducing plot turns and keeping the viewer engrossed.  The execution is excellent – Vidya Balan carries the film brilliantly and her character is one of the most interesting protagonists I've ever seen in a movie.  Think back – how many movies can you name which feature a pregnant woman as the heroine?
Not only her, the acting from the rest of the cast is also good.  The characters are also interesting and the good guys are likeable.  The movie is nicely shot and captures the feel of Kolkata (and of the Durga Puja) well, and when the ending comes and leaves you with your mouth open, you'll realise that this is a lean and efficient thriller, with no unnecessary scenes.  I really liked that the setting and Vidya Balan's character were all actually integral to the story and not just gimmicks.
The movie features a nice rendition of the song "Ekla Cholo Re" with vocals by Amitabh Bachchan.
When I saw the trailer, I was reminded of Anurag Kashyap's That Girl in Yellow Boots, since that movie also had a woman searching for someone in an alien city.  Both movies seem to have been shot in a handheld, almost vérité style.  But then, having watched the Kahaani, I can safely say that this is a totally different beast.
Overall, a very nicely done movie and a must-watch, in theatre.
Rating: 9/10
Further Notes
It's not too often that you see a Chief Minister thanked in the opening credits of a movie, this one has it.
The movie has some relatively realistic depiction of using computers – unlike other movies where one might find some made-up OS, here it's Windows XP that is shown, and certain other elements that don't require you to suspend disbelief too far.  Also, realistic use of actual Adobe Photoshop seen!
The photography for the publicity campaign is credited to fashion photographer Dabboo Ratnani.
As I'd mentioned in my review for Ek Main Aur Ekk Tu, the publicity campaign for this movie was handled by the agency Marching Ants.  In this instance too, the art director is Raj Khatri who I am following on Facebook and on deviantART, and it was cool to see his name in Kahaani's end credits.  (poster sample)
My first digital artwork – a drawing of Vidya Balan from this movie
When I installed Ubuntu (as I mentioned in an earlier post) on my computer, I noticed that the System Settings page mentioned configuration options for a Wacom Drawing Tablet.  And I happen to own a Wacom Bamboo Fun graphics tablet, which was a gift that I'd never made use of till now.
So I thought I'd use this as an excuse to draw something based on this movie, and I did.  Below is the result – perhaps not that great but I think it's decent for a first attempt.
I did this one using the GIMP.  And as is usual for me, I used a screenshot from the trailer as a reference image.  Below is the way that I did it – had the reference screenshot open and then painted with the tablet on a blank file.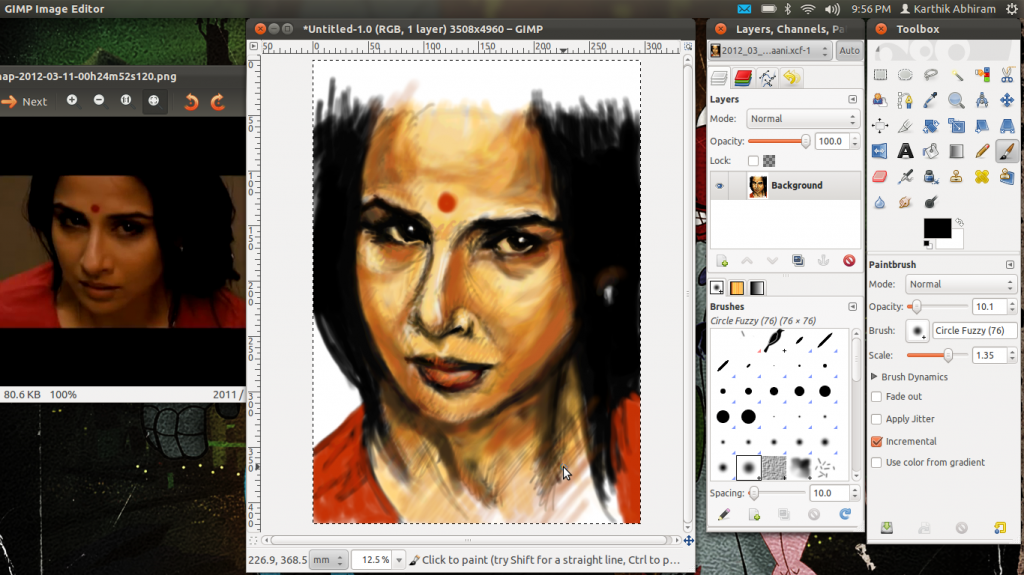 It was not that easy to do, I still need to get comfortable with drawing this way.  The GIMP seemed to have limited options for altering the brush sensitivity etc (or maybe I didn't explore enough).  I will try installing the tablet on Windows and use it in Photoshop next.  Digital art should be something interesting to try out!