This weekend (including Friday night), I watched three movies in the theatre – Jobs, Madras Cafe and Kick-Ass 2.  Out of the three, the most entertaining one was undoubtedly Kick-Ass 2 and I had a real blast watching it.  Hence, this drawing, done today –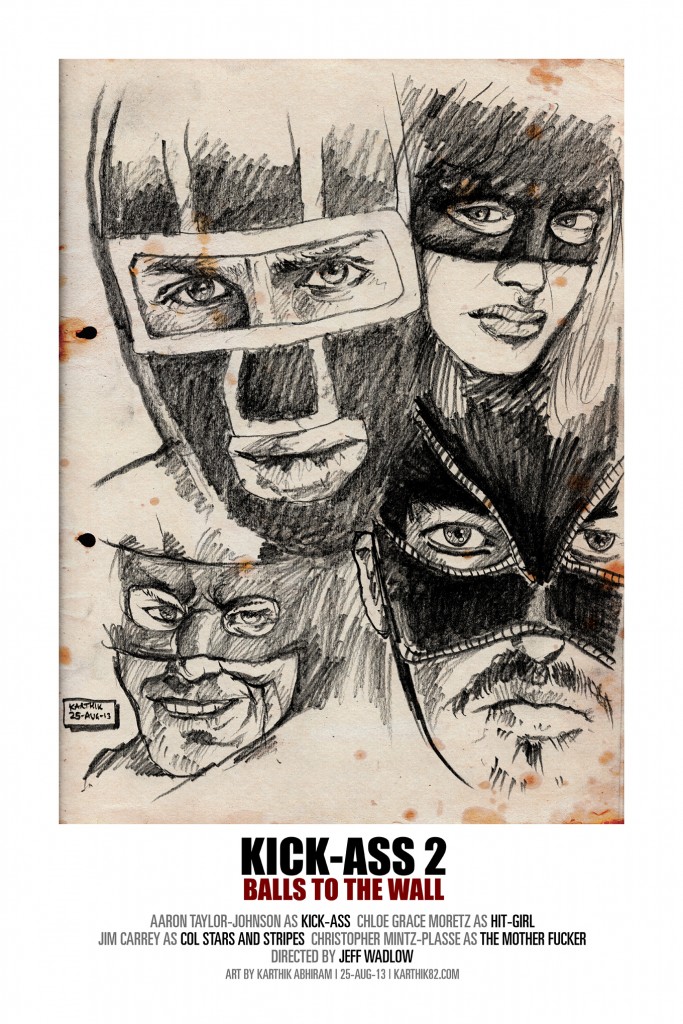 I drew this one in pencil, then scanned it in, added the paper texture in the background and the text.
I like how they expanded upon the storyline established in the first movie.  The movie shows us how Kick-Ass (Aaron Taylor-Johnson) inspired other people to fight crime in costume.  Kick-Ass joins a Justice League-type outfit led by Col. Stars and Stripes (Jim Carrey).  Meanwhile, Mindy Macready (Chloe Grace Moretz) is trying to adjust to life in high school and trying not to be Hit-Girl.
Gangster kid Chris D'Amico (Christopher Mintz-Plasse) reinvents himself as the super villain The Mother Fucker after Kick-Ass killed his dad in the first movie, and starts assembling an army of thugs to take over the city.
Kick-Ass 2 is a proudly A-rated movie (and I was overjoyed that it was released uncut in theatres here), it's crude, ultraviolent, and a whole lot of fun.  Christopher Mintz-Plasse was absolutely hilarious as The Mother Fucker, Jim Carrey was great, and as expected, Chloe Grace Moretz was outstanding as both Mindy and Hit-Girl.  I liked the new superhero characters – Doc Gravity, Night Bitch, and the villains Mother Russia, Black Death, Genghis Carnage.  Loved the action scenes and the one-liners.
I read some of the original Kick-Ass comics by Mark Millar and John Romita Jr, but not Kick-Ass 2.  My cousin tells me that the movie follows the book pretty closely.
Kick-Ass 2 has more action than the first and there's a lot going on.  I liked both movies about equally.  This one I'd rate an 8/10.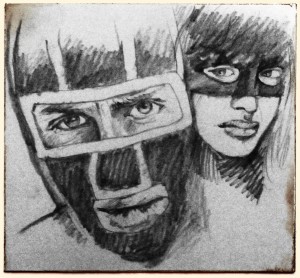 Above is an in-progress version of the drawing.  The completed poster of mine has the working title for the movie, Kick-Ass 2: Balls to the Wall (I wonder why they changed it).
Check out the extended Red-Band trailer here:
There are two good pieces of music from the soundtrack.  The first one is a version of "When the Saints Go Marching In":
http://www.youtube.com/watch?v=3qcT8B2pQOk
And this one is a version of "Korobeiniki (Traditional Russian Folk Song)".  I didn't know it was a folk song.  You might know this music better as the theme from the game Tetris!
Stay back for the credits of the movie – there's a short scene afterwards.