I am a big fan of 1980s action movies, and as a kid, I used to idolise Arnold Schwarzenegger.  Commando, Predator and Terminator 2: Judgment Day I think I would have seen about 50 times or more.  Well, recently, I was looking up some 1980s music tracks on YouTube and I came upon the track "Kaminski Stomps" from the 1986 Schwarzenegger movie Raw Deal.  This is one of Schwarzenegger's lesser-popular movies from that era, and I had only seen it a few times, many years ago (watched it in the theatre when I was in school, and then later on on VHS, and on TV).  So I rewatched it a couple of days back, and while not up to the standard of those other movies, this was pretty fun.  That inspired this drawing –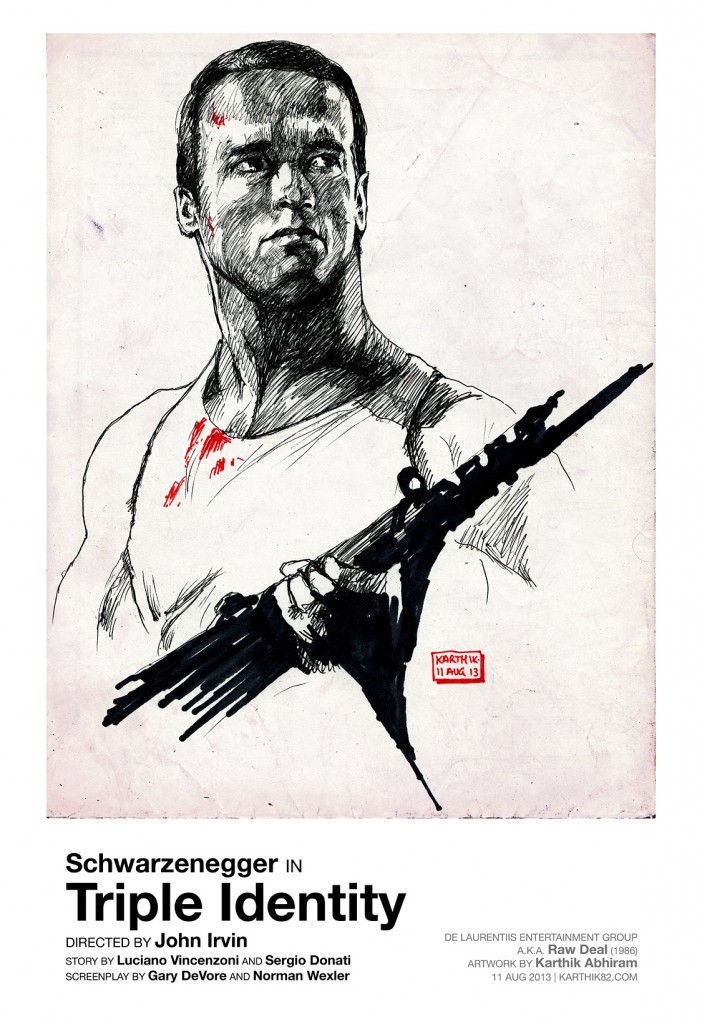 The drawing was done in ballpoint pen mostly.  I used a bit of red gel pen to add the blood splats, and the gun was done with a black marker pen.  Nothing that fancy.  I scanned the image and then added a paper texture to it, and then the text, in Helvetica Neue font.
You may notice that the title of the movie is different in my poster – it says Triple Identity.  That was one of the working titles for the movie, before it got retitled to Raw Deal.  I thought that sounded stylish, so I used that instead.
The movie stars Schwarzenegger as Mark Kaminski, an ex-Federal Agent working as a Sheriff in a small town (doesn't this sound very similar to his 2013 The Last Stand?), after a legal case forced him to resign.  He is approached by the FBI's Harry Shannon (Darren McGavin) to infiltrate the gang of Chicago mobster Luigi Patrovita (Sam Wanamaker) and take the whole operation down.  Kaminski enters the gang posing as the criminal Joseph P Brenner, and what follows is a fun outing as he carries out what he was asked to do.
I'd rate the movie overall a 7/10, as the action quotient is a bit less here, but one thing to enjoy are the one-liners.  I also liked the music by Cinemascore (which I guess is an umbrella term for the people who contributed music to the movie – Chris Boardman, Tom Bahler, Albhy Galuten).
In-progress Drawings
Here are a few in-progress shots as I was drawing this.  These were all taken on my phone (Micromax Canvas HD) camera and processed in Snapseed.  The collage was made with the PhotoGrid app and I finally posted both of them on Instagram.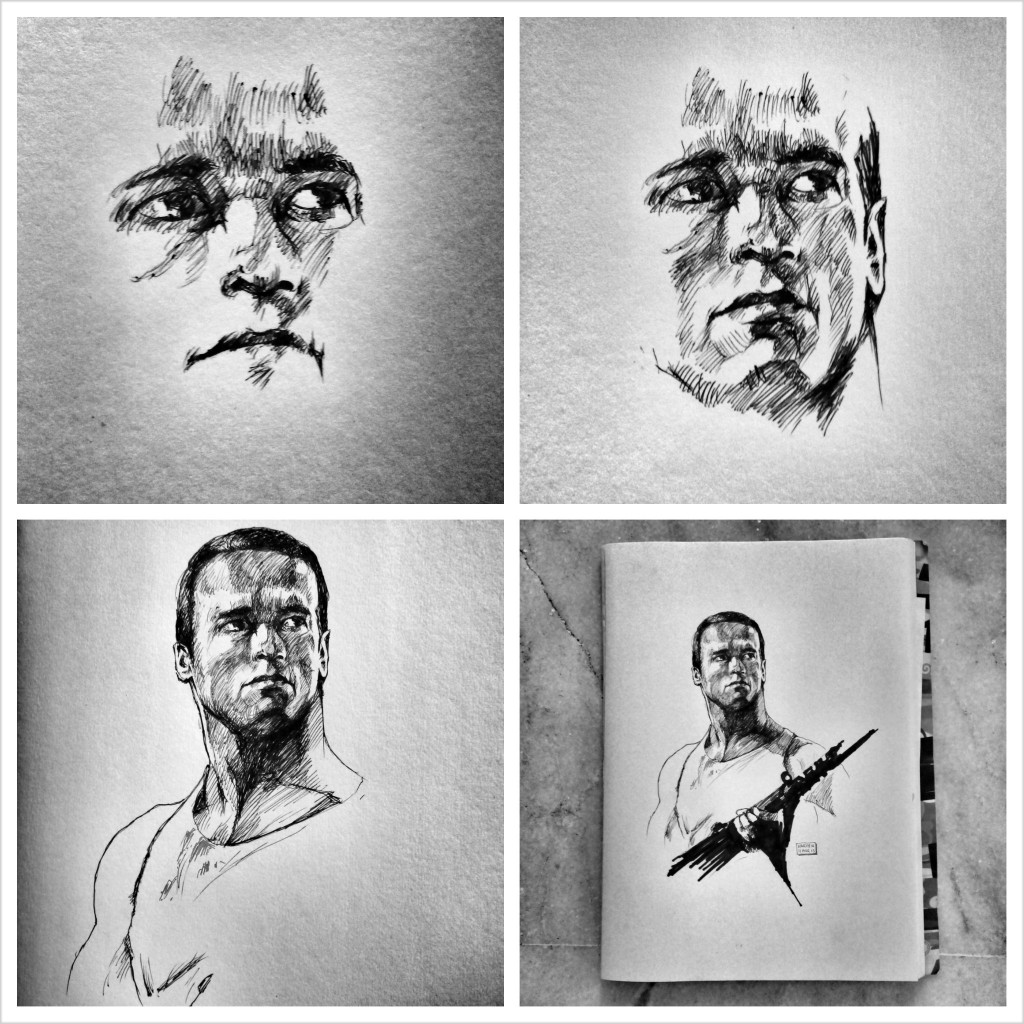 This below picture I call "Kaminski Stomps", after the name of the track that inspired me to do this entire drawing.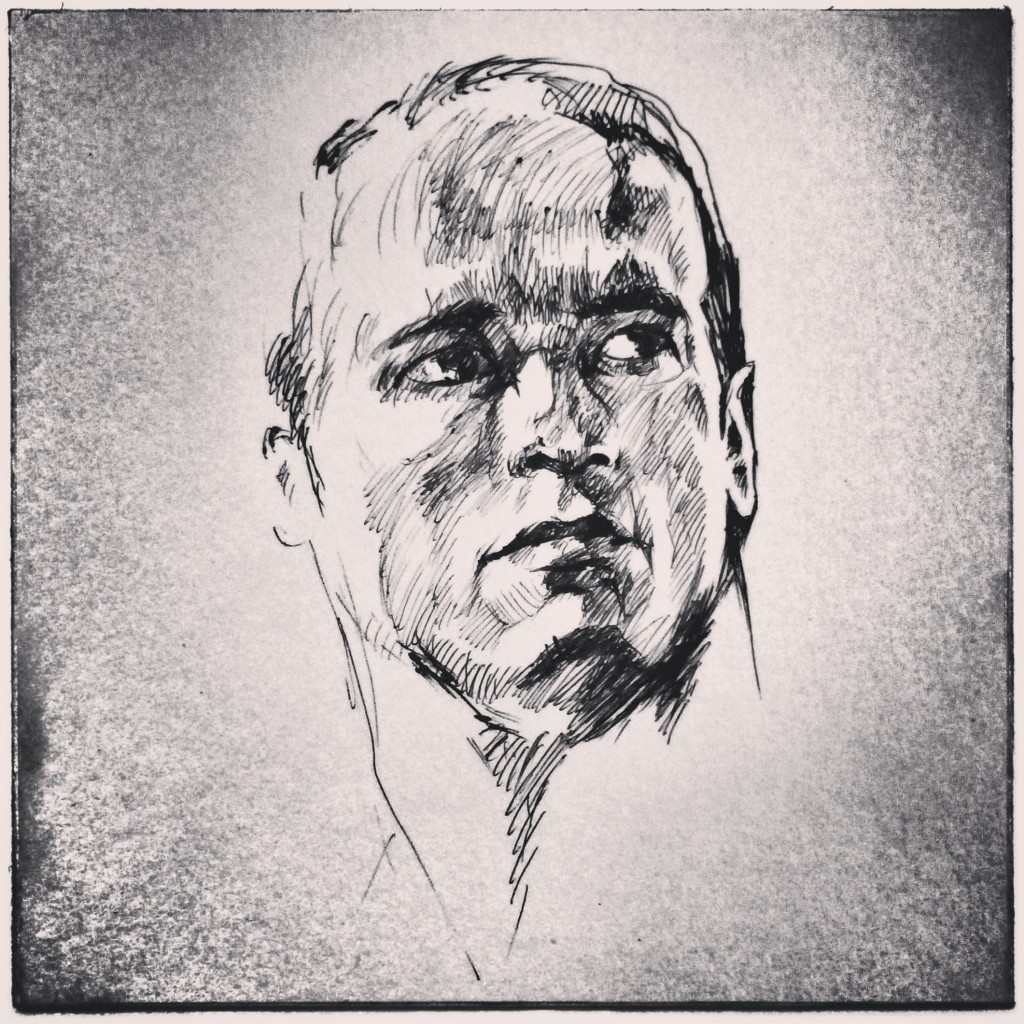 Soundtrack
You can find music from the soundtrack uploaded on YouTube.  Below are two of my favourites.
"Kaminski Stomps" – this is the track that plays during the end credits –
"Brains & Trains" – this is the track that plays during the opening scene of the movie –
http://www.youtube.com/watch?v=s4itXxljsBQ
The movie is good fun.  Nobody Gives Schwarzenegger a Raw Deal!