Thanks to this neat application called Timehop, I'm reminded of tweets and Facebook updates that I posted a year ago.
On this day (6 March), one year ago, I completed and posted this drawing of mine – a stippled portrait of Natalie Portman.
I drew a rough sketch of her in pencil, and then placed dots all over the paper with a pen, and erased the pencil lines.  No cheating, I really did make this with dots.  You can watch the below "behind-the-scenes" video to see how this was made –
That drawing seems to be the one that got me the most likes and comments on Facebook.  I'd also uploaded the image to deviantART, and that was my 100th deviation there.  The inspiration for this picture came from a fellow deviant, Angelina Benedetti who is a big Natalie Portman fan.
The keen-eyed among you will notice that the image in this post is of better quality than the one I originally uploaded a year ago.  That's because, the original image was an edited photo taken with my Nokia N8 phone (I didn't have my scanner at the time).  The image in this post is an edited photo taken with my Canon EOS 550D camera.  For some reason I never uploaded this improved image anywhere else, so thought I'd post it for the one-year anniversary!
The other drawing is this one, which I call Lord Sheldon –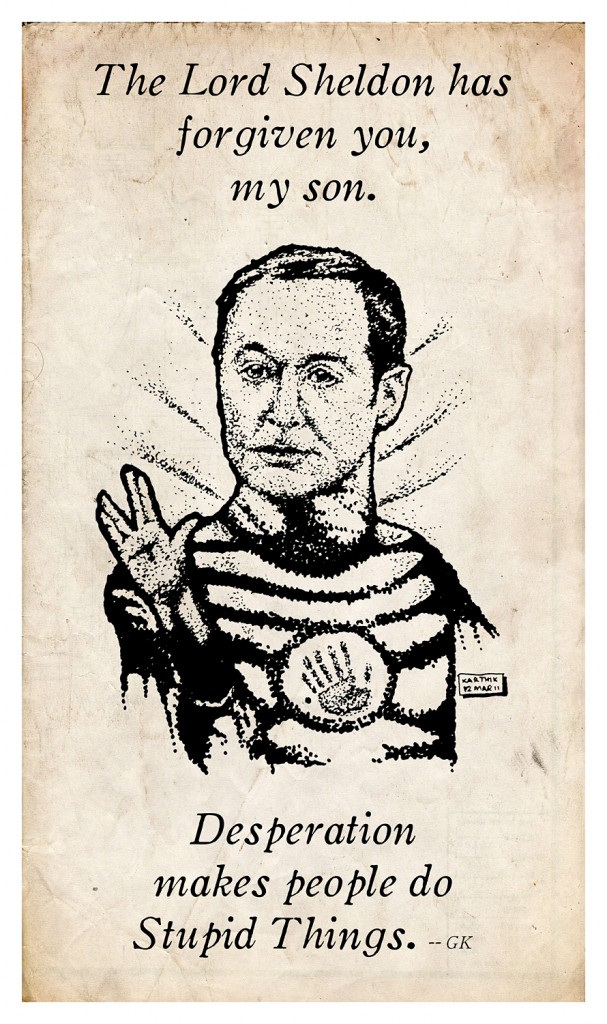 This one was made later in March, but the quote in this image came from a conversation I had with my cousin in early March 2011.
When I 'confessed' to him that I'd watched an inferior quality print of a movie, he told me this.  I loved the quote so much, that I'd posted it on Facebook, and later, when I did this drawing of Sheldon from The Big Bang Theory, I put this quote on it, and subsequently turned this into a t-shirt.
This stippled drawing was done at Lamakaan, during a sketching outing.  I had my laptop with me and looked up a couple of reference images of Jim Parsons as Sheldon, and drew this.  This time, no pencil was used, I directly placed the dots on the paper.
The hand image on Sheldon's t-shirt is a reference to Fringe.  The symbol is the glyph for "S" ("S" for Sheldon).