My brother visited Srisailam last weekend, and on that trip he shot footage using his phone (Android-based LG Optimus Black).  He's edited that into a nice video, which you can see here –
One of the absolute best articles I read this week was a feature on the opening sequence of David Fincher's The Girl with the Dragon Tattoo, at the website Art of the Title (this is a site that features articles about title sequences from movies).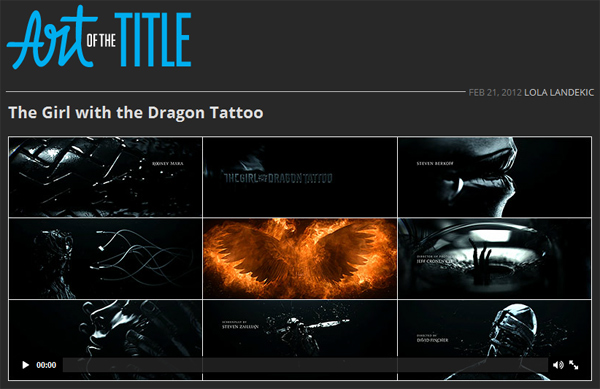 The title sequence for the movie was created by a firm called Blur Studio.  The article (written by Lola Landekic) is a very detailed and insightful one, and has interviews with Tim Miller (from Blur), David Fincher and Neil Kellerhouse (who did the publicity designs for the movie).
During David's visits to the studio we would brace for impact, because he has a reputation for being incredibly picky. The first time I met him, I asked one of his friends, 'How picky is David?' And he said, 'You've heard of pixel fuckers? Well David breaks each pixel down to its separate RGB components and fucks them one at a time.' So there was some fear every time we would send something in, but 99% of the time we were just told to keep going.
This is the article: http://www.artofthetitle.com/2012/02/21/the-girl-with-the-dragon-tattoo/ – highly, highly recommended reading.
Another insightful article / set of videos I saw this week was the Fstoppers 2011 BTS Contest Winners.  Fstoppers is a site featuring behind-the-scenes videos and photography articles.  That article features the best videos submitted to their site in 2011, as assessed by a panel of celebrity photo / videographers as judges.  Watch all the videos in the post – very nice stuff.
I've been promising an article on Pecha Kucha Nights Hyderabad for a while now, but have not got around to writing it yet.  Will do it soon and post it.  In the mean time, they have announced that Pecha Kucha Night Hyderabad Vol 8 will be on March 31, 2012.  You can 'Like' their Facebook page to be kept updated.
It has been a few years since I last used any distribution of Linux.  Today, I installed Ubuntu 11.10 "Oneiric Ocelot" on my computer, so that I could use the video editor Kdenlive.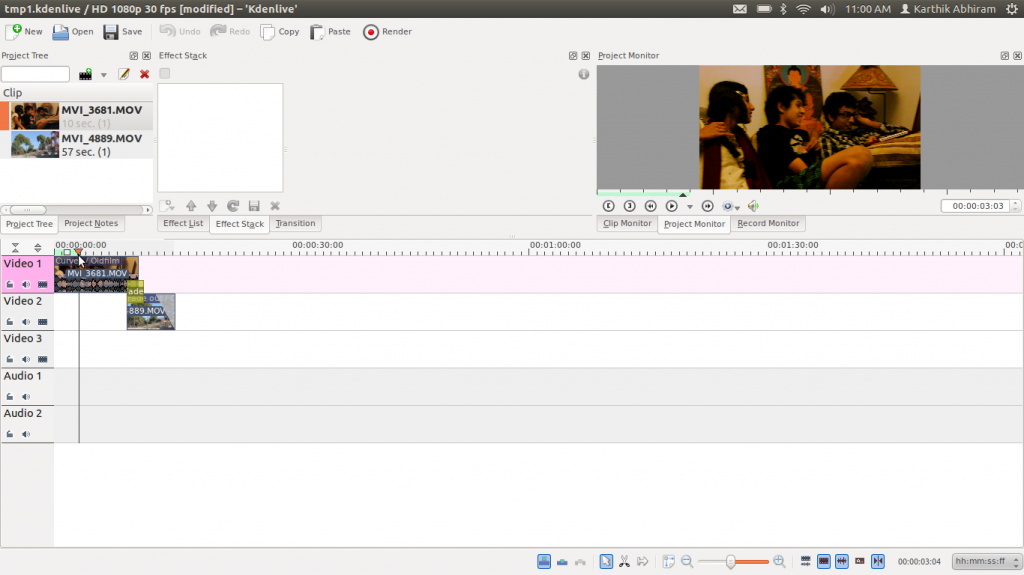 I've had my HD Video-capable DSLR, the Canon EOS 550D for almost a year now, but I've not done anything significant with video so far.  The reason being, Windows Movie Maker (which I use for editing video) doesn't handle the 1080p clips generated by the camera well at all.  Adobe Premiere Elements, which I have on my laptop, also doesn't handle those clips.  A full (and legal) version of Adobe Premiere Pro costs a lot of money.
So I was looking for a free / open source alternative and Kdenlive fit the bill.  Since that runs on Linux, I had to get a Linux distribution running on my computer.  I chose to install Ubuntu through Wubi so that I could have it done within Windows, and wouldn't have to mess around with partitioning.
I had to go through some hoops for getting it to work properly though.  If you install Kdenlive through the Ubuntu Software Center, it doesn't work directly, and indicates that there's a problem with the MLT framework (MLT SDL module not installled or something like that).
It turns out that one has to get the latest version of Kdenlive + dependent packages for this to work, and for that, the following commands must be entered in the terminal –
sudo add-apt-repository ppa:sunab/kdenlive-svn
sudo apt-get update
If you install Kdenlive after doing this, you'll be getting the most up-to-date packages, which should work.  I tried just putting together two random clips and exporting as a H264 file, and it worked properly.
These forum posts/pages contain more info: 1, 2, 3.
Having gotten these things out of the way, here now is the collection of tweets from last week.  I've split them up date-wise, for easy reading.
Tweets 26-Feb-12:
Tweets 25-Feb-12:
Tweets 24-Feb-12:
Tweets 23-Feb-12:
Tweets 22-Feb-12:
The music in the trailer for Safe is "The Outsider" by A Perfect Circle.  That song was used earlier in the trailer for Resident Evil: Afterlife, and the movie itself seems very familiar – as I mentioned on Facebook, didn't we already see this as Mercury Rising?  Also, the other trailer linked to here is that of a Norwegian movie, which I'm interested in seeing just because of the awesome title – Fuck Up.
Tweets 21-Feb-12:
There's going to be another remake of Nicolas Winding Refn's Pusher?  I didn't know that.  There's a Hindi remake which I've seen.
Tweets 20-Feb-12:
Well, I hope you found this stuff interesting.  In the next post I will upload a drawing that I did today (what it is, I am keeping under wraps for now).
Interesting thought: Many of the links posted above are shortened versions of shortened URLs (Inception – shortening within shortening)!  Twitter's t.co shortener is wrapping bit.ly links in many instances.  If either one of these goes down, it would be unfortunate.