Like I did some days back, here is a collection of interesting things that I linked to, or tweeted, in the past week.
Tweets and Retweets
5-Feb-12: RT @funnyhumour My superbowl.com site has been getting loads of hits this week. It seems people are finally appreciating the sheer quality of my owl
5-Feb-12: We want a better quality JPG 🙂 RT @MouthTapedShut The Girl with the #DragonTattoo Blu-ray/DVD cover: http://tmblr.co/ZuxP2xFvR_w_ #MOUTHTAPEDSHUT
5-Feb-12: RT @josephradhik @gottabreakfree EPIC!! RT @RobKH: "Guy Pearce in Memento." "Guy who?" "Guy." "Who's there?" "Knock Knock."
5-Feb-12: Can't imagine what that would be like! RT @Lozatron_ I am tireder than a tired person who is very tired.
5-Feb-12: RT @mihirfadnavis RT @SethMacFarlane: If you say "an historic", you're probably an hasshole.
5-Feb-12: RT @Galactica_gk It's so much more darker than the Swedish Version. David Fincher is a genius. #TheGirlWithDragonTattooEnglish
4-Feb-12: Expert Mode http://t.co/gjUHQnMM
3-Feb-12: RT @BaggadBilla Guess karo mein kaun hoon? (text from unknown number) me: @AapChutiyeHain
3-Feb-12: RT @R_beccaBlair Life is too short to give your time to rude people. =)
2-Feb-12: RT @atulkasbekar Lol! http://t.co/2wGpQcUN
2-Feb-12: RT @rob_sheridan @jonjensen0 … Unicode 6.1 is out, and it includes this amazing new character: PILE OF POO (U+1F4A9) http://www.fileformat.info/info/unicode/char/1f4a9/index.htm
2-Feb-12: RT @funnyhumour I've recently stopped using products that are tested on animals. My dog hasn't had a meal in 2 days.
1-Feb-12: Angel Heart – Atmospheric, dark and creepy horror/thriller. Mickey Rourke and De Niro are excellent. 8/10
1-Feb-12: RT @funnyoneliners @the_moonface Me: I'd like to report a disturbance. Police Dispatcher: Okay, where sir Me: In the force, I can feel it.
1-Feb-12: Nice review… RT @Galactica_gk Män Som Hatar Kvinnor http://t.co/YprUN9EF
1-Feb-12: Total Carnage http://t.co/fC0UoYkw
1-Feb-12: RT @RGVzoomin "@sirasri: its not the dips u take, its the depth which counts.. Its not the steps u climb, its the height which matters."
1-Feb-12: RT @designersays RT @VerifiedDrunk: I wouldn't make a very good doctor cause I don't give a fuck how you feel.
1-Feb-12: RT @funnyoneliners 10 times out of 9, you'll find me exaggerating about something. RT @clarkekant
1-Feb-12: "A Room Filled with an Obnoxious Amount of Money" http://t.co/tdR1OLsw
31-Jan-12: RT @funnyoneliners Sure you can follow your heart… just don't forget to take your brain with you. RT @newfylover1
31-Jan-12: Agreed 100%, Creamstone = Joy of Ice Cream RT @vemana Creamstone ice cream has been had. Joy of ice cream has been rediscovered.
31-Jan-12: RT @HaaaNaaahh RT @funnyorfact #WeAllHaveThat one song in our playlist which we always skip, but never delete.
31-Jan-12: RT @RGVzoomin "@Praveenraj_: We all damn well know that the whole world's a stage, but none of us have a fucking idea what the script is?."
30-Jan-12: Awesome poster! RT @ResidentEvil Evil Goes Global. Fall 2012. #ResidentEvil http://t.co/p7eJpqgt
30-Jan-12: Atari and Gaming History http://t.co/XcOnai54
30-Jan-12: RT @zombeaner David Fincher Refuses to Cut 'Girl With the Dragon Tattoo,' India Release Canceled http://t.co/Du4oBlO3
30-Jan-12: A nice hot cup of tea at the right moment (when you feel you need it the most) = heaven.
30-Jan-12: RT @josephradhik RT @Koquettish: He asked her to unzip. She downloaded winRAR. #AwkwardErotica
29-Jan-12: Before Trent Reznor & Atticus Ross' In the Hall of the Mountain King from "The Social Network", there's another version I used to listen to.
29-Jan-12: That is "In the Hall of the Mountain Thing" by Mark Anthony Klem. I have a MIDI file of it along with some of his Doom music.
29-Jan-12: I am not able to find a proper link / download of it now, to link & share. I don't know whether I should upload the MIDI file that I have.
29-Jan-12: That MIDI file of Mark Klem's "In the Hall of the Mountain Thing" I have is a whopping 11 KB in size and was downloaded on 26-Apr-01.
29-Jan-12: Nice! RT @rajturl Didn't know @ankash1009 had something to do with Talaash, 'additional dialogues'. It makes it even more awesome …
28-Jan-12: And a couple of days back, I registered the domain KarthikAbhiram.com. Right now it just points to Karthik82.com.
Other Links
Speaking of my cousin, his blog Galactica will be on hiatus for about a month.  I was mentioning that this is like a break between two seasons of a TV show.  This led to us creating posters advertising Season 2 of his blog.  This poster by him has got to be the best one of the lot –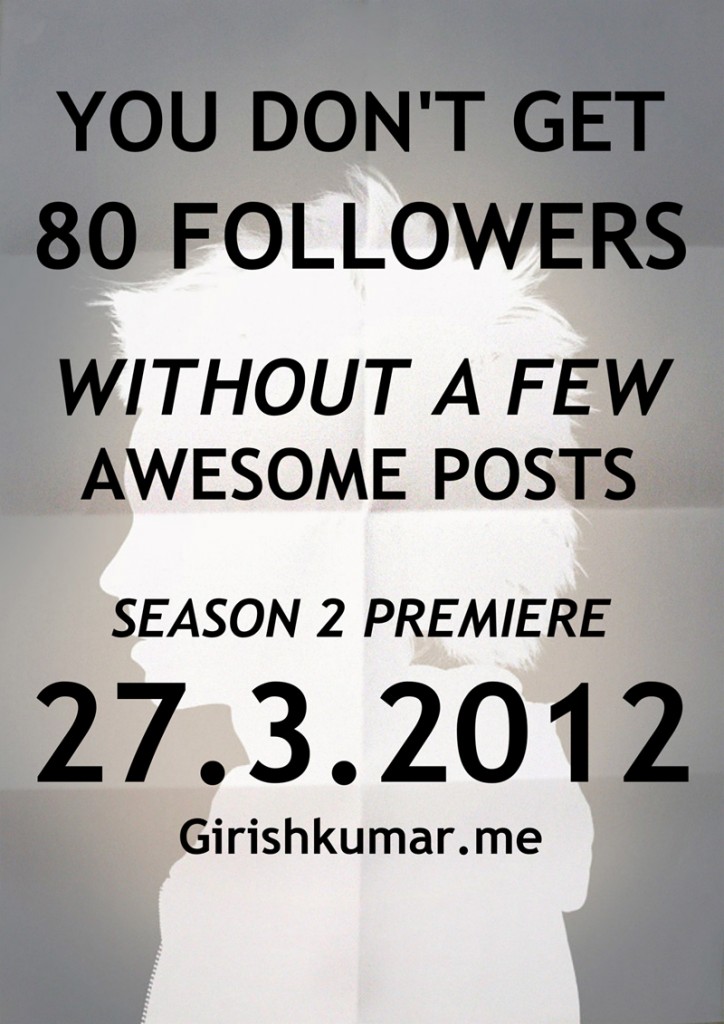 I thought this was a very clever piece of work.  The design and text recalls the poster of The Social Network, and the background is from The Girl with the Dragon Tattoo.  Two David Fincher references in one poster?  Class!  Click the image above to see more of the posters – one more by him and one simple poster by me.
On Saturday evening, I attended Pecha Kucha Night Hyderabad Vol 7, which I will write about in detail in a separate post.