I couldn't post an "Items of Interest" update last week since the Kahaani and John Carter posts took quite a bit of time to write (and besides, it took me time to get comfortable with the drawing tablet to make that picture of Vidya Balan).  So this time you have a double-sized issue.
Before I get to the tweets and other links of interest, allow me to write about two awesome things that were recently unveiled.
Prometheus Trailers
This morning, the full trailer for Prometheus went online, in HD.  Take 2 and a half minutes to watch this –
Incredible, right?  The video page also includes the plot synopsis –
In the distant future, two superpowers control Earth and fight each other for all the solar system's natural resources. When one side dispatches a team to a distant planet to terraform it for human colonization, the team discovers an indigenous race of bio-mechanoid killers.

Ridley Scott, director of 'Alien' and 'Blade Runner,' returns to the genre he helped define. With PROMETHEUS, he creates a groundbreaking mythology, in which a team of explorers discover a clue to the origins of mankind on Earth, leading them on a thrilling journey to the darkest corners of the universe. There, they must fight a terrifying battle to save the future of the human race.
Somehow, I think I preferred knowing less about the movie, this explanation of the story somewhat demystifies Prometheus for me.  Nonetheless, it's still a terrific trailer and I can't wait to see the movie this June, in IMAX 3D.  I just hope our censor board guys won't cut anything from the movie.
There was another trailer that preceded this, which came online yesterday.  This post on FirstShowing has it.  It's also great and has some footage which isn't in this complete trailer.  A friend of mine aptly described this as "one big 'Holy Shit' moment that is 1:30 long".
The Raid: Redemption Soundtrack
In my earlier post about the movie The Raid: Redemption, I mentioned that the American release of the movie features a music score by Mike Shinoda of Linkin Park and Joseph Trapanese.  At TheRaidSoundtrack.com, one can pre-order the soundtrack album, and one can also listen to five tracks from the album.
The music in the above video is the opening bit from the track "Razors.Out", which is also the music used in the Red-Band trailer of the movie.  The track is by Shinoda with vocals by Chino Moreno.  You can listen to it here (that's a SoundCloud link, you can listen to the other tracks from the sampler too.  The track "Drug Lab" is the one used in the most recent official US Trailer).
From the top to the end
You've got your razors out
To the end, til you stop
You cut the frames apart
Here are the lyrics to "Razors.Out" (perhaps not 100% accurate).
Two Facebook Statuses
This one from Kartheek P S K –
That sudden sense of kinship I felt when my phone rang to the tune of Hans Zimmer's "Discombobulate" from Sherlock Holmes in a bus, and ONE person somewhere amidst the crowds snaps around with a glimmer in his eyes… One of Life's moments… 🙂
and this one, from Vinit R –
…so Hades comes to Zeus and says "Yo bro. Im gonna tell u a joke thts gonna get u KRAKEN"
I liked both, so thought of sharing them.
B&W Shooting Challenge
I was reading an article on Ken Rockwell's site, called Making Great Photos in Crappy Locations – where he talks about locking yourself up in a bathroom (a literally 'crappy' location?  Heh heh) and taking pictures –
Many photo classes have an assignment to lock yourself in your bathroom and shoot a whole roll of film. Your first reaction is "this is stupid." Then things start dawning on you as you start seeing details. Eventually you make so many photos you wish you got to use more film.
That inspired me to try taking some photos under self-imposed constraints.  No, I didn't go into a bathroom, and I didn't lock myself in – but I took some pictures in my room only, and decided that I'd only use my 50mm f1.8 lens.  Till now, I really hadn't used the "Monochrome" picture style on my camera, so I thought it'd be interesting to strip away colour and then shoot.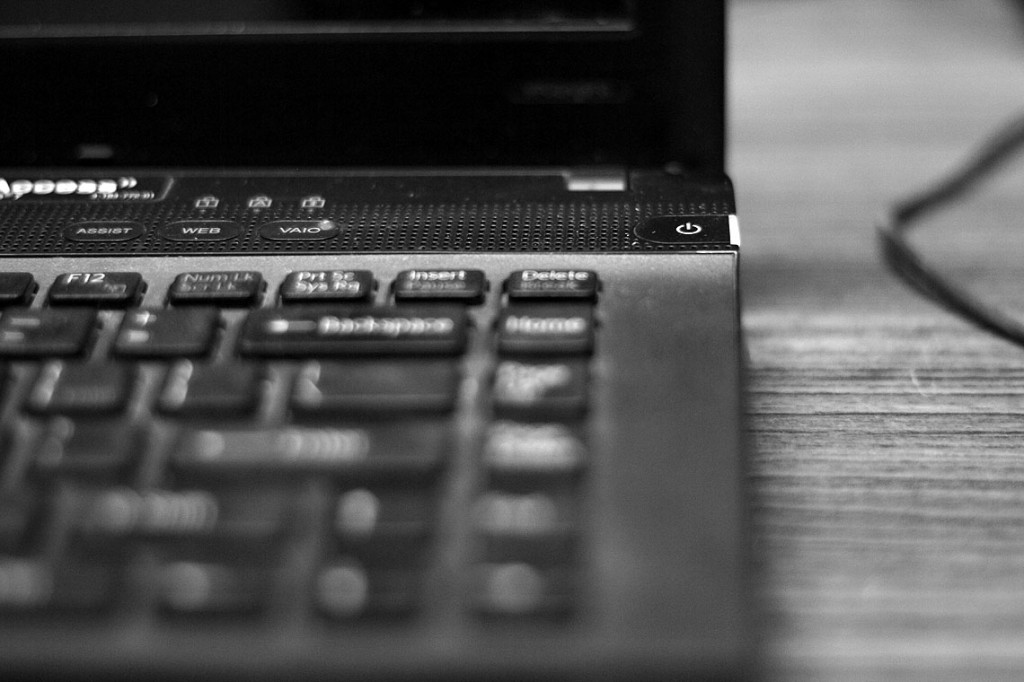 I ended up with some pretty interesting photos.  Not too dramatic, but not too bad all the same.  You can check out the album on Facebook (10 photos).
One of those photos has me holding up two pens, one labelled "Black" and the other labelled "Red".  I tried being clever there, though I'm not sure it comes across effectively!
The above image is one of the discarded photos that I didn't upload on the 'official' set. (sort of like a "deleted scene" on a DVD).  Again, this is me trying to be clever.  The "on" light on my laptop is green, but you can't see it since the photo is not in colour!  Wow, how dramatic!
Other Links to See
Edible Actors
Sometime back on Twitter, #edibleactors was trending.  I found it very funny, so here are some of the names of actors that sound like food items –
Antara Thali, Bruce Chilies, Jackie Chana Masala, Prawn Connery, Cheese Witherspoon, Curry-shma Kapoor, Imran Naan, Milkshake Bachchan, Anuttapam Kher, Curryna Kapoor, Sean Bean, Al Cappuccino, Aamir Corn, Christian Bhel, Rajma Kapoor, Benedict Cucumberbatch, Daniel Breadcliffe, Salmon Khan, Katrina Cafe, Bread Pitt
None of them are my own – they're the property of whoever tweeted them.
Now, onto the collection of tweets from the past two weeks.  I am not re-posting tweets about stuff that I already linked above.
Tweets 18-Mar-12:
RT @mihirfadnavis Just watched 'Beyond the Black Rainbow' – a moody ultra trippy film that grabs you by the head & SKULL FUCKS YOU INTO SUBMISSION. Brilliant!
Used Kdenlive to edit a video yesterday. Just trimming and colour correction done but it's the first video I edited on Linux.
Kdenlive has presets to export video for YouTube at 1080p, 720p, 480p etc. That's pretty cool. I must try with a bigger project soon.
RT @GDBALA 7 Words That Only Bad Movies Have in Their Titles http://zite.to/wLxiN2
RT @funnyhumour Want an anagram of "Rodeo incidents"? Consider it done.
I totally tweeted this 1 year ago TH @karthik82 'Dongala Mutha' – A … http://timehop.com/m/sK3k
I totally tweeted this 1 year ago TH @karthik82 Going to watch RGV's… http://timehop.com/m/RS7b
RT @funnyoneliners Being sick can really affect your grades in school. The kid my son cheats off of was out all last week. RT @technopriest5
RT @omgthatspunny Wanna hear a joke about pizza? Nevermind.. its cheesy #punny
RT @timcarvell "One question about your film in which two dozen children murder one another: Do any of them use the F-word? No? Here's your PG-13, then."
RT @kruttikaS I draw and I feel okay.
Nagesh Kukunoor's Hyderabad Blues 1 (http://www.youtube.com/movie/hyderabad-blues) and 2 (http://www.youtube.com/movie/hyderabad-blues-2) are both available on YouTube.
I don't know whether those videos would be viewable outside of India or not, but sharing them anyway.
RT @Canon_Camera Canon celebrates 25 years of photographic expertise http://ow.ly/9Aycq
Ebook? 🙂 RT @justkalpana note to self: do it right now! "@NiceHappened: Switch off your screens and switch on a book. Do it."
RT @NiceHappened Shaun Of The Dead. RT @mojorojo: What do you think is the most criminally under-watched film ever?
RT @sickipediabot My friend suggested I should prepare for the brutal lighting storms we've been forecast. So I've changed my name to "Twice."
Tweets 17-Mar-12:
@Galactica_gk You asked today why I wasn't watching Hugo, it's because I was working on a drawing. Posting it now, I think you'll like it.
Just got my Vedam DVD that I ordered from @Flipkart.
Finished reading all of "Y: The Last Man". It was a good series.
Tweets 16-Mar-12:
RT @kruttikaS Brilliant illustration! Sarah and the Seed, a comic by @hey_ryan_a (Ryan Andrews) http://shar.es/pfTHv
RT @Kahaanithefilm Kahaani smashes another record! It's #12 on IMDB's Top Rated "Thriller" Titles and going higher!! Thank you ALL! http://fb.me/XxttTuDR
RT @vemana If you are too daft to learn, no amount of 'experience' will help you.
RT @FarOutAkhtar Read today: those who are capable of admitting they made a mistake are the ones capable of growth.
RT @sunielwadhwa: @ankash1009 Yes Sir first releasing Mumbai Cutting Then Paanch will keep you posted 🙂
RT @ravsriram Gonna start with #micro this weekend.will b 15th #michaelcrichton #book I ll read.
RT @FarOutAkhtar Baby Falak. RIP. We should all be ashamed to be part of a society in which violence like this is no longer uncommon.
RT @RGVzoomin Today is the 1st day of shooting of the most important film of my career `The attacks of 26/11 `
RT @Kahaanithefilm Hot Running Water =
RT @josephradhik My new weapon of choice. Nex-5N + Voigtlander 35/1.4 Leica M mount. Joy. http://pic.twitter.com/J4AYQS3m
Seeds of Truth http://bit.ly/xXceDc
Tweets 15-Mar-12:
RT @vemana When you are driving on the highway with the sun in your rear view mirror, you are literally leaving the day behind. Quite picturesquely too
RT @krishashok If one is a developer, Stackoverflow is pretty much philosopher, friend, guide, techsupport and a shoulder to cry on
RT @atulkasbekar A chubby colleague of mine insists she's been doing her 'GM' diet for yrs to no avail. Since her GM is 'Ghee Maida' its no surprise 😉
RT @MillaJovovich thank you @chrissbrenner 4 this pic me w wearing @LOrealparisusa "telescopic" mascara! my lashes r SICK, right ladies? http://pic.twitter.com/k1i3kAJT
RT @omgthatspunny To write with a broken pencil is pointless. #punny
RT @Canon_Camera How to photograph flowers http://ow.ly/9Ay0M
"Y: The Last Man" – 46/60 done.
Tweets 14-Mar-12:
I've pre-ordered the "Don 2" DVD from @Flipkart. A tweet from @FarOutAkhtar indicated that it would be an extended version.
Just bought "Vedam – Movie – DVD" from @flipkart http://bit.ly/w4snim
Here you go – "Vedam" DVD on Flipkart for Rs 155. http://www.flipkart.com/vedam-movie/p/itmd6zcvbkkze7y4 I will go home and place an order.
RT @Galactica_gk Must Read!! Why Hugo wont be released in India Mumbai Mirror http://www.mumbaimirror.com/index.aspx?page=article&sectid=172&contentid=201203142012031403250134047fab3e4
Vedam (2010) appears to be out on DVD/Bluray! Time to buy it, will search on Flipkart & order, if not available will go to a store and buy.
RT @Galactica_gk 3.1415926535897932384626433832795028841971693993 751058209749445923078164062862089986280348253421170679821480 Happy Pi Day!!
RT @designersays Have any of you ever gone to the bathroom to do a no. 2 and forgot to bring your phone? I know, boring right?
The Nokia N8 has a close-up mode while recording video – had I known this earlier, my drawing videos would have had better focus!
Lesson learnt – know your tools.
RT @BrettSahuri: @edgarwright You're a fucked up individual, that's for sure.
Ram Gopal Varma and Puri Jagannadh are doing a remake of "Businessman" with Abhishek Bachchan. Make of that what you will…
RT @arocks Simple way to make a wireless presenter. Tape off the bottom of a wireless mouse. Works beautifully…
RT @RGVzoomin "@theMadhuShalini: Being selfish is gud..if u urself don't think abt u urself, then who else will?"
RT @arocks Biggest irony of 2012: Twitter takes more time to load than Facebook
RT @RGVzoomin Finally its confirmed..Me nd puri jagan together are making the remake of the block buster telugu hit `Businessman' with Abhishek bachchan
"Y: The Last Man" – 32/60 completed.
"Y: The Last Man" – finished reading 25/60 issues. This reminds me of when I was reading "Preacher" in 2005 or 2006.
I get broadband bill notifications to my email from Airtel, Reliance and Idea, though I use none of those services! I ignore those mails.
But I wonder whose bills I am getting 🙂
Reading "Y: The Last Man" by Brian K Vaughan and Pia Guerra. Finished 10 issues out of 60. It's brilliant stuff so far.
Tweets 13-Mar-12:
Tweets 12-Mar-12:
Head, Ribs and Hips part 1 http://bit.ly/zUg69S
Day 50 #Gym
RT @mihirfadnavis The most epically epic thing you'll read today – Harry Potter vs LOTR: The Final Showdown http://bit.ly/zQNrGa
RT @sarcasticapple What do you get if you cross an octopus with a cow? A stern rebuke from the Research Ethics Committee and an immediate cessation of funding.
RT @mihirfadnavis In case your Monday isn't fuckall enough, let me remind you that 'Hugo' isn't releasing in India. Cheers.
RT @SrBachchan T 678 – Just finished watching 'Kahani' on UFO at home .. Simply superb ! Sujoy, what the heck were you doing making films like 'Aladin' !!?
A line of dialogue from a "John Carter" and "Total Recall" mashup would be: "Get your ass to Barsoom" 🙂 I'm going to use that quote soon.
Letters & Stone http://bit.ly/yZP3W9
RT @omgthatspunny I wondered why the baseball was getting bigger. Then it hit me. #punny
Lee Bermejo – Before Watchmen http://bit.ly/wScBhv
One year ago, this awesome thing happened: http://timehop.com/m/tEIB
One year ago, this awesome thing happened: http://timehop.com/m/hjdG
Mosquitos to all out and good night.. @AapChutiyeHain
Tweets 11-Mar-12:
Just finished my first digital artwork. Will be posting it online soon. Done with Wacom Bamboo drawing tablet in the GIMP on Ubuntu 11.10.
RT @ankash1009 Vidya is slowly emerging to be atrue successor of Aamir.. a great career is defined by choices one makes &courage to see it through
My friend Raaj Kumar's portrait of his mother – drawn in 2011 – http://bit.ly/xZycqu
Amble http://bit.ly/yq44Z7 (via FontSquirrel)
RT @josephradhik You have not experienced joy as a photog till you have used a 35/1.4 lens properly. 🙂 Love this focal length and dof combo.
Tweets 10-Mar-12:
Trouble on the Internet http://bit.ly/zGXwaz
RT @Galactica_gk The movie is just awesome. One of the best Hindi movies I've see. Awesome acting by Vidya Balan. 9/10. #KahaaniMovie2012
RT @io9 Legendary French artist Moebius, the man who made The Abyss, Alien, and Tron even weirder, is dead at 74 http://on.io9.com/1fc0
RT @planet5D #noFilmSchool: Canon 4K DSLR Announcement Possible at NAB 2012 #HDSLRnews http://bit.ly/xomn1d
Kahaani – Loved it! Intriguing mystery, very nicely made and acted. Ending was great. Read as less about it as you can before seeing it! 9/10
John Carter – Enjoyable movie, little slow in the beginning but I liked second half and ending. Visuals were great, 3D not essential. 7/10
RT @RaaVi #WebDesign | Here is why vim uses the hjkl keys as arrow keys: I was reading about vim the other day … http://bit.ly/zdgf2s via @DZone
RT @sandy_budhiraja "Unless you try to do something beyond what you have already mastered, you will never grow."~Ralph Waldo Emerson #quote
RT @Nokia_Connects The Week in Pictures: 5 inspirational photos from around the world. http://nokia.ly/xH3lvk A new feature on Nokia Connects
Pickup Artist http://bit.ly/A8BQOz
Tweets 9-Mar-12:
RT @Oatmeal Did you hear about the restaurant on the moon? Great food, NO ATMOSPHERE! *ba-dum-kssh*
RT @DamienFahey I was blown away by how realistic the raindrops on the new iPad wallpaper looked until I realized they were actually a Chinese child's tears
RT @Mr_A36 Mr.A36 is a sucker for typography. Lo♥es Sans-serif esp Helvetica & Myriad typeFaces 🙂
RT @gurpreet_bhatia #mycrazyobsession photography
RT @clientsfh "Please let me know if you do not receive this email." http://tmblr.co/Zh3FZyHgH8vT
Watched "Critters 4" after many, many years. Nice movie. I used to like this series a lot during school days.
Tweets 8-Mar-12:
Tweets 7-Mar-12:
RT @Nokia_Connects Nokia 808 PureView: your questions answered (part 2) – http://nokia.ly/zjTCMC
RT @Flipkart Some should answer this question on @Quora : http://www.quora.com/Are-we-missing-a-legal-MP3-download-website-in-India. Afterall, @Flipkart is headquartered in Quoramangala.
RT @DanielCamer "Tell me, I will forget; Show me, I may remember; but involve me and I will understand." – Ancient Chinese… http://tmblr.co/ZFFgXxHbA4R2
RT @slashfilm Watch director @AndrewStanton's TED Talk: 'The Clues To A Great Story' http://bit.ly/y2bAKn
It would be interesting to see the back of the Indian Censor Certificate for Piranha, detailed description of all the stuff they cut! 🙂
#NowWatching Piranha (2010) – including all the parts I missed when I saw in the theatre 🙂
Tweets 6-Mar-12:
Nokia 808 PureView: your questions answered – http://nokia.ly/xoaAdT
RT @firstshowing Got a second dose of The Raid, so damn good, so frickin' badass. Gets your adrenaline pumping. Can't keep recommending it enough!
Awesome!! RT @funnyoneliners I was playing my air guitar and accidentally woke up a mime. RT @luiki89
RT @MariaEolani Better a little fire to warm us, than a great one to burn us.
RT @justkalpana Death by PowerPoint
RT @rob_sheridan Download a PDF of JoyStix Magazine, April 1983 (they have some great tips for that new game Galaga): http://bit.ly/zwk1La -via @lostateminor
RT @designersays ME: You're like a drug to me. FRIEND: You mean I'm addictive? ME: Please! I mean I can only take you in small doses.
NOT FOR THE FAINT HEARTED! RT @planet5D Fire and Brimstone – one guy's reaction to the Canon EOS 5D Mark III http://bit.ly/xNm2pt
TV Release Groups Dump Xvid and Enrage the Internet http://bit.ly/xb3M8V
Outerra Engine Makes The Entire Earth Into An Open-World Game, Has A Free Tech Demo http://bit.ly/yirzd3
Tweets 5-Mar-12:
RT @IslamicThinking A friend cannot be considered a friend until he is tested in 3 occasions: in time of need, behind your back, & after your death. (Ali RA)
RT @funnyoneliners Dear Women, We're not as dumb as you think we are. We're dumber. Love, Men RT @yoyoha
RT @mihirfadnavis So tired. So much work. What to do ya.  #MundaneTweetsFromHotChicks
Tumblr http://bit.ly/y7fFzY
RT @alecbaldwin I'm going to the gym. I'm gonna sit in the parking lot and read the Times. But at least I'm going.
Day 46 #Gym
RT @josephradhik The problem with being a photog in the social media age is appreciation comes very easily. Enough to get a false sense of superiority.
RT @schmmuck In case of earthquake : Please tweet!! DO NOT go to an open area. DO NOT help ur neighbours & coworkers. The internet needs to know FIRST!!
Lytro Light Field Camera: This Is What New Feels Like [Photography] http://bit.ly/A73CY4
London Super Comic Con http://bit.ly/zwxdFI
That stuff I said about the close-up mode on the Nokia N8 – I plan to write a separate post with example images.