Well I only have a few minutes left to post this.
I wanted to write something on 29-Feb, since that date doesn't come along often. Initially was planning to do a drawing or post an update on Pecha Kucha, but couldn't prepare the content in time. So, instead, I thought I'd post two photos of mine, which are from last year and hence have not seen the light of day on this blog.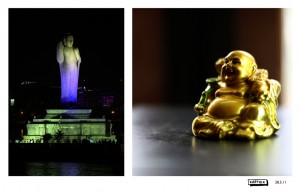 This is a photo called Two Buddhas, which I took last year (May 2011 – initial attempts using my Canon EOS 550D).  The reason I posted this, is that today, a friend of mine told me that he has created a group called "Laughing Buddha" on Facebook, in which he'll post a photo of the Laughing Buddha every day.  I sent him this pic today and he's posted it on that group.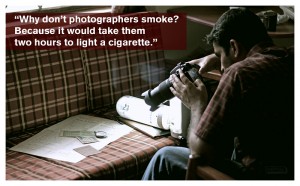 The second image is a photo I posted on Facebook sometime back (June 2011).  This is a "behind-the-scenes" shot of my brother photographing old currency notes and a watch, which would later become this image.
I'd seen a quote about how cinematographers always take a lot of time to get lighting just right, and when I saw my brother doing the same when taking his photo, I reworded that quote and put it in this image.