As I'd mentioned in the previous post, I had visited Chandigarh in the last week, and had a great time.  I visited Chandigarh Lake, Rose Garden, Rock Garden, and also went up to Kasauli and took a ride in the Cable Car on the Timber Trail (which is on the way).
A set of photos from that trip is uploaded on a public album on Facebook here.
This is an interesting photo that I took during the trip.  It's called Chandigarh from the Sky, and was taken on board the Kingfisher flight from Chandigarh to Delhi.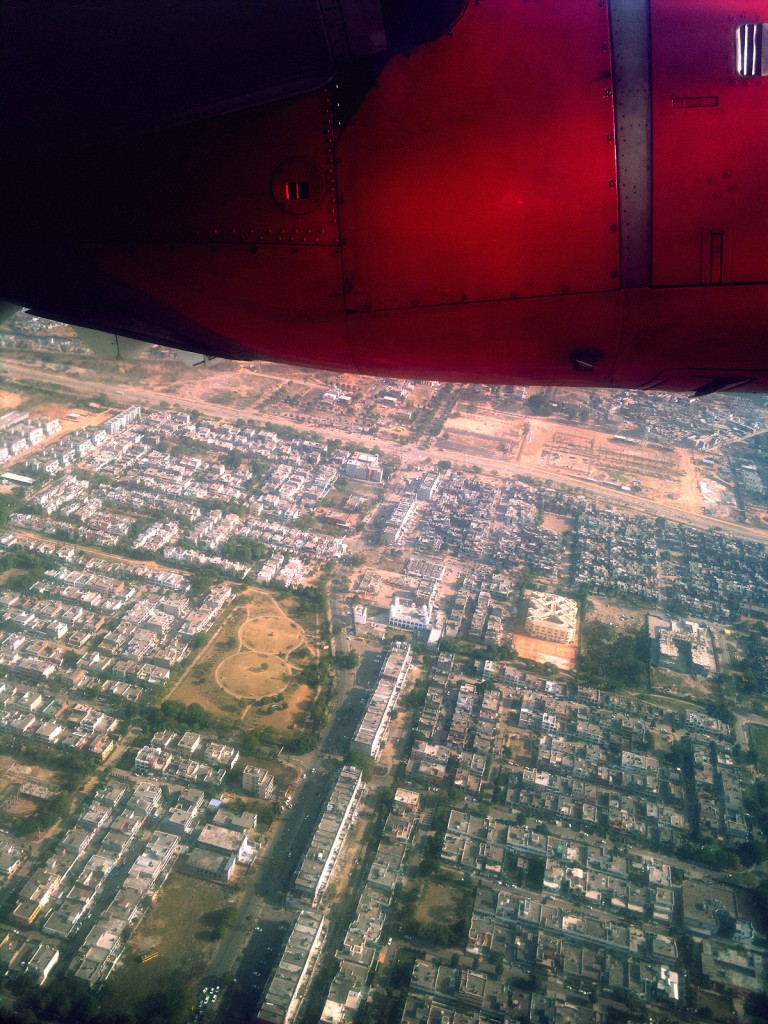 There's a saying that "the best camera is the one that's with you" (Chase Jarvis) – the above photo was taken with my Nokia N8 cellphone camera.  I've said it before and it's worth repeating – the Nokia N8 has a terrific camera on board.  There was some post processing done on the image – mainly levels adjustment (to darken the midtones to bring out the details) and a little bit of cross processing.  Otherwise no other editing done on it.
I took an 8″ x 10″ print of this image and it looks really great.
Speaking of the Nokia N8, I finally upgraded the OS on my phone to Nokia Belle.  I installed Nokia Suite on my computer, downloaded the 270 MB update and installed it on the phone.
The UI looks very nice.  The home screen wallpaper reminded me of some of the artwork for the Nine Inch Nails album The Downward Spiral (a photo of feathers, by Rob Sheridan).  There's a collection of official desktop wallpapers available on that site, one of them (06.jpg) is the one that I am talking about.
Interestingly, those images have the camera data embedded in them.  So you can see that Sheridan shot those photos using a Canon EOS 10D in August 2004.
I recently got a new pair of glasses.  Not that the old ones needed replacing – they're perfectly fine.  But I just wanted to try something different, so these glasses have a thick black frame (unlike the rimless ones I've been wearing for many years).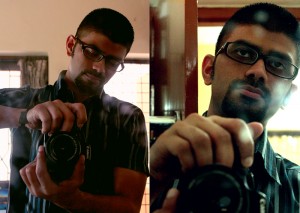 I took a photo to send it to friends, but then thought why not upload it – so it's here.  I like the colour tones in the image.
As usual, below is a collection of tweets from the last week:
20-Feb-12: VLC 2.0 Is Here [Video] http://t.co/tPD5a9iF
19-Feb-12: Photoshop Tutorial, North Korea Edition [Humor] http://bit.ly/wVtjfr
19-Feb-12: Replacing the World's Biggest IMAX Screen Is As Difficult As It Sounds [Imax] http://bit.ly/xHNkY4
19-Feb-12: An Absurdly Long, $150,000 List of Stolen Nikon Gear [Crime] http://bit.ly/wtmbjZ
19-Feb-12: Interesting read from Mark Simonson: My First Real Computers http://t.co/xgPpZxYA
19-Feb-12: I want to see this! AITH: Anchor Bay releases The Divide, starring Michael Biehn, on DVD/Blu-ray this April http://t.co/1lqqgbhs
19-Feb-12: AITH: Scope out the specs for the DVD/Blu-ray release of The Girl With The Dragon Tattoo http://t.co/wl0VxpZ9
19-Feb-12: Haha… looks interesting! AITH: Trailer for FEARnet's wacky original series Holliston is here! http://t.co/dz9lzM6j
19-Feb-12: A new poster for FearNET's "Holliston" has a whole lot of skin! http://t.co/7sBigCRP
19-Feb-12: Very nice work! RT @justkalpana A friend just showed me something I gifted him 12 years ago! Felt pen on marble. http://t.co/vCM36DtG
19-Feb-12: RT @RGVzoomin A modest man should be the least trusted cos he will be the most egoistic person but with the difference of having the smartness to cover it
19-Feb-12: First Teaser For H.P. Lovecraft-Inspired Animated Film AGE OF MADNESS http://t.co/A7UNsWr9
19-Feb-12: Guy Pearce with a big gun- the poster for Lockout http://t.co/wQWDRzUO
19-Feb-12: RT @omgthatspunny From now on, when I need to get shit done, I'll sit on the toilet. #punny
19-Feb-12: RT @bcfilmmaker Lights, action … iPhone? #Filmmakers turn to smartphones http://su.pr/32gW2e #filmmaking
18-Feb-12: Might Come In Handy: The Urine Health Chart http://t.co/W6fhcTZk
18-Feb-12: Every Bart Simpson Chalkboard Quote To Date http://t.co/EJmhPFh3
18-Feb-12: RT @DanielCamer "Be the change you want to be in your life, because no one else will do it for you." – http://www.DANIELCAMER.com http://t.co/IzXL6GXJ
18-Feb-12: The Official Windows 8 Logo: It's a Window, Not a Flag [Windows 8] http://t.co/zQrHUdiX
18-Feb-12: AITH MOVIE REVIEW: Neveldine/Taylor's Ghost Rider: Spirit of Vengeance (2012), starring Nicolas Cage http://t.co/uFmU0sxh
18-Feb-12: #NowWatching Forbidden World a.k.a. Mutant (1982) http://t.co/IfUTyEID
18-Feb-12: This is simply awesome! RT @krishashok Attn: Web designers – Swearum Ipsum http://t.co/7lPQKV3L
17-Feb-12: RT @delhibellyfilm Only 12% can solve this in 30 seconds. Say the opposite of these words: 1. Always 2. Coming 3. From 4. Take 5. Me 6. Down
17-Feb-12: RT @rob_sheridan Out-takes from the "Abbey Road" photo shoot (which only took about ten minutes): http://bit.ly/HnSLv – via @LaughingSquid
17-Feb-12: RT @funnyoneliners I stop my microwave at 0:01 to feel like I'm a bomb defuser. RT @newfylover1
17-Feb-12: RT @vemana How do you measure the influence of Radiohead on any other band? Creep strength #engineeringmeetsmusic
17-Feb-12: Comic by @justkalpana Mnemonics http://t.co/SGtZg3Hg
17-Feb-12: Comic by @justkalpana Valentine's day http://t.co/f0yw0IUe
17-Feb-12: Ironic? http://t.co/1xWa8L2A
16-Feb-12: I totally tweeted this 1 year ago TH @karthik82 It's the 10th Annive… http://t.co/Wc5shhhm
16-Feb-12: I totally tweeted this 1 year ago TH @karthik82 RT @krishashok: Guys… http://t.co/OVxGF5kc
15-Feb-12: Very nice article from AICN – CLASS OF 1987 – Nordling Double Features PREDATOR and ROBOCOP! http://t.co/5q1d1OgJ
15-Feb-12: xkcd – Backward in Time http://t.co/S3OfVUWa
15-Feb-12: The Zombie Prince of Bel-Air http://t.co/s0gCFDr1
14-Feb-12: RT @kunaldgp Abraham Lincoln was a Vampire Hunter! http://www.comingsoon.net/news/movienews.php?id=86991 #movies
14-Feb-12: I totally tweeted this 1 year ago TH @karthik82 The retro font used … http://t.co/cnB5Znv7
14-Feb-12: "Roses are red, violets are blue, 4 8 15 16 23 42" – remembered this from a LOST-based Valentine's Day card from last year. So re-sharing 🙂
14-Feb-12: RT @josephradhik Roses on the bed, violets in the loo. WHERE THE FUCK DID ALL THESE FLOWERS COME FROM? (I have no clue.)
14-Feb-12: RT @mihirfadnavis Roses are red, Violets are blue, I can't make any more Valentine's jokes so fuck you.
14-Feb-12: RT @zombeaner This is simultaneously awesome and horrifying: DEEP RED RAP Dario Argento Claudio Simonetti: http://youtu.be/dVUXb1BaX7w via @youtube
13-Feb-12: Day 34
13-Feb-12: RT @atulkasbekar Marc 'WEBB' – director of Spiderman 4 #RightNameForTheJob *i smell a hashtag here*
13-Feb-12: RT @ramgopalan @kunaldgp "Whatever it is you're seeking won't come in the form you're expecting." — Haruki Murakami
13-Feb-12: RT @Galactica_gk Grammy Awards have more people performing rather than people getting awards! #Grammys2012
13-Feb-12: Afraid of Losing The Pirate Bay? Download the 90MB Backup http://t.co/hcTnng6o
13-Feb-12: RT @clientsfh "Can you export this video to viral?" http://t.co/za3fzP2V
12-Feb-12: RT @funnyoneliners My body is a temple. That is, it feels and looks like something that was destroyed by the Romans some 2500 years ago. RT @davio1962
The Second Edition of Comic Con India happened at Dilli Haat on 17, 18 and 19 Feb.  At the same time last year, I'd attended the convention, and it was my first visit to Delhi.  I couldn't go this time – maybe the next one.